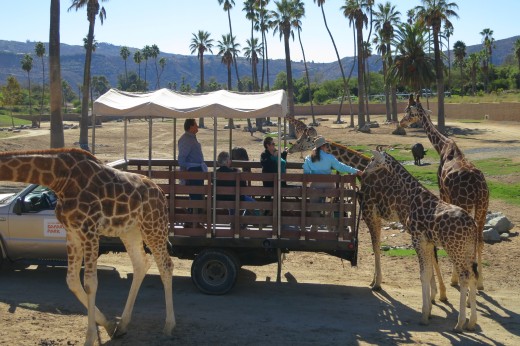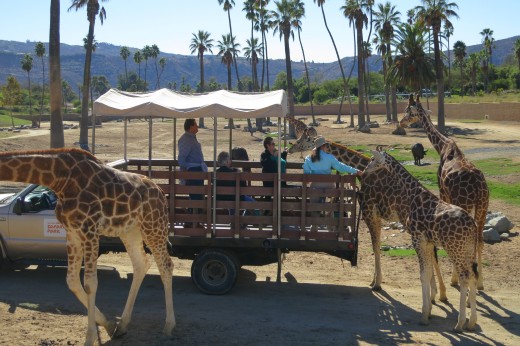 The San Diego Zoo Safari Park makes a weekend jaunt to the African Plains possible – no passport required! And there is no better time to visit the park, as San Diego's slightly cooler winter temperatures and sunny skies provide the perfect setting to enjoy one of their numerous safari experiences. I recently got up-close and personal with a host of giraffes, rhinos and gazelles on a lovely day in San Diego during a Caravan Safari at the San Diego Zoo Safari Park.
Read to the bottom for details on how to enter to win tickets to the San Diego Zoo Safari Park.
Behind the Scenes on a Caravan Safari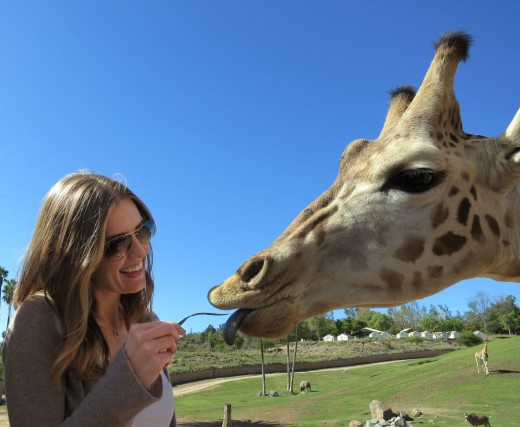 The Caravan Safari travels through the park's two largest enclosures, the African Plains and the Asian Savanna. The African Plains is home to the elegant and endangered Uganda Giraffe, who is anything but shy. It must be common knowledge that each caravan comes equipped with a bucket of Acacia leaves (the giraffe's favorite food), for within moments we are surrounded by the tall, dappled creatures, ready for their leafy treat and requisite photo-op.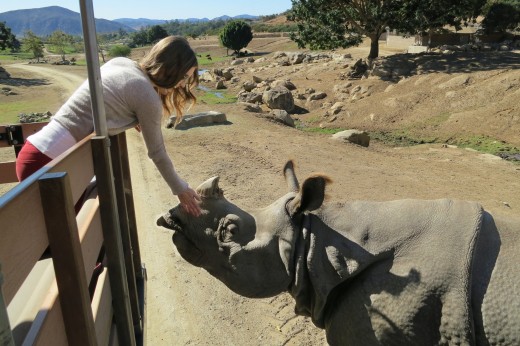 When the caravan travels to the Asian Savanna, it's a bucket of apples that tempts the one-horned rhino to stop by our truck. And while she enjoyed her apple treat, being in such close contact with a large, wild and powerful creature was treat enough for us on board.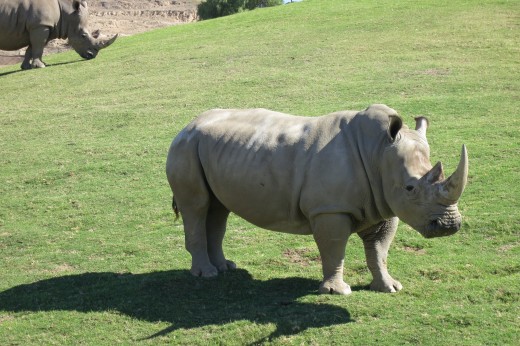 The tour was filled with interesting and entertaining information about the animals at Safari Park, most of whom are there due to Safari Park's extremely successful conservation and breeding programs. They have the most successful captive rhino breeding program in the world and are helping increase numbers amongst the endangered Uganda giraffe, with a total of 115 calves born and more on the way this year. All in all, the upgrade experience at Safari Park is a win-win for everyone. I thoroughly enjoyed getting personal with my favorite animal ambassadors, and my ticket price went to keeping the world's animal populations at a healthy equilibrium. It's a holiday gift anyone would enjoy giving or receiving!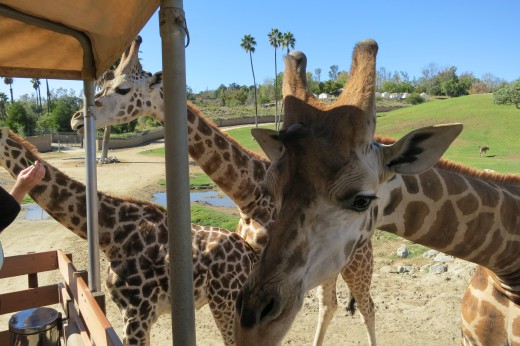 San Diego Zoo Safari Park Information
Address: 15500 San Pasqual Valley Road, Escondido, CA 92027-7017 (map)
Website: www.sdzsafaripark.org
Phone Number: 800.407.9534 (Toll-Free) 619.718.3000