It might be the hunter and gatherer in me, something to do with getting in touch with nature and tying into those natural forces whenever I'm fishing or hunting, but that's the feeling I get when I enter one of these golf courses carved out of San Diego's natural landscape.
Barona Creek Golf Course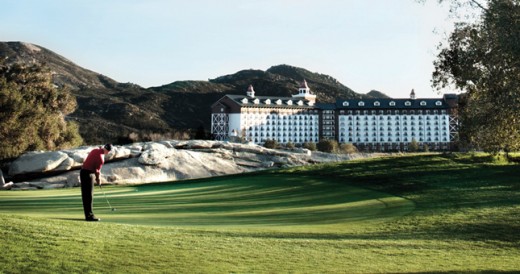 I know. It's a strange thing to compare hunting and fishing to golf, but anyone who hunts, fishes and golfs, will tell you the reason they do them is to unplug from work, stress, whatever, and get outside for a few hours without having to think about anything but the nature around them. For me, at Barona, it starts with the mystical Native American music in the pro shop. It gets me every time. Then I look out at the first tee, with the giant California live oak that guards the green, smack dab in the middle of the fairway, the creek on the right with native grasses lining it, and it's time to put the war paint on. I try to linger in that pro shop a while just to get more and more into the mood to play this incredible golf course.
There's a reason golf magazines like Golfweek and Golf Digest consistently name Barona as one of the top public courses in California. It has five sets of tees, from easy to championship, with plenty of manageable tees in between.
The championship tees (7,088 yards, 140 slope) were played by the Nationwide Tour for its championship in 2007 and recommended for skilled golfers only. But golfers of all levels will enjoy this course's middle tees (silver at 6,321 yards, 132 slope, 70.4 rating).
What makes this course so unique is how Todd Eckenrode, the course architect, blended each hole into this magnificent slice of California wild, a stretch of ranchland that once was hunted by Native Americans and settlers. He placed 100 bunkers in some very strategic places that catch your eye from the tee and on approaches to the green. Hit it a bit wayward, and you're dealing with native grasses, maybe a rattlesnake or two, so be careful.
Location: 1932 Wildcat Road, Lakeside, CA
Green Fees: Monday-Friday – $120, Weekends – $160
Toll Free Phone: 888.722.7662
Phone: 619.387.7018
Website: www.barona.com/golf
Mt. Woodson Golf Club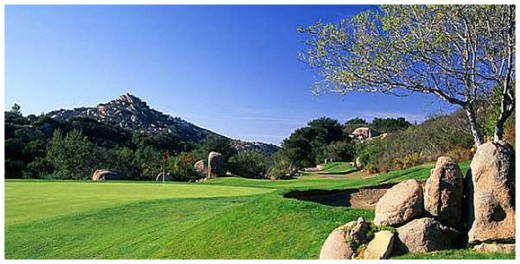 If you're looking for the best deal inland and a chance to play a unique course tucked into giant, whale-sized boulders and an oak forest, Mt. Woodson is the spot. Just 33 miles from Downtown San Diego, Mt. Woodson in Ramona offers a Lowest Rate Guaranteed green fee, so look for the best deal possible here for green fees.
The names on some of these holes are an indication of what to expect. There's the par 5, 520-yard 14th hole called "Let Loose," along with "Windinface," "The Cradle," "The Plunge" and "The Lookout." You get away from it all on this course, and be ready for the cart ride over the trestle bridge that spans one of the course's many canyons. Think jungle safari in a golf cart.
Woodson is a golfer-friendly course if you leave your driver in the bag on most holes. It's a short course, with some drivable holes with the driver. It's just 5,764 yards from the blue tees. It's 5,399 yards from the white tees and 4,229 yards from the reds.
Location: 16422 N. Woodson Drive, Ramona, CA 92065 (map)
Green Fees: Monday-Friday – $55, Weekends – $65
Phone: 760.788.3555
Website: www.mtwoodsongc.com
Salt Creek Golf Club


Of these three courses, I'd rate Salt Creek Golf Club in Chula Vista as the most fun to play. It's challenging, tough, but fair because course architect Cary Bickler custom-designed the course for the average golfer. There are no tricked-up greens or impossible bunkering.
Every hole is a different adventure, and the scenery is spectacular, with views of the Pacific Ocean, Mexico's Coronado Islands, and the San Diego Wildlife Refuge, a stretch of land that will never see any development.
New owners Bill McWethy and Fred Grand will pour close to $1.5 million into course improvements included a new clubhouse with a wrap-around deck, new golf carts, an all grass hitting area driving range and a new practice area. New tees have been added to give this course some challenging tee shots, some new risk-reward options.
Green fees are very reasonable and the new owners are trying to re-introduce players to this great spot, so look for good deals for a while.
Location: 525 Hunte Parkway, Chula Vista, CA 91914 (map)
Green Fees: $25-$38
Phone: 619.656.2373
Website: www.saltcreekgc.com
Where's your favorite place to escape for a round of 18 in San Diego?