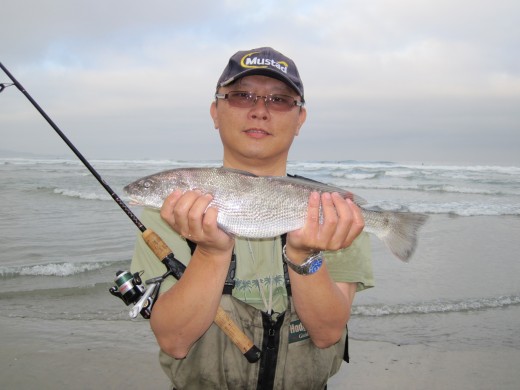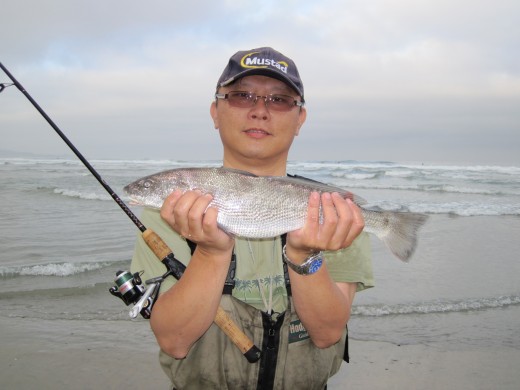 One of the great things about surf fishing in San Diego County is that you'll likely have the beach to yourself. That sounds crazy in a place that has nearly 4 million people and more in the summer months, but if you plan it right, you'll have the beach to yourself as you try to fool a long list of ocean fish prowling near shore.
I like to fish an incoming tide early in the morning or late in the day toward sundown if I can time that right. Fewer people, more fish. Check the tides and go from there. It's also a good idea to scan the beach you intend to fish at low tide to see where the holes or any structure are and where fish might hold when the tide rolls in.
What's great about fishing the surf is you never know what you'll catch. The list includes barred surfperch, walleye surfperch, yellowfin croaker, spotfin croaker, corbina, halibut, bat rays, leopard sharks and shovelnose guitarfish.
Surf Fishing Spots
My first experience surf fishing in San Diego was years ago when I was talked into venturing to Black's Beach. It was a nude beach then, still is, but the fishing down there has always been exceptional. Yes, there are distractions, but remember, the fishing is good. We used heavy gear and shucked mussels that we pried away from the nearby rocks for bait. We caught barred surfperch and corbina. I hooked my first California halibut, but it got off my line just as I was about to beach it. Halibut must be 22 inches long to be kept, and this one qualified by the looks of it. That's my story, anyway.
Some of my favorite beaches include Coronado, the Silver Strand and Imperial Beach, Mission Beach (south at the Jetty or near the Roller Coaster early in the morning), Torrey Pines State Park and the Oceanside area.
Surf Fishing Gear
There are many ways to go about surf fishing, but I've narrowed it to three.
Heavy Gear
You can use heavier, conventional gear and go with a rod holder and just kick back and wait for something to bite and get your reel screaming. Heavier gear like a 9-foot rod and Abu 5000 reel will allow you to make a cast far enough beyond the breakers to catch some really big beach dwellers like a halibut, shark or white seabass.
Light Gear
A second way, and this is really the most fun, is to take the equivalent of light gear for freshwater bass and walk the shoreline looking for finning or darting corbina in the shadows. I prefer that way, more of a stalk and find and then cast. You don't need much to fish the surf this way. I like to use a 7- to 10-foot rod, a good, solid saltwater resistant spinning reel with 6- to 10-pound test and a small bait hook to hold a sand crab that I dig out of the surf, or mussels, squid, ghost shrimp or blood worms. Artificial baits like Berkley Gulp baits work well, too. The motor oil with red flake grub is the standard. And hard lures like Kastmasters or Krocadiles can land some bigger fish like a halibut, striped bass or even a cruising shark or two.
Fly Fishing Gear
A third way it to use fly fishing gear, a method that has gained in popularity in recent years. One group sponsored a One Fly Tournament in which all the fly fishermen entered in the tournament picked one fly, but as soon as that fly broke off or was lost, the angler had to quit fishing.
A 5- or 6-weight rod is all you need in the surf here, and I've known some fly fishermen who drop down to a 4-weight. You'll need a good, anodized reel with a sealed drag to prevent saltwater damage to the reel. The reel should be able to hold 100 yards of backing. A fast-sinking, integrated shooting head such as a Rio Striper 26DC will get the fly down in the rough surf line. Use 6- to 8-pound test monofilament with three, to four feet of fluorocarbon line, of similar pound-test, for leader. Any fly with red or orange will work, but some of the best include a red Clouser, a Rootbeer Surf Rat or a Solis Foxy Crab, Piconi Power Red or Piconi Power Orange, Corbina Candy, Darter Perch and a Swimming Sand Crab. Be sure and include a stripping basket for the line to make things easier walking the beach. Polarized glasses, a good beach hat, waders (in the winter) and some good sunscreen will complete the outfitting.
Surf Fishing Resources
Recent ocean closures ordered by the Marine Life Protection Act have shut off some beach areas to fishing, so be sure and check the regulations. Also, you need a fishing license and an Ocean Enhancement Stamp to fish Southern California waters.
A couple of resources include www.scsurfishing.com or check Peter Piconi's shop, SoCal Fly Fishing Outfitters in Liberty Station in Point Loma.
> Discover more great fishing spots in San Diego
Where's your favorite place for surf fishing in San Diego?