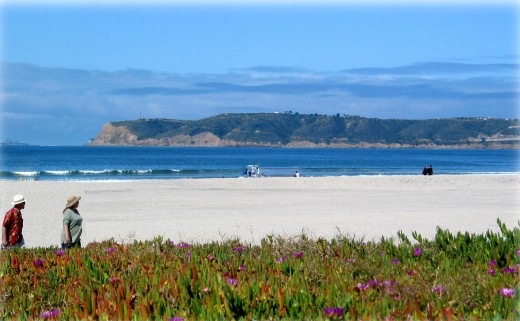 Are you looking for an awe-inspiring stretch of beach for taking a leisurely stroll? San Diego beaches provide the perfect setting with 70 miles of pristine coastline, gentle rolling waves and sparkling blue water as far as the eye can see. Whether you're looking for inspiration, relaxation or even a little romance, you'll find it at one of our world-famous beaches. In fact, San Diego has so many amazing beaches for walking, it's nearly impossible to list them all. But, here are a few good spots to get you started.
Silver Strand in Coronado is just a short distance from downtown San Diego, but is a world away in terms of relaxation. The waves are soothing and the beach literally sparkles in the sunlight due to the mineral Mica in the sand. If you walk north, you'll see great views of Point Loma, or if you head south, the Imperial Beach Pier is off in the distance. Coronado beaches are consistently voted America's finest by the Travel Channel, so whether you go on a romantic stroll for two or a family walk, this is the perfect place to get inspired.
La Jolla Shores is the quintessential San Diego beach. With soft, white sand and gentle rolling waves, strolling on this beach instantly makes you feel carefree and happy. A relaxed vibe also makes this beach popular amongst families, joggers and surfers. Walk north for a nice view of the Scripp's Institute of Oceanography pier and La Jolla's picturesque bluffs.
Fun and energetic is the best way to describe Mission Beach. Probably because Belmont Park, a midway-style amusement park opened in 1925 and home of the historic Giant Dipper roller coaster, is nestled just to the south. A long stretch of ample shoreline makes Mission Beach a good bet for long walks. For a more lively experience, try strolling along its boardwalk filled with a colorful hodgepodge of rollerbladers, bikers, joggers and other locals.
Located in Encinitas, Moonlight Beach has a nice stretch of shoreline perfect for a romantic stroll at sunset. The beach got its name in the early 1900's when locals had late night picnics here by "moonlight," and the name stuck. Today, its supple, wide beach is ideal for walking, and surfers love it for the great waves.
Carlsbad State Beach is one of North County's best kept secrets and offers a gorgeous, sandy coastline. So when you're done playing in the water, sunbathing or building sandcastles, soak in a little extra sunshine walking along the shore. There's also a paved path to combine your walk with a little people watching.
Where's your favorite stretch of San Diego beach for strolling?