Are you ready for the Har-Bowl! Diehard Niners or Ravens fans "unfortunately stuck" in San Diego looking to actually watch Super Bowl XLVII with fellow fans on Sunday, February 3, should check out these two bars that will be awash in either Purple/Black or Red/Gold.
Baltimore Ravens Fans – Dirty Birds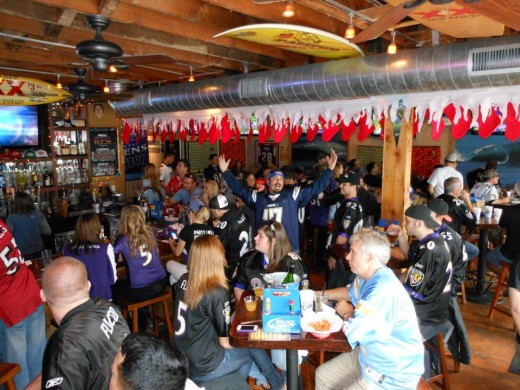 It's not surprising that a bar known for its delicious hot wings would also be a Ravens Bar (insert rim shot here)! Dirty Birds will start the Super Bowl celebration on Saturday (February 2, 2013) by co-hosting a Ravens Pep Rally with the SoCal Ravens Fan group. Starting at 9:00 PM, there will be a Mr. or Ms. SoCal Raven contest with a $100 prize going to the most over the top dressed Ravens fan, drink specials with $3 purple beers and shots, and ½ price wings!
Arrive early on Super Bowl Sunday to snag a table. Dirty Birds will be offering drink and food specials along with raffles and giveaways throughout the game. Just make sure to wear your Ravens gear!
Location: 4656 Mission Boulevard, San Diego, CA 92109
Website: www.dirtybirdspb.com
San Francisco 49ers Fans – Typhoon Saloon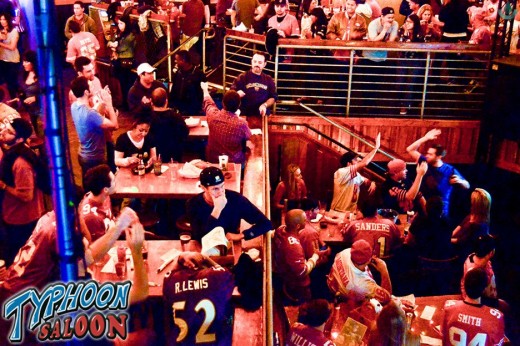 Niners fans will pack Typhoon Saloon with the hope of seeing Kaepernick run a quarterback keeper into the endzone on one of the 40+ HDTVs. Throughout the game, Typhoon Saloon will be giving away a cruise for 2, holding a "Half-time Touch Down Dance Contest," and offering Superbowl Specials.
Location: 1165 Garnet Ave  San Diego, CA 92109
Website: www.typhoonsaloon.com
Watching Super Bowl XLVII in San Diego
Browse the Dining & Nightlife section of SanDiego.org for more Super Bowl XLVII restaurant viewing options. If you are staying in, the game will be broadcast on CBS 8 (television) and on the Mighty 1090 (radio).
Please remember to stay safe and to use your judgement when traveling over Super Bowl Sunday. If you plan on indulging, please have a designated driver, take a taxi or Uber, or use public transportation.