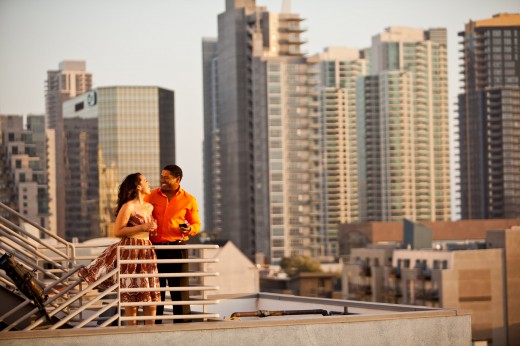 February is for sweethearts. But where's the most romantic spot in San Diego for sharing a smooch on Valentine's Day? Ask five locals and get five different answers. We'd love to hear about your favorite place for romancing…
In the meantime, here are a few of our favorites:
Balboa Park
Stroll Balboa Park in late afternoon as the sun casts golden light onto the Prado. Share your kiss on a winding path in Palm Canyon, a 2-acre tropical garden that's a hidden gem for lovers.
Coronado Cays
Snuggle up under a warm blanket during a romantic gondola ride through the canals of Coronado Cays. It may not be Venice, but the Gondola Company manages to provide a passport to old world magic.
Cabrillio National Monument
Find the bunker just beyond the lighthouse at Cabrillo National Monument. The view is breathtaking. It's easy here to imagine yourself part of that iconic scene on the bow of the Titanic – just lean into your Valentine.
Mission Bay
Rose Marie Starns South Shores Park on Mission Bay is deserted in winter. Build a bonfire in a beach fire ring and cozy up. Move in for your kiss just at the right moment: as fireworks erupt at SeaWorld San Diego. Your date will definitely be impressed.
Embarcadero
Become Prince Charming (or his one true love) during a horse-drawn carriage ride along the Embarcadero. Cinderella-Carriage Co. provides the transportation. You provide the fairytale kisses.
Rooftop Views
San Diego has dozens of romantic dining rooms and rooftop bars that ooze romance. La Jolla's Marine Room, Bertrand at Mister A's, the Top of the Hyatt are classics. At Point Loma's Old Venice, ask for a table under the twinkle lights on the back patio. Or reserve a table for two on the bayfront patio at Coronado's Il Fornaio; oogle the city skyline – when you're not oogling each other.
At the Drive-In
For a blast from the past, head to a Drive-in movie. San Diego has three: the South Bay Drive-in, the Santee Drive-in and the new '50s-retro Full Moon Drive-in in Pacific Beach. Bucket seats make canoodling a greater challenge than it used to be – so improvise.
La Jolla (Of Course)
Last, but definitely not least: The grassy bluff overlooking the surf at Coast Boulevard Park in La Jolla (just south of the backside of the Museum of Contemporary Art). Embrace the salty scent of the sea – and each other. This spot is especially close to my heart because it's where my husband proposed all those years ago – and where we go year round to replay the moment.