Assassins, Aristocrats and Archbishops take center stage this month for what is gearing up to be quite a murderous March in San Diego's theatre scene. But do not fear! In addition to an exciting evening of black humor or musical madness, a night out at the theater means taking in some of San Diego's most iconic neighborhoods such as historic Old Town, beautiful Balboa Park, and energetic Downtown.
Assassins at Cygnet Theatre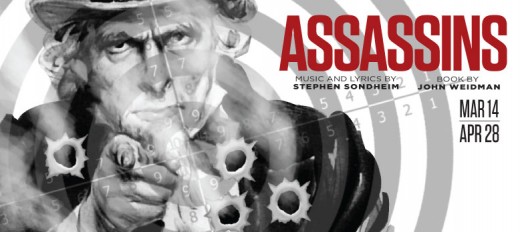 Bold, original, thought-provoking and alarmingly funny, Assassins lays bare the lives of nine individuals who assassinated (or attempted to) the President of the United States, including the infamous John Wilkes Booth and Lee Harvey Oswald, in wry musical form. Music and lyrics by Stephen Sondheim, book by John Weidman, Directed by Sean Murry.
Location: Cygnet Theatre – 4040 Twiggs Street, San Diego, CA 92110
Dates: March 14 – April 28, 2013
Cost: $34-$59 (Low-priced previews available March 14-March 22)
Box Office: 619.337.1525
> Get Your Tickets to Assassins at Cygnet Theatre
A Gentleman's Guide to Love and Murder at the Old Globe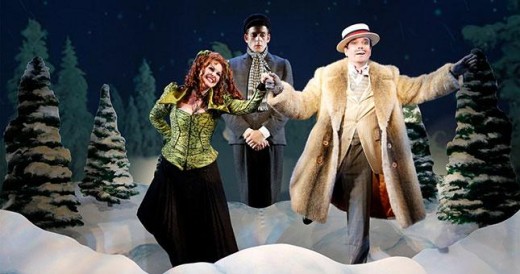 When Monty Navarro finds out he is ninth in line to inherit a dukedom, he decides to eliminate the other eight heirs (all played by one incredible actor!) standing in his way in this World Premiere musical of merriment and murder. This witty music hall comedy explores just how low we'll go to make it to the top!
Location: The Old Globe – 1363 Old Globe Way, San Diego, CA 92101
Dates: March 8 – April 14, 2013
Cost: Tickets start at $39
Box Office: 619.234.5623
> Get Your Tickets to A Gentleman's Guide to Love and Murder at the Old Globe
Murder in the Cathedral by the San Diego Opera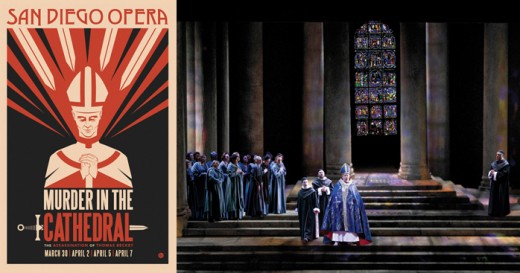 The American West Coast Premiere of Murder in the Cathedral comes to the San Diego Opera with a score reminiscent of Puccini and extraordinary choruses perfectly able to paint a complex story of faith, passion, tragedy and hope. Archbishop Thomas Becket, brutally murdered in Canterbury Cathedral in December 1170 defending his church against the intrusions of King Henry II, became a Christian martyr and Saint at whose tomb Henry was forced to pay penance. Based on the T. S. Eliot play, the opera, by Ildebrando Pizzetti, covers the last month of Becket's life as he struggles with politics, religion and temptation.
Location: San Diego Civic Theatre – 1100 Third Avenue, San Diego, CA 92101
Dates: March 30 – April 7, 2013
Cost: $35-$275
Box Office: 619.533.7000
> Get Your Ticket to Murder in the Cathedral by the San Diego Opera