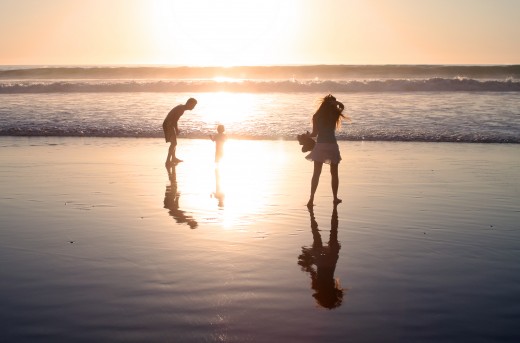 Sunglasses, check! Flip flops, check! Sunscreen, check! Camera, double check! Whether you're bringing the family to San Diego for the first time, or returning for another round of fun, there are lots of iconic family photo spots to capture special moments and to enjoy for years to come. We're talking one-of-kind San Diego-centric places you'll want to remember forever – beautiful sandy white beaches, feeding the dolphins at SeaWorld, standing next to an F/A-18 Hornet on the flight deck of the USS Midway Museum, or getting up close to Mary, a 9,000 pound elephant also known as "the boss lady" at the San Diego Zoo.
With so many of the nation's best photo ops in one place, how do you find them all? If you like walking tours, Snap Photo Tours can take you to some of San Diego's top places to photograph including Balboa Park, the Gaslamp Quarter and Coronado. Not only will you learn about the history of these places, but they'll teach you how to get better shots with your camera. Or you can try San Diego Photography Tours. They offer walking and shuttle tours of hidden gems in San Diego with experienced professional photographers who know the best vantage points and best time of day for the best shots.
But sometimes, the most memorable family photos are captured when you strike out on your own, with kids in tow and a smart phone camera in hand.
A Few Recommended Iconic Family Photo Spots
Try taking a family photo next to a statue depicting a famous photo! "Unconditional Surrender" is a dramatic twenty-five foot tall bronze sculpture of World War II's most-famous kiss. Sited next to the USS Midway Museum, it's part of the "Greatest Generation" artwork collection located at the Embarcadero.
SeaWorld San Diego
Check the feeding schedules because meal time is the best time to meet playful sea lions and dolphins up close – get your camera ready! Shamu's underwater viewing tank is also a great backdrop for a picture.
Balboa Park
Balboa Park is a magnificent 1,200-acre park with 15 museums, eight gardens and the world-famous San Diego Zoo. The lily pond, the Botanical Building and several glorious fountains are iconic San Diego photo spots.
Besides providing an incredible vantage point overlooking San Diego Bay and the Pacific Ocean, there's the Old Point Loma Lighthouse, tide pools and natural bayside trails, all fabulous photo ops.
San Diego Zoo
Spend the day monkeying around and taking photos next to amazing animal habitats — gorillas, tigers, pandas, flamingos, polar bears, giant tortoises, leopards, you name it, it's here!
Coronado
Not only are Coronado's beaches rated the best in the nation, it's home to the historic Hotel Del Coronado. The resort is a living legend and celebrities, dignitaries, U.S. presidents and countless visitors have been photographed here.
La Jolla Shores is a mile long crescent of prime sandy beach favored by active beachgoers of all ages. This is the place to snap a photo of the kids building sandcastles, learning to surf or watching the sunset.
Old Town is the birthplace of California and teems with history. Try posing for a fun picture in front of the historic Whaley House, which tops the Travel Channel's America's Most Haunted House list.
With ocean views at every turn, there are plenty of opportunities for awesome photos among miles of unspoiled beaches, hiking trails and rare Torrey pine trees on this 1,800-acre reserve.
What are some of your favorite iconic family photo spots in San Diego? Let us know in the comments below.