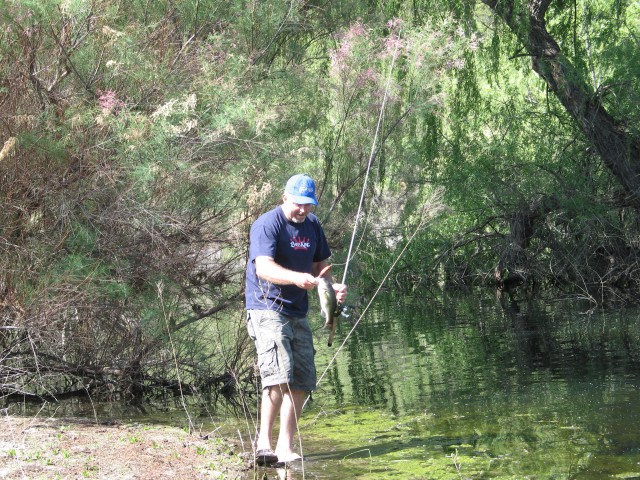 It can be said that fishing Lake Barrett is like going back in time in San Diego County to a simpler way of fishing when there were no high-powered bass boats zipping across our suburban and rural lakes.
The ride in alone through an old Western ranch is worth the trip. Be on the lookout for mule deer, bobcats, maybe even wild turkeys or a mountain lion. It's a wild place that likely will stay that way, considering the current move to preserve as much undeveloped land as possible.
Barrett, the most rural of all San Diego City-owned lakes, was closed for over three decades when it was reopened in 1994. Poachers had their way with the remote lake for all those years it was closed, but the City of San Diego decided to reopen it for very primitive, catch-and-release fishing with barbless hooks for all species in the lake. Barrett is said to hold the only significant remaining population of Northern-strain black bass in San Diego County, if not California. The Florida-strain black bass, introduced here in 1960, have hybridized and taken over the bass population at other lakes, but the Northerns have held on here.
Lake Barrett Reservations are a Must
But to fish Barrett you first have to get a reservation, and that can be tough, especially early in the season that runs from May through September. Reservations are handled by Ticketmaster every second Tuesday of the month at 7:00 PM. You must call 800.745.3000 or get on-line to make a reservation. The fee is $80 and that covers up to four anglers and the cost of the rental boat. Each angler also must buy a $20 fishing permit.
> Make your Lake Barrett Reservations
Motor Boats on Lake Barrett
Low-powered motorboats (8 horsepower) are rented there by the city, and float tubes, canoes and kayaks are permitted, making the lake the most treasured fishing experience in the county. Anglers may bring their own motors, but the maximum is 25 horsepower. They also may bring their own trolling motors, a good tool for fishing some areas of Barrett.
Fishing Experience on Lake Barrett
So what about the fishing experience? Is it worth all this? Yes, even though you have to take in your own supplies like water and food (there is no concession), the step back in time is worth it. There are times during the early part of the season when anglers catch and release over 50 fish an outing. Some even more than that if an angler has exceptional skills. Other times of the year you'll average 20 to 30 fish an outing.
I fished this lake recently with Corey Sanden, the MC Swimbait maker who is an avid saltwater fisherman. He specializes in catching calico bass in nearshore waters. But Sanden loves Barrett as well. He convinced me to cast big, artificial  frogs most of the day, and we had a great time watching these Northern-strain bucketmouths inhale the large imitation frogs. We even hooked big bullfrogs that were being territorial about their areas.
Take a variety of crankbaits, plastic baits and even topwater lures because you never know what these fish will want. Most of the time they want whatever you cast.
That's Barrett, and that's why it's a special place to fish. There are no crowds, no highways, roads or homes around the lake. What you get is the peaceful sounds of uninterrupted nature, with grebes, ducks, geese, crows and quail providing the background music to a trip back in time in San Diego County.