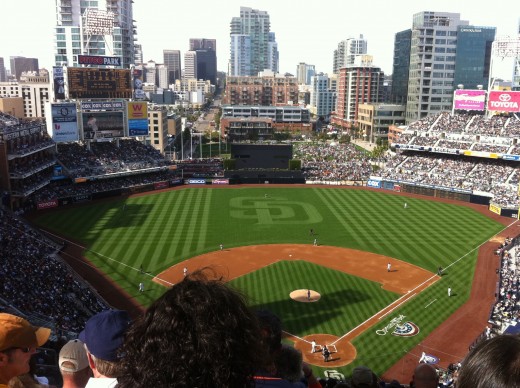 The Padres' season is upon us, and as fans flock into one of the country's best ballpark (just ask TripAdvisor), visitors to San Diego's Petco Park better come armed with a good appetite. Locals know that the great food offerings within Petco set it apart from other ballparks – Filippi's Pizza Grotto, Anthony's Seafood, and Ballast Point Brewing Co. are just a few of the San Diego food and beverage favorites you can find within Petco's walls.
But why limit your options when you're within walking distance of more than 200 restaurants? Before and/or after the game, head into the streets of Downtown to explore a wealth of dining options, from global flavors to classic American burgers.
Dining Around the World
The Kebab Shop brings the flavors of Turkey to the East Village with savory doner kebabs, schawarma and shish kebab plates, all at budget-friendly prices.
Gaijin Noodle + Sake House in the Gaslamp Quarter offers a menu focused on traditional ramen noodles and yakitori grill, along with other authentic Asian cuisine. Libation offerings include the tradition of Japanese kakigōri, boldly colored shaved ice creations made from sakes and sojus, and a selection of Japanese beers.
Also in the East Village, the Asian fusion menu at The Dragon's Den features a creative juxtaposition of traditional Chinese items like egg drop soup next to Asian-influenced contemporary small plates like hoisin-flavored beef brisket sliders, plus a full-service sushi bar and Asian-inspired cocktails with unexpected ingredients like a splash of Sriracha in the "Dragon's Breath," a blend of Casa Noble Blanco tequila, St. Germaine, fresh lime juice and soda.
Proud to be an American
Visit the downtown outpost of Hodad's, a famous surf-themed burger joint that's been serving truly amazing hamburgers for 40 years. Their original Ocean Beach location even garnered attention from celebrity chef Guy Fieri, who featured the restaurant on his "Diners, Drive-ins and Dives" TV show.
Maryjane's in the Hard Rock Hotel offers a variety of diner-style food options from chicken wings to chili cheese fries. Added bonus: Maryjane's serves food until 3:00 AM, so you can make this joint the last stop on a truly epic food crawl.
Pre-game meals
The Mission is a health-conscious café that specializes in fresh, quality food with fanciful flavors and artful presentations.  The Mission's diverse breakfast and lunch menus include everything from small plates, to Chino-Latino inspired dishes, to freshly baked goods.
A local breakfast favorite, the funky Café 222 serves up a menu of stuffed omelets, various benedicts and their signature peanut butter waffles.
Got a favorite place to grab a bite to eat before heading to Petco Park? Let us know in the comments below.