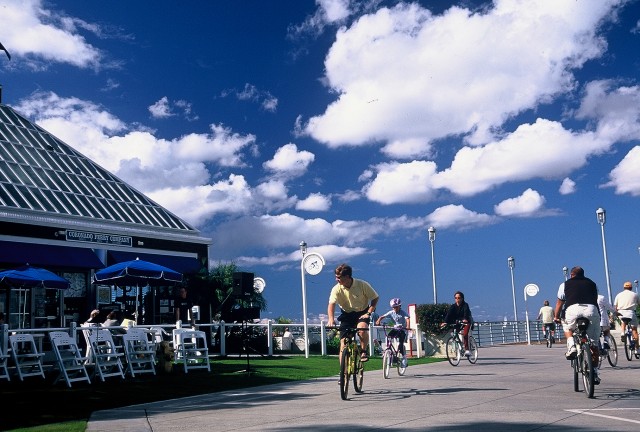 Riding a bike is one of those great activities that transcends age – it's for the young and young at heart – plus, they say once you've learned how to do it, you'll never forget. Add that to San Diego's year-round sunshine and biking rises to the top of the must-do activity list for outdoor family fun when exploring the best scenic terrain San Diego has to offer.
Here are a few family friendly biking trails you can choose, and cruise, for the ultimate San Diego family adventure.
Besides incredible views of San Diego's gorgeous shoreline, Mission Bay Park is an epicenter for biking enthusiasts of every age. There's a wide paved path covering about 4 miles and Fiesta Island is nearby if you want to extend the ride another 2 to 5 miles depending on the path you choose. There are also other challenging options for advanced riders.
This is the quintessential San Diego beach biking experience. Along the 3-mile oceanfront boardwalk, you'll find funky surf shops, cool places to eat and the iconic Belmont Park amusement park. It can get crowded, however, making it tricky navigating around joggers and walkers, especially if you have little bikers in tow. If you're bringing the family, the best time to ride is on a weekday or early morning.
Coronado is home to one of the most beautiful beaches in the U.S., if not the world. There are about 30 miles of dedicated bike, blading and running paths with awesome views around town and the beach. You can bike the island via Coronado's beachfront boardwalk, ride under the Coronado Bridge, pedal to the world-famous Hotel Del Coronado or venture down the Silver Strand.
Lake Miramar is an absolute treasure for families. You'll find great picnic areas, and bikers share a 5-mile paved path around the lake with walkers, joggers and nature lovers watching assorted ducks, geese and critters who also call the lake home. For more experienced bikers, the area offers unpaved and rugged trails as well.
A beautiful 194-acre park surrounds seven scenic lakes providing instant relaxation and more than 5 miles of trails for biking. This is a natural environment perfect for families and the locals refer to it as one of "the best backyards in San Diego!"
Please remember to ride safe and obey all the San Diego traffic and safety laws.
Tell us about your favorite family friendly biking trail in San Diego.