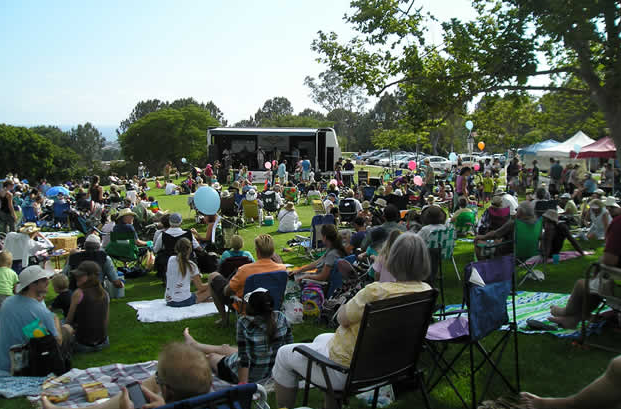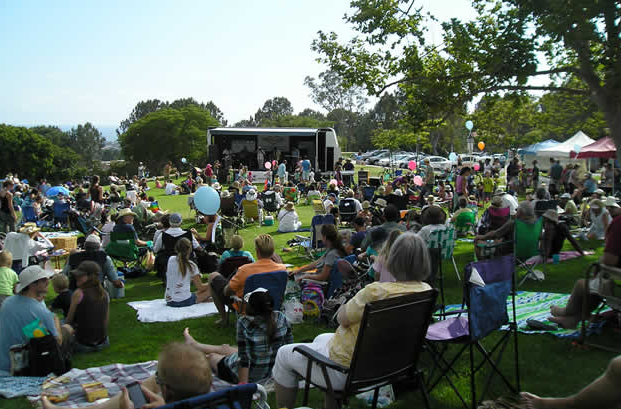 Free summer concerts have become traditions in neighborhoods throughout San Diego County. They're an opportunity for visitors, locals and their families to socialize, picnic, enjoy music together – and maybe even dance as the sun sets on another perfect San Diego day.
Here's a sampling of the free summer concerts to expect this summer:
San Diego's Free Summer Concerts
The Point Loma Summer Concert Series opens July 12 with Jumping Jack Flash (a Rolling Stones tribute band) and continues on consecutive Fridays through August 9. Shows run 5:30 to 8:30 PM. Pack a picnic or buy food at the venue. Bring blankets, lawn chairs and Frisbees to Point Loma Park, 1049 Catalina Blvd.
Pacific Beach Concerts on the Green are set for Sundays July 21 through August 11. Shows run from 4:00 to 6:30 PM at Kate Sessions Park (Lamont Street, just north of Beryl). Bring your own food and drink.
Mission Hills' Concerts in the Park series opens June 21 at Pioneer Park and continues on consecutive Fridays through August 23. Once exception: No concert on July 5 because of the community's big Fourth of July celebration, which includes a concert. The series opens with Hullabaloo followed by Zydeco Patrol on June 28 and Dr. Elvis on July 4. Pioneer Park is at 1425 Washington Place.
Balboa Park's Twilight in the Park concert series kicks off at 6:15 PM June 18 and continues on Tuesdays, Wednesdays and Thursdays through August 29 at the park's Spreckels Organ Pavilion. The hour-long shows feature everything from classical music to R&B.
Enjoy organ music? The International Summer Organ Festival features organists from around the world. Showtime is 7:30 to 9:30 PM on Mondays, June 24 through Aug. 26, at Balboa Park's Spreckels Organ Pavilion.
The Bird Park Concert Series in North Park will open June 15 with jazzman Lenny Rankins. More concerts are scheduled June 29 (indie rock), July 13 (Latin jazz), July 27 (country rock) and August 10 (blues). All shows run 5:30 to 7:30 PM. Bird Park is at 28th and Thorn streets.
Enchanted Music on Coronado
Coronado's Concerts in the Park series is set for 6:00 PM on Sundays, May 26 through September 8, at Spreckels Park, 7th and Orange. Families (but no dogs) are welcome to picnic during the 90-minute shows. The Coronado Community Concert Band will open the series.
Coronado Ferry Landing Concert Series kicks it off with the Coronado Big Band on May 25 and continues rocking Saturdays and Sundays through July 28. Most performances run from 2:00 to 5:00 PM.
Rocking Out in North County
Del Mar's Summer Twilight Concerts are set for Powerhouse Park, overlooking the Pacific, at 1600 Coast Blvd. The series begins June 18 with Atomic Groove, followed by Mrs. Robinson on July 9, Back to the Garden on August 13 and Mark Wood and the Parrot Head band on September 8. Show time is 7:00 PM, with pre-show entertainment beginning at 6:00 PM.
Carlsbad's TGIF Jazz in the Park is staged at three community parks. The 28th season opens at Stagecoach Park (3420 Camino de los Coches), with concerts on June 28, July 5 and 12. The party moves to Poinsettia Park (6600 Hidden Valley Road) for concerts on July 19, 26 and August 2. The season closes at Calavera Hills Park (2997 Glasgow Drive) with concerts on August 9, 16 and 23. Showtime is 6:00 to 8:00 PM. Wear your dancing shoes.
Roaring Good Time in East County
El Cajon's Dinner and a Concert series is set for 6:00 to 8:00 PM Fridays through Sept. 30 on the Prescott Promenade near East Main Street and Rea Avenue in downtown El Cajon. The family oriented venue is smoke-, alcohol- and dog-free. No need to pack a picnic; about a dozen restaurants edge the promenade, offering on-the-spot dining or picnics to go.
Santee's Free Summer Concerts are scheduled 6:30 to 8:30 PM on Thursdays, June 20 through August 22 (except July 4), at Town Center Community Park East, 550 Park Center Drive in Santee. The Navy's Southwest Showband will open the series. Picnics are welcome, but know that food trucks rally nearby.
Know of more free summer concerts I don't have in this list? Let me and others know in the comments below.