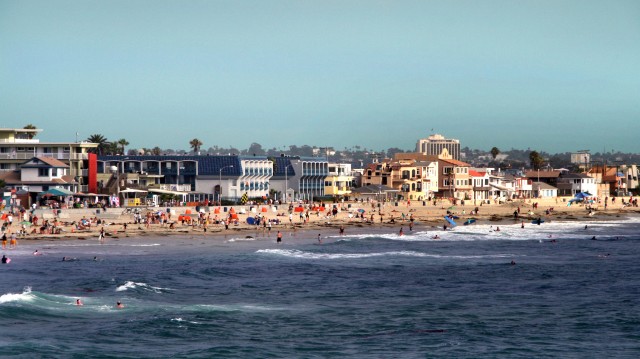 The best remedy to beat the heat? An escape to sunny San Diego! Here are five great ways to cool off while still enjoying the sunshine:
1. Get Wet!
What's a quick way of cooling down? Jumping into the cool waters of the Pacific Ocean! With over 70 miles of beaches, there is certainly enough room for everyone to spread out their towels, put up an umbrella and run into the water catch some waves.
Speaking of catching waves, kids of all ages love trying to surf or boogie board on the Flowbarrel and Flowrider at the Wave House in Belmont Park.
Add some excitement to your water adventures by cooling off in a lazy river or on a humongous water slide at one of San Diego's waterparks including LEGOLAND Water Park and The Wave in North County and the brand new SeaWorld Aquatica in South Bay.
2. Get Under the Water
Dive under the surface and explore the world underneath the water. La Jolla Cove offers some of the best snorkeling in San Diego with an abundance of marine life. During the summer, the waters of the cove become home to leopard sharks, but don't worry they are not aggressive and are amazing to watch as they swim along the cove's floor.
You can really beat the heat by scuba diving along the La Jolla Canyon, an area under the water rich with life and plenty of places to explore. To get the most out of La Jolla Canyon, it's best to dive with a seasoned tour company like OEX Dive & Kayak Center.
3. Get Over the Water
Cool off with ocean breezes and explore the waters of San Diego on a surfboard, kayak or standup paddleboard. And who cares if you get splashed or fall in, the water will just help you beat the heat.
Really feel the refreshing ocean air while taking plenty of pictures of the San Diego coastline on a cruise over the bay and Pacific Ocean. There are plenty of options for any group including leisure cruises, speedboats and jet skis.
4. Get Air-Conditioned Entertainment
Sometimes you just need to stay out of the sun for a while and enjoy the luxury of air-conditioning! But instead of just sitting in a large room staring at the wall, why not cool off inside with entertaining live theatre, amazing exhibits and educational fun at local museums, aliens and explosions at a movie theater, or just relaxing at one of the San Diego County cool zones.
5. Get an Ice Cream and/or Beer
Nothing says summer like ice cream, popsicles and other chilly treats. Let everyone pick out their favorite flavors and then find a nice shaded spot to relax and beat the heat.
For those over 21, spend the afternoon sampling San Diego's amazing and cold craft beer. Stay safe and visit a few breweries on a beer tour. Best part…the tour busses and vans are air-conditioned!
Tips to Beat the Heat
Please remember to stay safe while you are out enjoying San Diego's warm weather. Always drink plenty of water, regularly apply sunscreen, wear a hat and lightweight, loose-fitting, light-colored clothing to protect your skin, and take regular breaks from the sun by relaxing in the shade or indoors.
What's your favorite way to beat the heat in San Diego?