[youtube http://youtu.be/gPBLmT18O3A]
It's "Game On" at the San Diego County Fair! This year, the Fair will spotlight classic and nostalgic games and show how these have evolved over the years; from board games and pinball, to television, videos and computers, technology has enhanced the gaming culture beyond our dreams.
Are you ready to hit start? Play at the Fair and save plenty of gold coins (a.k.a cash) with these deals and discounts:
Admission to the Fair
Adult admission to the San Diego County Fair costs $14 – but deals abound:
For super fans, the "Best Pass Ever" can't be beat. It includes daily admission – all 24 days of the fair – for just $24. You'll need a school or government-issued photo ID to use the pass.
Tuesdays are the magic day for kids 6-12 years old. They get in free. (Kids 5 and younger get in free everyday.) Youngsters 12 and younger can get in free any day if they read 10 books and have it verified by their teacher or librarian. The certificate you'll need to get signed can be downloaded in English or Spanish.
Adults can get $4 admission on Tuesday, June 11 or June 18. You'll need a ticket available with any $10 purchase at Albertsons/SavOn stores. (Tickets must be purchased in advance; none will be available at the fair.)
Been laid off in the past year? Present an unemployment check stub and a photo ID at the will-call window on June 18 or 25 to get free admission for yourself and a guest.
County auto dealers are in on the action this year, starting June 1. Visit a Toyota dealership to get a coupon valid for two adult admissions for the price of one. Visit a Ford dealership to get a 4-tickets-for-$32 coupon.
Once Inside the Fair
Concerts
Once you're inside, there are tons of free things to enjoy – including concerts by big name artists. Headliners offering free unreserved seats this year include the Beach Boys,  REO Speedwagon, Little Anthony and the Imperials, Switchfoot, Chubby Checker, Colbie Caillat and La Arrolladora Banda El Limón.
Rides
Love the rides? On "Pepsi Pay-One-Price" days, spend $35 for a wristband that allows unlimited access to Fun Zone and Kiddieland rides from noon until 8:00 PM.  The deal is valid June 8, 9, 11, 12, 13, 14, 15, 16, 19, 20, 26 and 27. On valid Wednesdays or Thursdays, wristbands are for sale at the fair; on other valid days, they must be purchased online (You'll buy and print out your Pay-One-Price voucher online; there's an additional $2.50 fee for online purchases.)
Food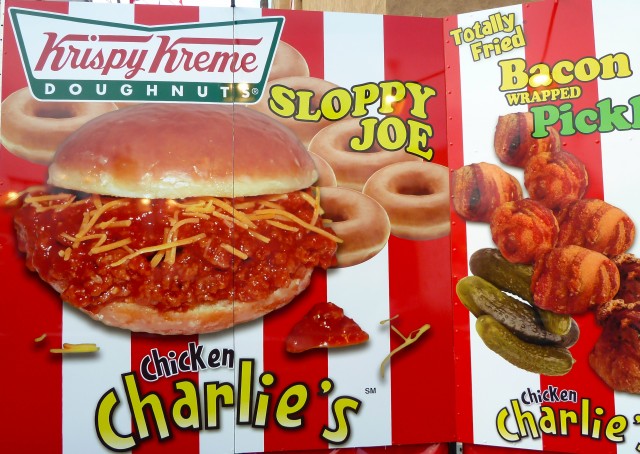 Food? On Tuesdays, from 11:00 AM to 5:00 PM, more than 100 food vendors offer smaller portions for $2. Or bring your own picnic; there are six designated picnic areas. (No alcohol, glass containers or metal utensils are allowed on the fairgrounds.)
Getting to the San Diego County Fair
Parking
Avoid the fair's $10 parking fee by opting for free parking at Horsepark, about 2 miles east of the fairgrounds, at 14550 El Camino Real; a free shuttle will get you to the front gate. On weekends and July 4 there's additional free parking (with shuttle service) at Torrey Pines High and Mira Costa College's San Elijo campus.
Public Transportation
Taking public transportation to the fair is a super deal. For $15, travel roundtrip on the Coaster and get free fair admission. The "Fair Tripper" is valid for any age, but those 62 and older save more by buying fair admission and Coaster tickets separately. Kids 5 and younger ride the Coaster free and get free fair admission.
Know of any other great San Diego County Fair deals or savings? Let us and others know in the comments below. Even if you don't know of any, tell us what deep-fried treat you are most looking forward to trying.