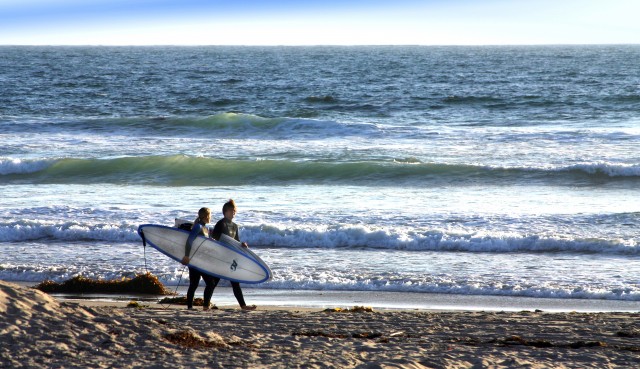 Alice Cooper said it best, "No more teachers, no more books…school's out for summer!" When the final school bell rings and summer break begins, there's no better place to bring your kids than San Diego, especially teenagers. San Diego has great teen activities known to cause many of them to happily lay down their smart phones and join in the fun. Here are a few "teen-tested, mother approved" San Diego activities that my own two teenagers enjoy every summer.
Boogie Boarding
The beach and boogie boarding go hand in hand, like San Diego and sunshine. With 70 miles of gorgeous beaches, there's plenty of surf for everyone. The best thing about it, just about anyone can do it. Teens love boogie boarding, and smaller kiddos and adults can jump right in for unlimited wave action too. Boogie boards can be rented at any of the surf shacks close to the beach.
Surf Lessons
Surfs up! Surfing is a way of life in San Diego, but if your teens don't know how, don't fret. Try Surf Diva Surf School located in La Jolla Shores, which is recognized world-wide and offers surfing lessons year-round. There's also Menehune Surf School in La Jolla, founded and staffed by local school teachers who will have your teens up on a board and riding waves in no time. Or, if you want to experience "sheet wave" technology, try The Wave House in Mission Beach, which harnesses the power and challenge of the ocean in a man-made, closed system that gives you non-stop action.
Gather Around the Fire Pit
Most Southern California teens (including my own) love hanging out at the beach around a roaring beach bonfire. The Hotel Del Coronado offers "S'Mores on the Beach" where you can sit around a crackling fire pit under the stars, toes in the sand, and snack on the classic combination of marshmallows, graham crackers and chocolate. Other options for fire pits are Mission Bay Park, Mission Beach, La Jolla Shores and Moonlight Beach in North County.
Bike Riding
The great thing about riding a bike is that most teens never outgrow it. San Diego has an abundance of biking trails for you and your teens to ride along paths with awesome views of the Pacific Ocean. Along the beach and boardwalk, there are ample places where bikes can be rented.
Behind-the-Scenes Tour of Petco Park
During baseball season, my teenage son loves watching the Padres at Petco Park, one of America's newest ballparks. But in the off season, your teens can catch all the MLB action with a behind-the-scenes tour, offered seven days a week. Discover "writer's row" in the press box or explore the Padres dugout. The crown jewel of downtown San Diego, Petco Park serves up baseball Southern California style-complete with swaying palm trees and a sandy beach beyond center field.
Shopping
Both guys and girls will find plenty to browse for at Seaport Village, Old Town, SeaWorld and the San Diego Zoo, which are the usual suspects, but offer one-of-a-kind San Diego souvenirs. There are also major malls, boutiques, surf shops and incredible outlet stores throughout San Diego County that offer big brand names and big discounts for fashion-progressive teens.
Tell us where you and your teens like to spend time in San Diego!