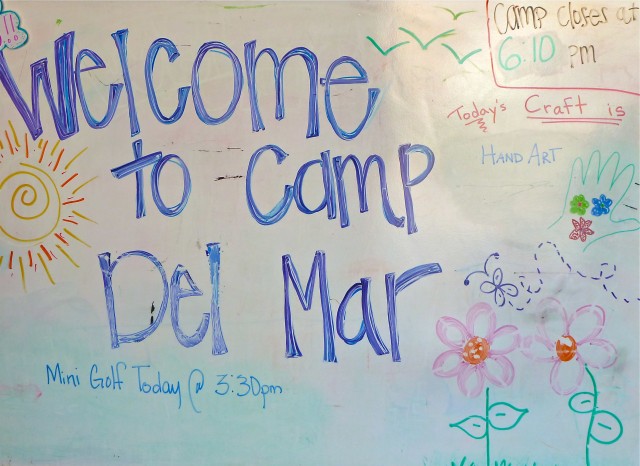 Heading off for a day at the Del Mar racetrack? Don't forget the kids!
The track's best bet might just be its child care program: Camp Del Mar is a just-for-fun day camp designed to keep 5-to-12-year-old youngsters safe and entertained while their parents enjoy a day at the races.
The program is based in the track's Mission Tower Building. Kids enjoy arts and crafts, movies and video games, tournaments and excursions. Thursday is miniature golf day. On Wednesdays, Fridays and weekends children compete in hippity hop races on the racetrack.
Children are supervised by trained counselors – one for every 12 kids. Staff includes teachers and recreation professionals.
The camp program will operate every day of the Del Mar racing season, from July 17 through September 2, (closed Mondays except Labor Day, Tuesdays and September 4). Camp will open at 11:30 AM on opening day, at 10:30 AM on Pacific Classic Day, at noon on other Wednesdays, Thursdays, Saturdays, Sundays and Labor Day. It'll open at 2:00 PM on Fridays. Camp closes 30 minutes after the last race.
Tuition includes all activities, lunch, snacks and a way-cool t-shirt. No reservations are required. Parents must remain at the track while their youngsters are at camp.
Camp Del Mar Info
Where: Mission Tower Building at the Del Mar Racetrack
When: Through September 2 (closed Mondays, Tuesdays and September 4)
Time: 11:30 AM to 30 minutes after the last race (check website for specific dates)
Cost: $24 per child
Website: www.CampDelMar.com