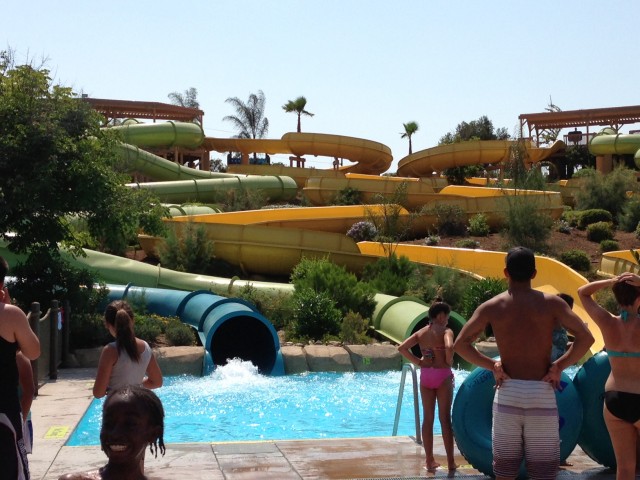 This past weekend my husband and I with our 12 year old son and a pal in tow, visited the new Aquatica San Diego waterpark in South Bay. I can sum up the day with just one word – awesome! The park just opened in June and SeaWorld has turned the formerly Knotts Soak City site into a waterpark paradise.
To start with, the water slides are everything they should be. Gentle slopes for little ones, medium slides with speed for teens, tweens and old ladies like me, and the flat out knurly HooRoo Run for adrenaline junkies. Our favorite was the WooHoo Falls where you have a nice long ride, either open air or in an enclosed tube, sitting on an intertube.
Apart from slides the park is everything you'd expect from SeaWorld. The landscaping is lush; there are scattered animal encounters, including up close interaction with flamingos; the grounds are clean; and the food is good. In addition to the typical amusement park fare, they offer some healthier choices like wraps and salads. For those over 21, Aquatica San Diego also serve strawberry and lemon lime margaritas and beer on tap.
We went early on Sunday expecting large crowds but the morning was actually light and we were able to find seating in the shade next to the wave pool.
My son's favorite part of the day was that his friend and he were able to go off on their own to experience the park. The contained nature of the grounds and the easy to navigate layout made it easy for even helicopter parents like us to let our boys run free. All and all, a great way to spend the day.
> Cool off at one of San Diego's Waterparks
Aquatica San Diego Information
Location: 2052 Entertainment Circle, Chula Vista, CA 91911
Park Hours:
– Weekdays: 10:00 AM to 6:00 PM
– Weekends: 10:00 AM to 7:00 PM
Admission: Starting at $25 with special online offer
> Get your Aquatica San Diego tickets today