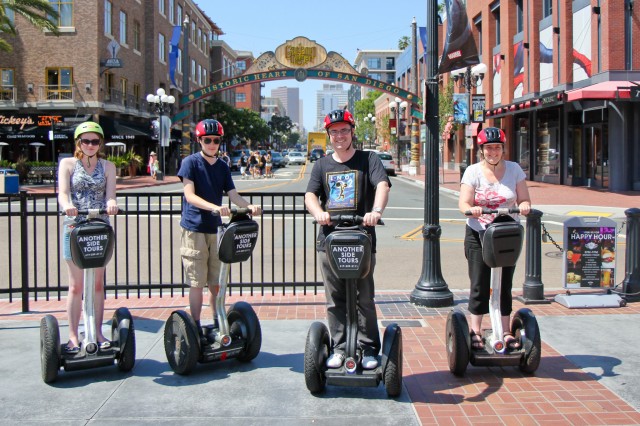 I'm always looking for new fun ways to engage my teenage son and this past weekend I hit the jackpot. We took a Segway tour through downtown San Diego and the embarcadero that was in a word, awesome. One of the things that made the day so special was seeing my teenager display the fun-filled enthusiasm that used to be so common but these days is hard tap.
There are a couple of good Segway companies in San Diego including San Diego Segway Tours but we chose Another Side of San Diego Tours for our adventure. The staff there is wonderful and they are conveniently located adjacent to Horton Plaza, where you can park for three hours if you spend $10 in the mall.
Our Segway Tour Through Downtown San Diego
Our tour guide was a hospitality college student named Evgeni and he had just the right mix of youth and professionalism to make for a great time for both my son and I. Since we had never been on a Segway before, we started the day watching a 15 minute movie on safety and then about a 10 minute lesson on how to mount the Segway, go forwards, backwards, make turns, and go up and down ramps. While a little shaky at first, we honestly felt like old pros within about two blocks of riding.
The tour started at Horton Plaza and took us by Petco Park, the Convention Center, the famous Gaslamp Sign, and then down to the waterfront embarcadero. We passed several beautiful marinas, the famous "kiss" statue and the USS Midway Museum. Along the way Evgeni had fun facts and trivia about historic buildings, dining recommends and celebrity gossip that added to the overall stunning scenery and views.
Throughout the tour my son was zipping and zagging on the Segway, showing pure delight at driving his own motorized vehicle through the streets of San Diego. At one point he exclaimed, "Wow, I'd like race one of these things."
Overall, the tour lasted two hours which was enough for me but my son could have continued on for the rest of the day. When I asked him what was his favorite part of the tour he answered (with an inflection only available to teenagers), "Mom, that's like asking what's the best part of eating a hamburger. It's the hamburger."
Needless to say, I'd highly recommend booking a Segway tour with Another Side of San Diego Tours the next time you're traveling to San Diego with a teenager. You won't be disappointed.
Have a San Diego activity your teen loves? Help out other parents by letting them know in the comments below.