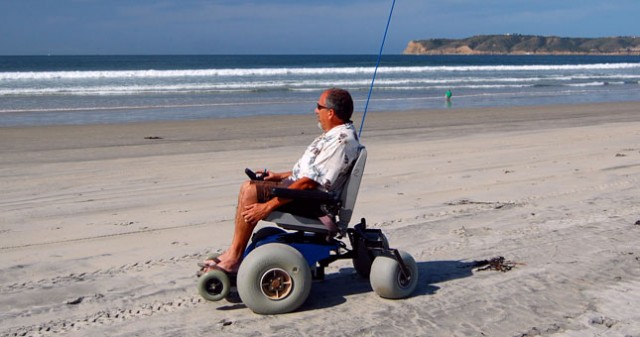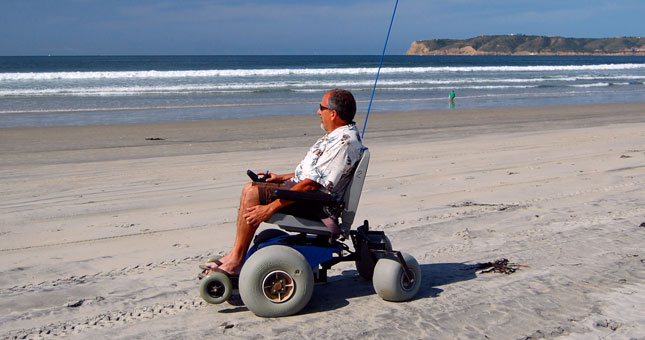 The City of San Diego's Park & Recreation Department provides a number of services for the disabled – including free use of motorized beach wheelchairs that allow those with mobility disabilities to propel independently along the sand at Mission Beach. There's even a non-motorized chair that allows users to roll right in to the ocean.
Beach wheelchairs can be reserved for one hour at a time. (Identification is required and will be held as security.) Maximum weight capacity on the motorized chair is 250 pounds; it's 500 pounds on the water-going chair.  (Only one rider at a time is permitted on either vehicle.)
Find the chairs just outside the lifeguard station at Ventura and Ocean Front Walk, behind Belmont Park.
Beach Wheelchair Rental Hours
May-October:
Weekdays: 11:30 AM to 4:30 PM (closed Tuesdays)
Weekends: 11:30 AM to 5:30 PM
November-December
Friday-Sunday: 11:30 AM to 3:30 PM
January-February
No beach wheelchairs available
March-April
Friday-Sunday: 11:30 AM to 3:30 PM
Reservations are highly recommended; phone 619.980.1876.