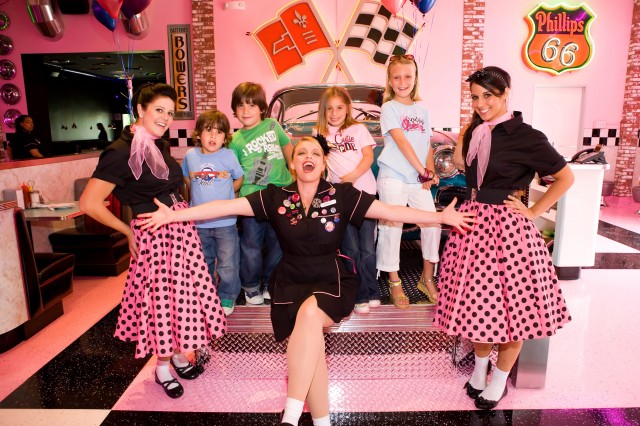 For the entire month of October, Kids Free in San Diego partners including local attractions and museums are offering kids the ability to go and play for free. To make things even better, many local restaurants are offering free children's meals to make sure your kids have the energy for all the fun they are about to have.
Below are 5 great Kids Free in San Diego dining offers:
Dine With Shamu at SeaWorld San Diego – Mission Bay
If your kids have been eating all their veggies, now's your chance to reward them with a unique dining experience they'll never forget. Dine With Shamu at SeaWorld San Diego offers a unique opportunity to sit at a poolside table and enjoy up close, personal interaction with trainers and of course, SeaWorld's biggest star, Shamu – all while indulging in a delicious, first-rate lunch or dinner. Reservations recommended.
Location: 500 SeaWorld Dr, San Diego, CA 92109
> Print the Kids Go, Eat and Play Free at SeaWorld San Diego Offer
Corvette Diner – Point Loma
Even before I had children, I loved eating at this up-tempo, 1950's style diner whenever I wanted to feel, well, like a kid. This Americana-inspired eatery decked out in pop culture memorabilia really took it up a notch when it moved to its Liberty Station location and added Gamers Garage – a spacious entertainment arcade featuring everything from Guitar Hero to old school classics like skee ball and air hockey – perfect for digesting that peanut butter banana milk shake. Receive a free $5 Gamers Garage card with any kid's meal purchase.
Location: 2965 Historic Decatur Rd, San Diego, CA 92106
> Print the Kids Play Free at Corvette Diner Offer
Hard Rock Cafe – Downtown
It's been over 40 years since the original opened in London, but Hard Rock Café San Diego, located in the heart of our city's Gaslamp Quarter, continues to deliver an encore-worthy performance. Spacious booths for families, a kid's menu longer than a playlist, and décor that will inspire your lil' Jimi Hendrix, make this joint worthy of a stop on your world tour.
Location: 801 Fourth Ave, San Diego, CA 92101
> Print the Kids Eat Free at Hard Rock Café San Diego Offer
Atoll Restaurant at Catamaran Resort Hotel – Mission Bay
While recently attending a friend's wedding here, I was reminded how awesome this resort is with its lush landscaping, exotic birds and overall tropical vibe. Atoll is the resort's signature restaurant and features indoor and outdoor seating with magnificent views of the bay. This place is definitely a step above your typical fast casual fare – which is all the more reason you should flock here during Kids Free in San Diego this October. Nearby, the Bahia Belle, a "Turn of the Century" Mississippi-style sternwheeler offers weekend boat cruises on the water of Mission Bay. 7:00 PM and 8:00 PM cruises are designated "Family Hours" and kids ride free through the month of October with each paid adult.
Location: 3999 Mission Blvd, San Diego, CA 92109
> Print the Kids Eat Free at the Atoll at the Catamaran Resort Hotel & Spa
Wave House San Diego – Mission Beach
The Wave House is living proof that San Diego is at the forefront of innovation when it comes to action sports, which is why the focal point of this 40,000 sq. ft. beach lifestyle venue is the FlowRider – an artificial wave machine that produces perfectly groomed swells by a technology that is taking the world by storm. The Wave House Beach Club lets Kids Eat Free and is a perfect venue for families to watch skilled surfers put on a remarkable display riding these killer waves. And after the kids are done eating, take advantage of Belmont Park's Kids Free in San Diego offer so they can burn off all the calories.
Location: 3125 Ocean Front Walk, San Diego, CA 92109
> Print the Kids Eat Free at Wave House San Diego Offer
Are you taking advantage of the Kids Free in San Diego dining offers? If so, which one(s) has your family enjoyed?