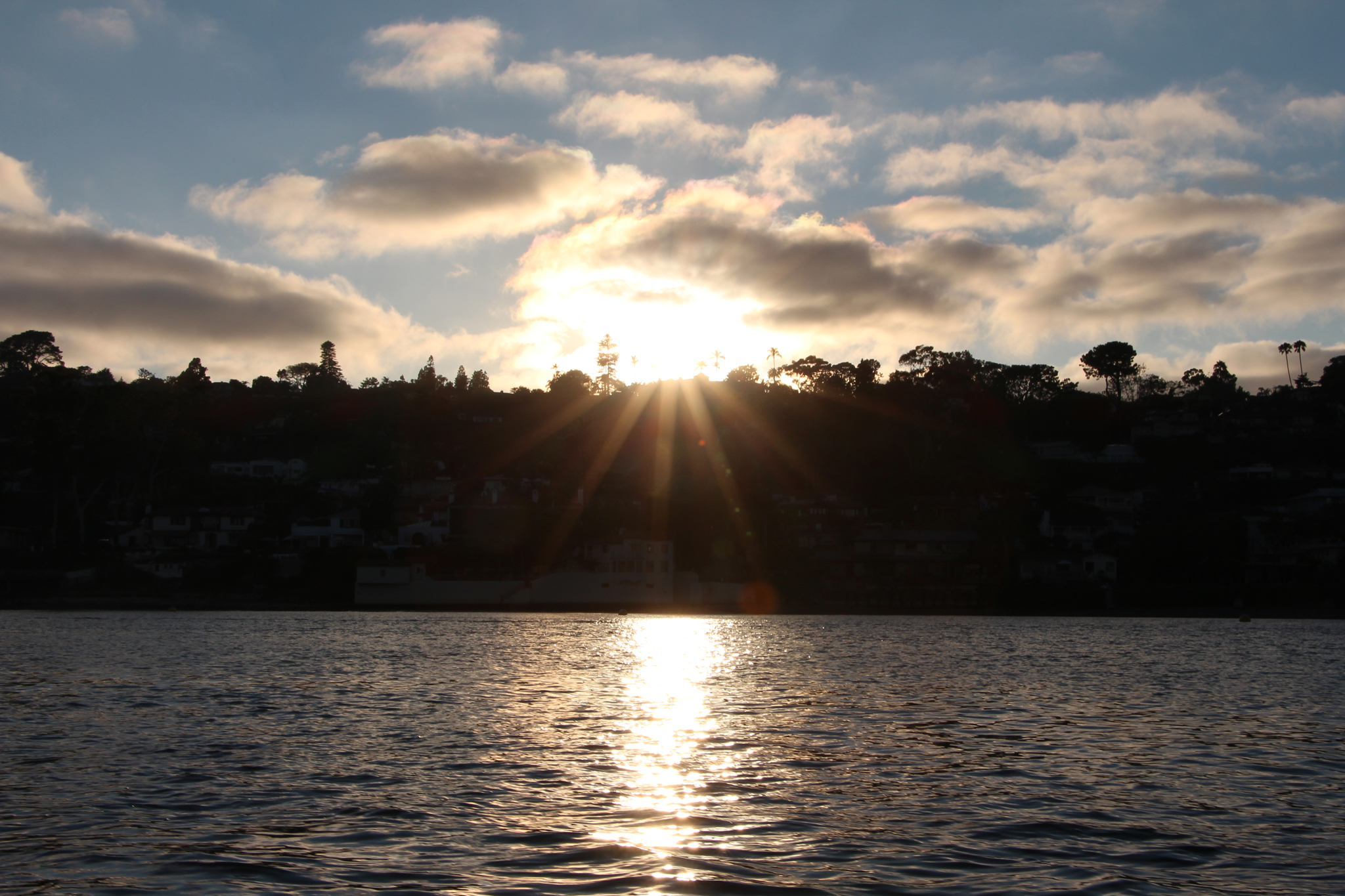 I can make the claim with good authority that the most popular pictures taken while visiting San Diego are of our amazing sunsets. Of course a picture is never as good as the real thing, so I decided to see it in person and surprise my wife, parents and in-laws with a sunset cruise around San Diego's Big Bay aboard Baydreamin' 1 of Bay Dreamin' Cruises.
All Aboard the BayDreamin' 1
Before you even leave the harbor, Captains Mike and Jackie McNabb make sure everyone is comfortable aboard Baydreamin' 1, an all-electric and exhaust-free Duffy boat. My group of six brought plenty of food and drink that we stored away in the boat's refrigerator. Also provided on board was a table, plates, cups, napkins and even the very important bottle opener!
Once everyone was seated and situated, we set sail into San Diego's Big Bay and began our sunset cruise.
The Sunset Cruise
For the first half of our private sunset cruise, we stuck close to the shore and explored Harbor Island, Shelter Island and more. All the while, we enjoyed great conversation, a delicious deli dinner, homemade mint brownies (made by me!) and plenty of wine and craft beer.
Along the way, Captains Mike and Jackie either provided interesting sightseeing facts or just faded away into the background. The choice is up to you. Our sunset cruise was the perfect mixture of both.
The ride itself was smooth! Duffy boats are not meant for speed; they are meant for comfort. Neither my vertigo-suffering father nor my pregnant wife got seasick aboard Baydreamin' 1, proving this is a wonderful sunset cruise even for those who don't have sea-worthy legs or stomaches.
The Sunset!
The grand finale came during the second half of our cruise. Captain Mike piloted the boat farther out into the bay to provide us with spectacular views of an amazing sunset to the west and a glittering downtown to the east. As the sun slowly set on the horizon, we raised our glasses to our good health, wonderful family and the amazingness known as San Diego…oh, and I took a lot of pictures!
Bay Dreamin' Cruises Information
Where: 955 Harbor Island Drive, San Diego, CA 92101
Phone: 619.701.3766
Cost: $50 per person. $200 for boat buyout
> Book your sunset cruise aboard Baydreamin' 1
> Find More Bay Cruise Opportunities in San Diego
Where's your favorite place to watch a sunset while in San Diego? Tell us in the comments below.