Halloween week means lots of spooky events around San Diego, but there's more happening this week than just parading ghosts and goblins. The traditions of Mexico at Dia de los Muertos celebrations, zombies walking at a local theater, and  some post-Halloween fun at a local street fair are all part of the top things to do in San Diego, Oct. 30 – Nov. 3:
Carlsbad Fall Village Faire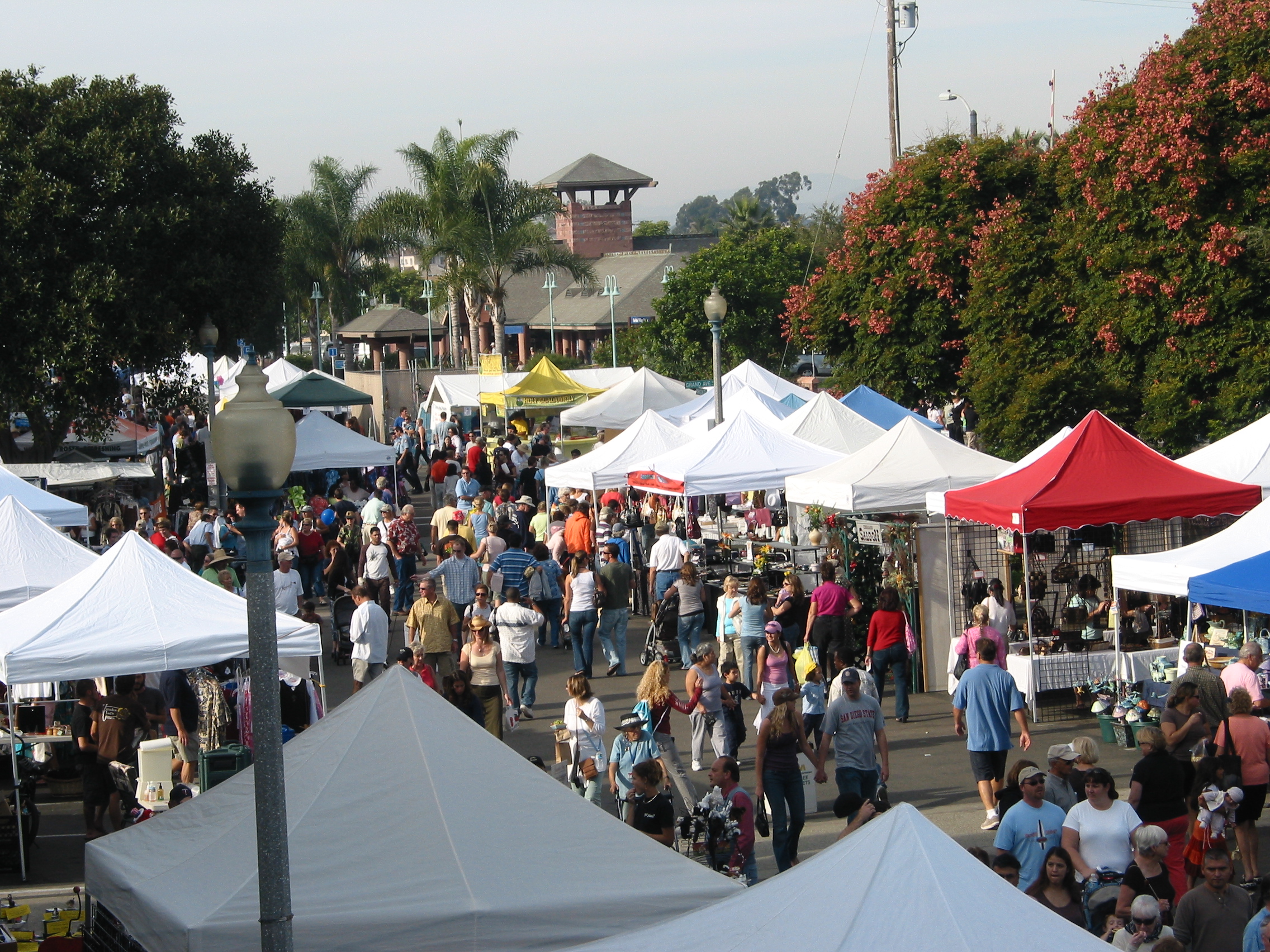 Checking out street festivals when you travel to a new city provides real insight on the town, the people, and the local culture.  From downtown San Diego, take the family on a scenic Coaster ride headed north to discover why the nation's largest single day street fair takes place in this beautiful seaside community.
Where: Grand Ave (between Carlsbad Blvd & Jefferson St) Carlsbad, CA 92008
When: Sunday, November 3, 2013
Time: 8:00 am – 4:00 pm
Cost: Free
>Find our more about the Carlsbad Fall Village Faire
Plancha Baja Med Halloween Pop-Up Dinner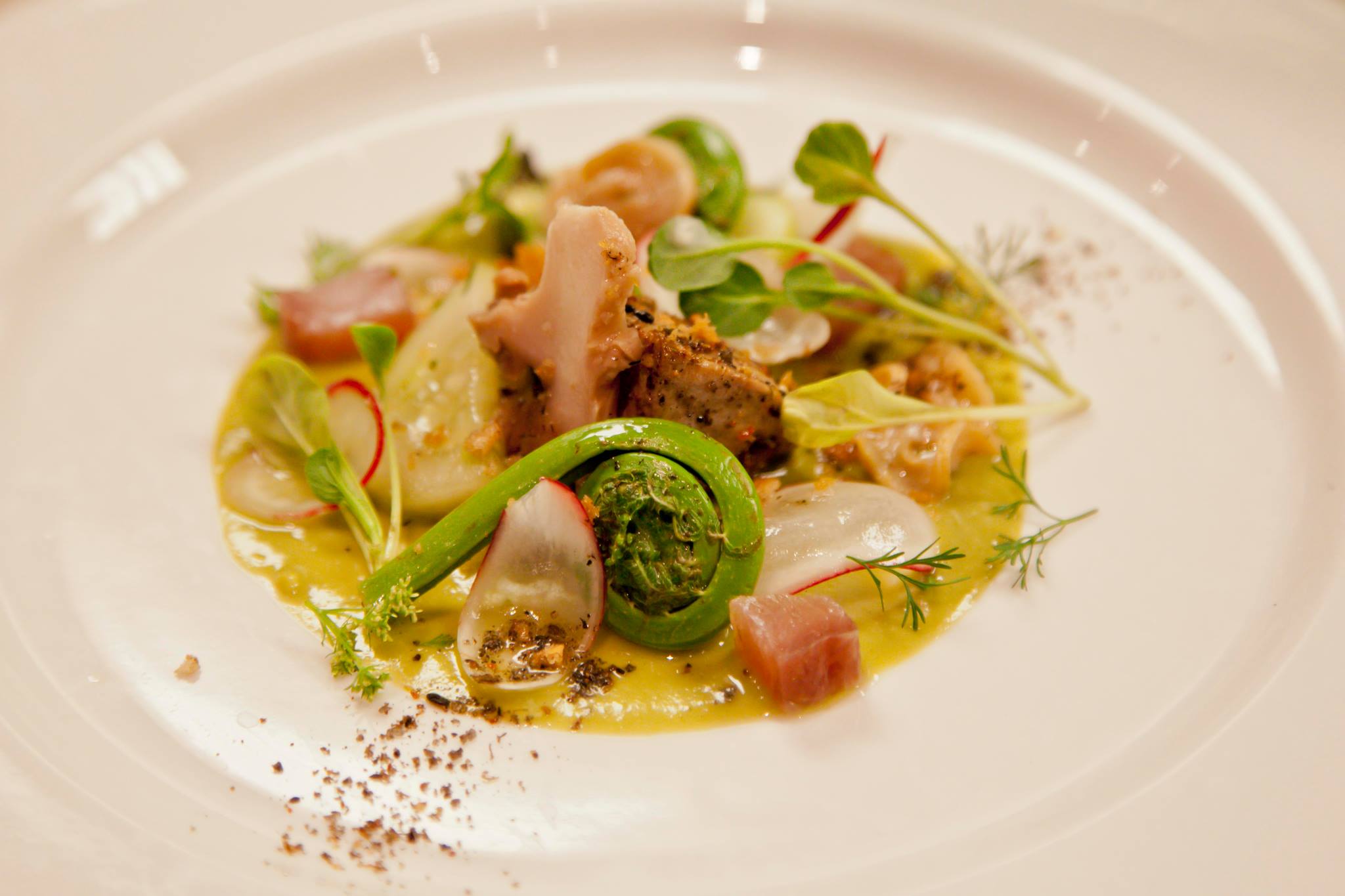 Local chef Chad White from Plancha Baja Med takes over downtown's Frauds & Swindlers cocktail lounge for an evening of delectable cuisine and libations. The "black & white" themed menu features creative dishes like oyster-coconut cream soup and ash-cured pork belly. The evening also features a costume contest, live music and dancing into the wee hours.
Where: 820 5th Ave., San Diego, CA 92101
When: Thursday, October 31, 2013
Time: 7:00 – 10:00 pm
Cost: $70 per person
>See the complete dinner menu
Spooky Silent Films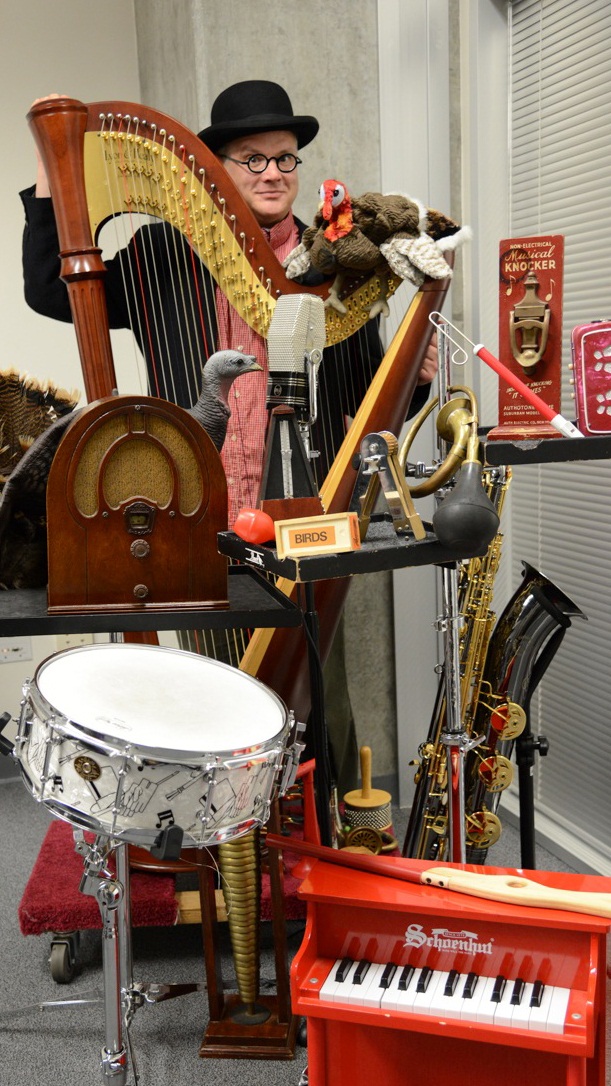 If modern horror films with all the blood and guts aren't your thing, check out The Teeny-Tiny Pit Orchestra's presentation of Horror on Halloween. The event features scary silent films paired with live music and sounds. Audience participation in creating the creepy film scores is encouraged (have you ever tried to play a Theremin?).
Where: 9500 Gilman Dr. (Seuss Room at the Geisel Library, UCSD), La Jolla, CA 92093
When: Thursday, October 31, 2013
Time: 7:00 pm
Cost: Free
>Find out more about Horror on Halloween
Dia de Los Muertos at Fiesta de Reyes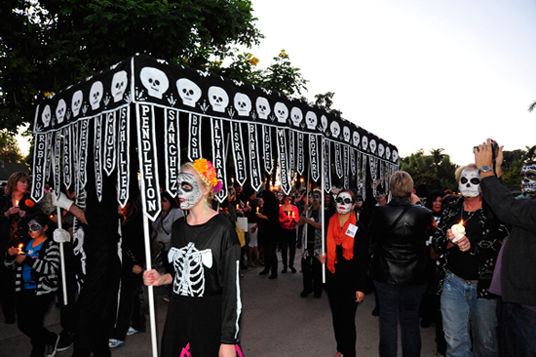 As a part of the Old Town San Diego's Día de los Muertos celebration, Fiesta de Reyes and Old Town San Diego State Historic Park will celebrate the Day of the Dead with live music, folklorico dancing, face painting, crafts for children and a tour of more than 15 altars on Nov. 1 to 3. Visitors won't be disappointed by the extensive Day of the Dead display at Fiesta de Reyes and the special-themed menu at Casa de Reyes and Barra Barra Saloon.
Where: 2754 Calhoun St  San Diego, CA 92110
When: Nov. 1 – 3, 2013
Time: 1:00 – 9:00 p.m.
Cost: Free
>Find out more about Dia de los Muertos in Old Town San Diego
Día de los Muertos – Honoring Mexico's Singers & Composers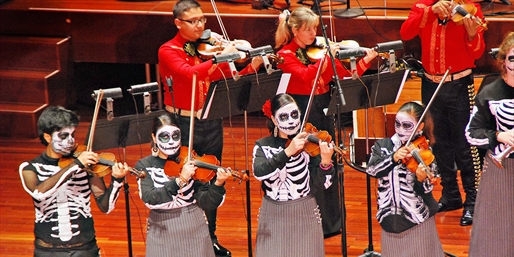 The San Diego Symphony hosts an evening honoring the music of some of Mexico's most beloved singers and composers during a celebration of Día de los Muertos, Mexico's colorful and magical tradition. San Diego favorite Mónica  Ábrego, Metropolitan opera veteran  José Luis Duval and one of the most famous mariachi musicians in the world, Rafael Palomar take the stage to perform passionate and exciting music.  With world-class singers and world-class mariachi, don't miss this classic take on a cross border tradition.
Where: 750 B Street, San Diego, CA 92101
When: Friday, November 1, 2013
Time: 8 p.m.
Cost: $20 – $85
>Find out more about Dia de los Muertos at the San Diego Symphony
Technomania Circus: Dia de los Zombies
Held in a spooky former church, Technomania Circus presents 'Dia de los Zombies' on Friday and Saturday Nov. 1 & 2. Seek shelter from wandering zombies on the Day of the Dead in this spooky ex-church and be amused by circus performers of the live and undead variety while you await your inevitable fate.
Where: 2558 Imperial Ave, San Diego, CA 92102
When: Friday, November 1 & Saturday, November 2, 2013
Time: 9:00 p.m.
Cost: $10
>Find out more about the Dia de los Zombies

Need even more ideas for what to do in San Diego? Browse the San Diego Event Calendar