San Diego restaurants offer a surprising number of exciting family friendly dining experiences from beaches to breweries.
Stone Brewing World Bistro & Gardens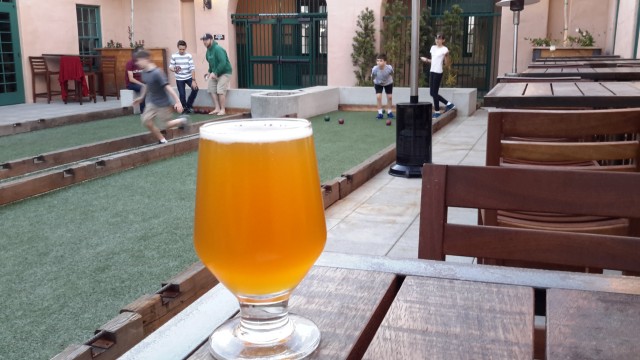 Wait a minute, beer and kids? Yes! Both locations of Stone Brewing World Bistro & Gardens offer a dining destination, with an outstanding and challenging menu for adults featuring local meats and produce, and of course, local beers. They also have a kids menu that offers fresh veggies and their own house made soda (free of high-fructose corn syrup). You"ll find no frozen chicken fingers here. Kids can choose between chicken stir fry with noodles, carrots peas and broccoli; a cheese sandwich on freshly baked ciabatta bread and garlic mashed potatoes; chicken and cheese burrito with rice and beans on the side; or pasta in a cream sauce. Our family enjoys dining here because adults can enjoy a pint watching the kids play bocce ball at Liberty Station while we wait for the food to be served. Both locations offer outdoor gardens and paths and grassy lawns so older kids can wander and younger kids have somewhere to toddle (with escort) beyond the confines of a dining room.
Where: 1999 Citracado Parkway, Escondido, CA 92029
> Find out more about Stone Brewing World Bistro & Gardens Escondido
Where: 2816 Historic Decatur Rd, San Diego, CA 92106
> Find out more about Stone Brewing World Bistro & Gardens – Liberty Station
Corvette Diner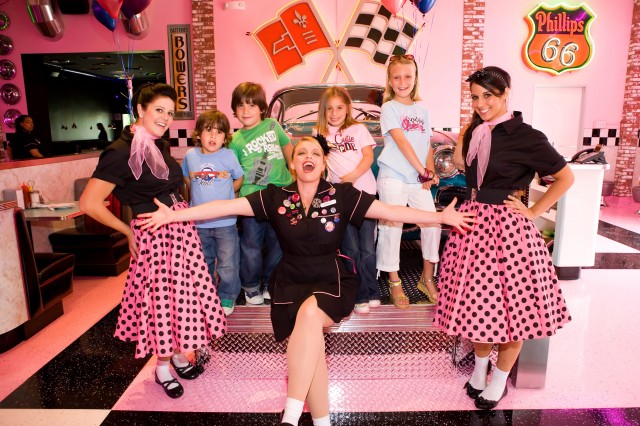 For pure kid-pleasing pleasure, Corvette Diner has it wired. This place is all about celebrating fun, and they have a huge menu with options for everyone, so even the pickiest eater can be accommodated. Those looking beyond the "diner" experience can find options like the "Popeye" spinach salad. Portions are huge (although there"s an extensive kids menu here too) and the food is fresh and tasty. The wait staff wear 1950s-era diner outfits and toss straws and bubble gum on to the table when they come to take your order. The space is large with many car and music themed rooms and best of all, an arcade! Kids can play pinball, video games and the like and win tickets for small prizes they select. No wonder it"s a birthday party favorite in San Diego.
Where: 2965 Historic Decatur Rd, San Diego, CA 92106
> Find out more about Corvette Diner
Waypoint Public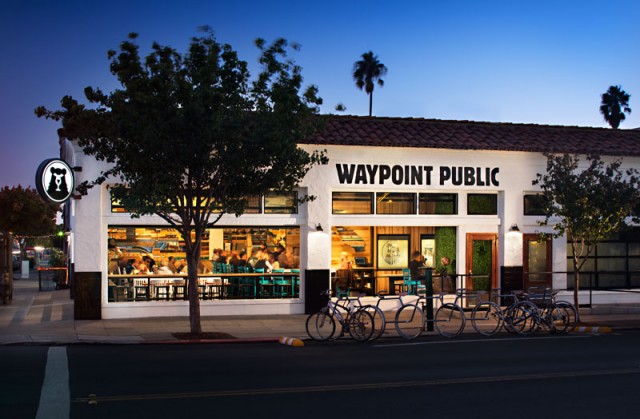 You know kids are welcome when a restaurant builds out an area just for the little guys to play. At Waypoint Public located on 30th Street, a thoroughfare with a reputation for craft beer and culinary excellence in the neighborhood of North Park, families can reserve a table next to a kids "corral" to watch their tykes while dining. This kids" zone offers toys, bookshelves, blocks and bean bags in a little area toward the back of the restaurant carpeted with artificial grass and surrounded by a white picket fence.
While the kids menu includes favorites like cheeseburger and fries, mac "n" cheese, grilled cheese and little chicken dinner, the restaurant"s philosophy of fresh, local ingredients result in healthier options all around. The regular menu offers charred Spanish nbso online casino reviews octopus and duck cassoulet as well as an amazing burger. The 30 beers on tap and close to 100 bottles to choose from mean mommy and daddy will be happy too.
Where: 3794 30th Street, San Diego, CA 92104
> Find out more about Waypoint Public
Station Tavern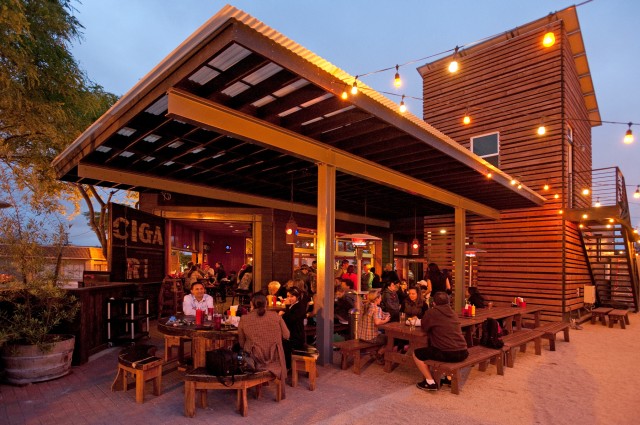 Station Tavern, in the South Park neighborhood, is one of the most comfortable places for families to dine. It reminds me of a German beer garden with its indoor-outdoor picnic tables and quality beer and cocktail selection. The menu is simple with burgers, fries and tots, salads and a few other rotating items. "Station" as the locals call it, offers a place just for the kids as they crowd inside, and on top of, a mini trolley sitting within a fenced-off area in the outside dining space. A chalkboard and other sand toys offer youngsters distraction in this play zone. The restaurant sits on what was once a trolley track running through the neighborhood, thus the name.
Where: 2204 Fern Street, San Diego, CA 92104
> Find out more about Station Tavern
The Wave House at Belmont Park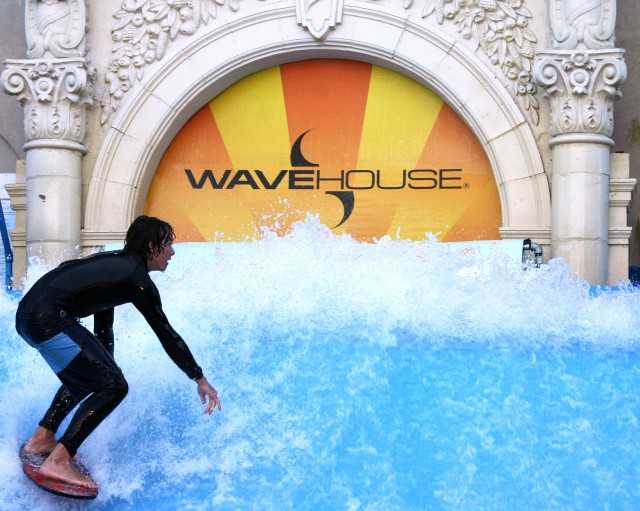 For a true escape from everyday dining, head to Mission Beach and get a table at Belmont Park"s Wave House. This entire area sits outside on the famed Mission Beach Boardwalk steps from the Pacific Ocean. The Wave House offers tropical palms, tiki style bars, a college crowd and also a sand pit for the kids to play in (including bean bag toss and giant chess board), all next to two giant wave rider simulators. My kids were fascinated watching beginning and expert surfers alike paddle in to the Wave House"s Flowbarrel and FlowRider wave simulators. No boredom at this restaurant! The menu is varied and extensive, featuring popular favorites from many cultures – taking into account the large tourist population that visits the area. While the kids dined on quesadillas and chicken satay, my husband and I enjoyed fresh sushi made to order and the real ocean views. The Wave House offers fun, action, great people watching and a dip in the ocean for dessert.
Where: 3146 Mission Blvd, San Diego, CA 92109
> Find out more about Wave House San Diego
Where do you like to take your kids to dine in San Diego?