Although they say it never rains in Southern California, there are a few rainy days thankfully to provide water for our desert wild flowers to bloom and keep our gardens green.
For parents with kids on the rare San Diego rainy day, here are some suggestions of places to take the family that provide opportunities for fun, physical activity, education and in some cases, all three.
Ultrazone – The Ultimate Laser Adventure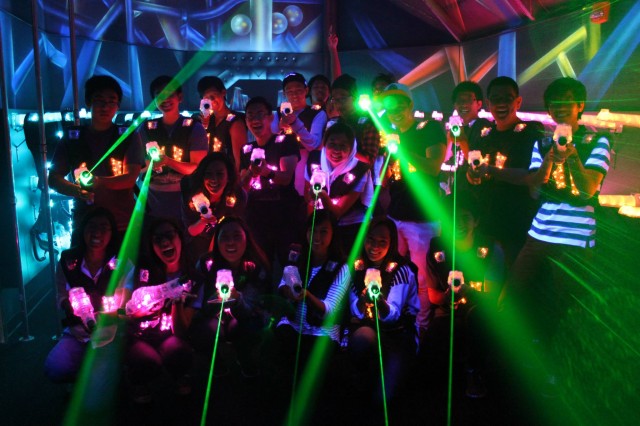 Up until last week I've never played laser tag. Sure, I've taken my kids to parties there, dropping them off, running errands and picking up the red-faced duo at the end of the party as they excitedly tell me their laser names and scores. But last Friday I discovered Ultrazone laser tag is not just for kids; ask my co-workers about our team building, or "team blasting," outing here, resulting in quite the sweaty and excited group. After our 15 minutes of introductions and rules, we were assigned teams, donned special light up vests, with laser guns attached, and were let loose in a dark two-story maze to shoot at the other teams. It's way more fun than it sounds and quite the workout. Your heart pounds with fight or flight adrenaline as you crouch behind a wall or scurry up a ramp to avoid being "shot" by laser light and become unable to shoot back for four seconds. My kids were thrilled by how much mom reveled in her decent "accuracy" score as "Katness" and "Medusa."
Where: 3146 Sports Arena Blvd, San Diego, CA 92110
> Find out more about Ultrazone – The Ultimate Laser Adventure
Fun for Free at the New Central Library Downtown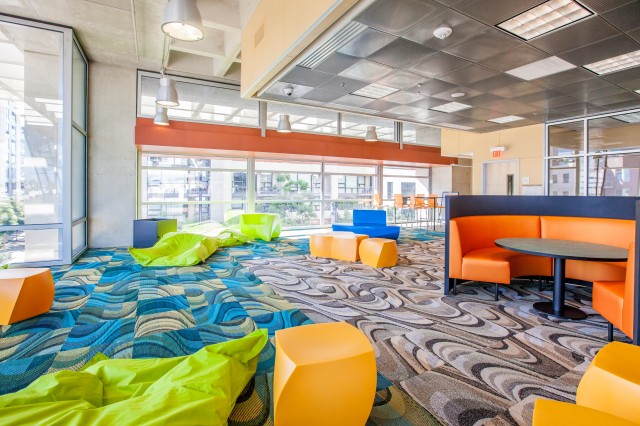 In September 2013 the city welcomed a new jewel to downtown, a beautiful Central Library that is both ambitious in its architecture, book and art collection, and number of free activities for families and adults offered on a daily basis. Kids will enjoy the Dr. Seuss-themed children's area. There are free arts and craft projects and story times daily, and free film and concert series scheduled monthly. Teens will be wowed by an entire section reserved just for them located on the second floor. The Teen Center is a safe learning environment that includes 14 computers and two study rooms specially set aside for teen; fun and engaging furniture and relaxed environment (and views!) to encourage teens to hang out and collaborate; iPads, iPad Minis, Chromebooks, and eReaders available for use in the library; media gaming room and a onsite vending machines (the only part of the library where food is allowed indoors). My preteen can't wait to turn 13 and hang out here, playing video games for free and having access to the entire Divergent book series in one section.
Where: 330 Park Blvd., San Diego CA 92101
> Find out more about San Diego's New Central Library
K1 Speed – Indoor Go Kart Racing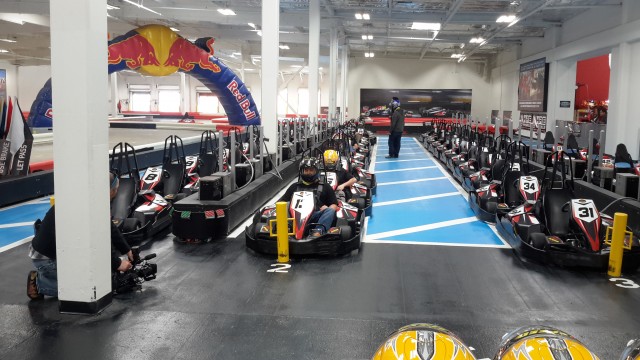 K1 Speed now has two San Diego locations; one in North County's city of Carlsbad, and a new location, K1 Speed in San Diego's East Village downtown. Kids will love to hang out here with a large indoor track to race go-karts around, a lounge area with pool table, video games and pinball machines, and a snack bar to nosh at in between races.
Where:
– San Diego – 1709 Main St., San Diego, CA 92101
– Carlsbad – 6212 Corte Del Abeto, Carlsbad, CA 92009
> Find out more about K1 Speed – Indoor Go Kart Racing
Dave & Busters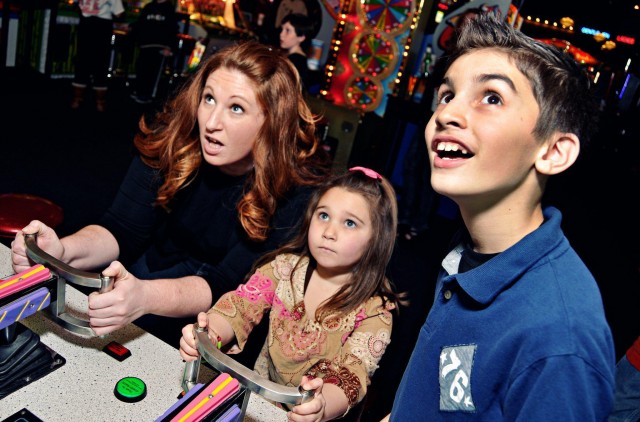 Ready for lunch and an escape from the kids (without leaving them behind)? Head over to Dave & Buster's, a restaurant, bar, arcade combination that offers a good time for all ages. The menu is wide-ranging with everything from bar food to salads to under 600-calorie lunches and numerous kids' offerings to boot. Adults can enjoy San Diego craft beer offerings like Ballast Point on tap while kids play in an extensive arcade that offers everything from the newest edition of Temple Run to old school skee ball and pinball.
Where: 2931 Camino del Rio N, San Diego, CA 92108
> Find out more about Dave & Buster's
New Children's Museum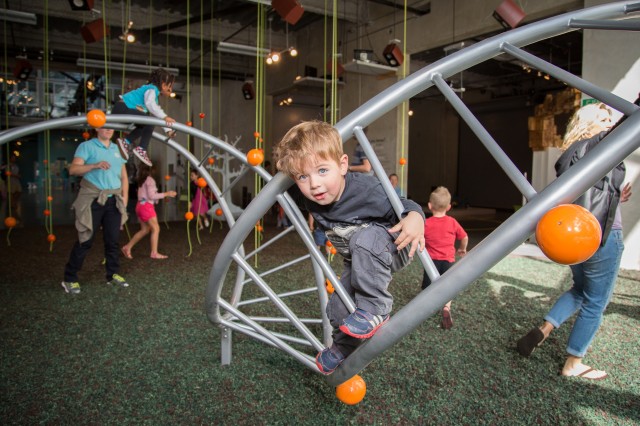 This beautiful space for children and art offers a creative space for families to while away a day with planned and unplanned art and play. From scheduled workshops that rotate daily and monthly depending on the current exhibit, to dress-up theatre spaces for impromptu plays, The New Children's Museum offers interactive opportunities to escape into the world of drawing, bubbles, paint and clay, as well as the chance to dodge occasional bad weather.
Where: 200 West Island Avenue, San Diego, CA 92101
> Find out more about The New Children's Museum
John's Incredible Pizza Company
[youtube http://youtu.be/etx0uUzTeq0]
The incredible part about John's is not just the pizza, it's the 43,000 square feet of activity, including John's Incredible Fun World, jam-packed with rides like Twister and Boogie Bump bumper cars and the hottest 100 video and ticket-dispensing games. In between gaming, try fresh all-you-care-to-enjoy pizza, pasta, soup, salad and dessert buffets (don't see your favorite, just ask and they'll make it fresh!)!
Where: 3010 Plaza Bonita Rd, National City, CA 91950
> Find out more about John's Incredible Pizza Company
Balboa Park Museums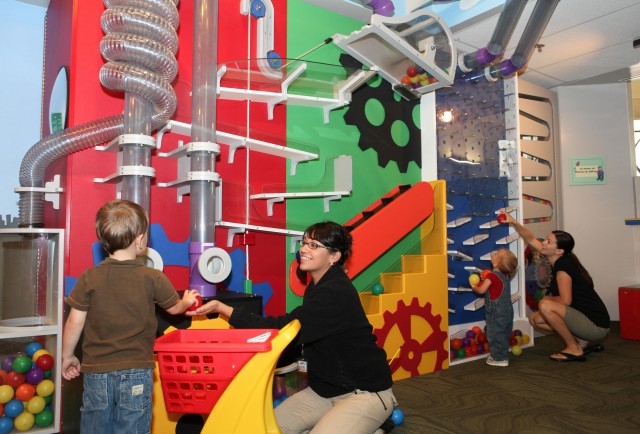 With 15 major museums to choose from, you'll be able to find more than one Balboa Park exhibit that appeals to your brood; and by purchasing the Stay for the Day Pass you can visit up to 5 institutions in one day and save. The RH Fleet Science Center can get packed on a rainy day because the museum is set up for the kids to run around from activity to activity, including Kids City for 5 year olds and under, and current exhibits that older kids will enjoy.
Other family friendly museums in Balboa Park with interactive opportunities for the kids include Museum of Man, The Nat (San Diego Natural History Museum), the Air & Space Museum and Model Railroad Museum.
Where: 1549 El Prado, San Diego, CA 92101
> Find out more about Balboa Park
*Note: The Stay for the Day pass includes only general admission. Current special exhibitions are not included with the Stay for the Day pass.
Sky Zone Indoor Trampoline Park
[youtube http://youtu.be/fx1-q0KP3NI]
My 11-year-old daughter's idea of heaven involves trampolines and padded walls. Sky Zone in San Diego's south-eastern Chula Vista neighborhood has her covered. No one will suffer from cabin fever if you take the family here on a rainy day. Trampoline dodge-ball and basketball, and aerobics classes for adults, are all part of this indoor bounce zone.
Where: 851 Showroom Place, #100, Chula Vista, CA 91914
> Find out more about Sky Zone Indoor Trampoline Park
Got another perfect San Diego rainy day spot for the whole family? Let other parent's know in the comments below.