While there's a burgeoning scene of hip music for youth in San Diego, there are also many options for those of us who have true youngsters at home, the 12 and under set. Here are some places to bask in the sunshine and experience music the entire family will enjoy.
Balboa Park – Musical Mecca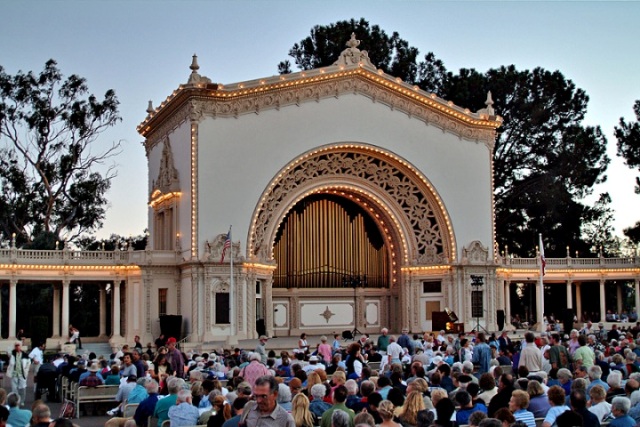 One of the family traditions I grew up with that I've continued with my children is attending the free outdoor concerts in Balboa Park's historic Organ Pavilion. In 1914, the Spreckels family donated one of the world's largest outdoor pipe organs to the city and it's been housed in the ornate outdoor theater for 100 years. Summer Monday's at 7:30 PM, the Spreckels Organ Society hosts its festival concerts that feature local artistic director Dr. Carol Williams or a variety of guest organists from around the world. Other music series held in the pavilion occur year-round, but summer offers four additional free concerts a week. These include the Twilight in the Park Summer Concert series on Tuesday, Wednesday and Thursday evenings at 6:15 PM. Through these concerts my kids have been exposed to Klezmer music, big band, and even an Elvis impersonator, all while picnicking in our seats or dancing in the aisles on a warm summer's eve.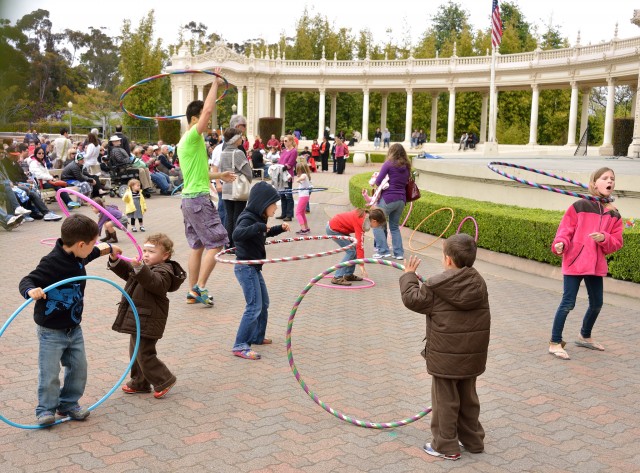 The organ pavilion also plays host to a Sunday series at 2:00 PM and some Family Festival Days including one in June, and a Halloween-themed fest in October. These special family concerts include activity tables for kids plus concerts by young organists. In year's past, children in the audience were allowed on stage and "behind the curtain" to peek at the organ's pipes.
Where: Spreckels Organ Pavilion -1549 El Prado, San Diego, CA 92101
Cost: Free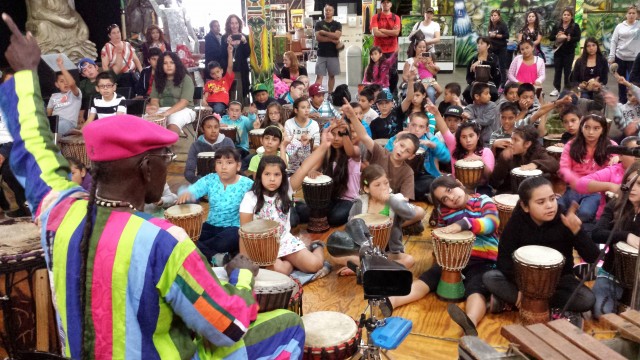 Another free event in harmonious Balboa Park is the WorldBeat Center's Super Sonic Samba Drummers practicing near Pepper Tree Park playground on Sundays at 1:00 PM. The drum circle's beat will get everyone in the family dancing on the grass around the group. If you want to learn more about the World Beat Center's music programs, they offer a wide variety of music classes for free and nominal fees, including a very fun toddler West African Drumming Class on Tuesdays at 2:00 PM. I used to take my kids to this class and it's great because you don't have to register ahead of time, so no worries if your darling is napping and you miss a class, just show up next week.
Where: World Beat Center – 2100 Park Blvd. San Diego, CA 92101
Cost: Some events are free and some classes are fee based
The Museum of Making Music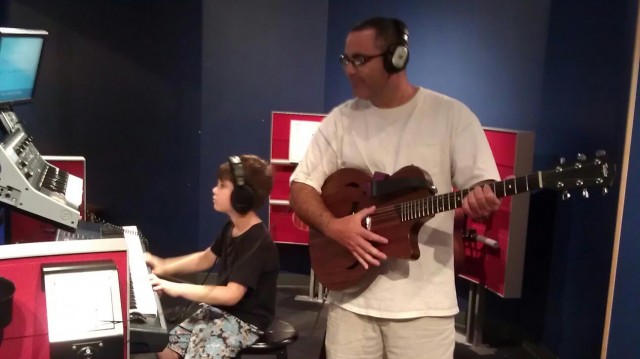 For a truly remarkable combination of musical history and education (and hands-on music making), families must visit The Museum of Making Music in Carlsbad. This gorgeous but approachable museum has vintage, rare delicate instruments on display behind glass, but it knows its audience (we all want to strum or pound or tickle the ivories too when inspired), so each exhibit has the opportunity for guest to make some noise on non-vintage, tough instruments, culminating in the Innovation Studio space with a variety of electric guitars, keyboards and drums (and headphones for parents wanting to escape the joyful cacophony).
Where: 5790 Armada Dr, Carlsbad, CA 92008
Cost: General admission: $8, Students, Seniors, Military: $5; Kids 5 and under at free
Dates & Times: 10:00 AM to 5:00 PM. Closed Mondays
LEGOLAND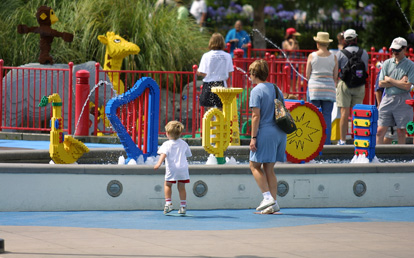 The Museum of Making Music is located next to LEGOLAND, which features a musical water fountain in the park – another of my children's favorite experiences. They jump up and down on foam rubber circles and different instruments make their sound and shoot up water! What could be more fun?!
Recreational Music Center
If you are looking for drop-in music classes while visiting San Diego, the arts-centered Liberty Station complex in the Point Loma neighborhood houses Recreational Music Center, a non-profit music school whose mission is to cultivate the joy of making music through relevant, cutting-edge teaching methods, making music available to everyone regardless of financial resources or other barriers. The school offers an extensive list of children's piano, cello, wind ensemble lessons, as well as hosting birthday parties and summer camps including a Rock Band Camp. September through June RMC also offers monthly Parents Night Out events, so guests can drop their kids (ages 4-11) to learn music from 5:00 to 8:00 PM and parents can enjoy a dinner at one of Liberty Station's nearby eateries, including Stone Brewery steps away.
Where: 2590 Truxtun Rd, San Diego, CA 92106
Cost: Varies by class, camp or event
Dates & Times: Classes/camp prices vary; Parents Night Out $25 child includes dinner.
Classic Sounds in San Diego
These educational concerts are open to visiting families, adults just must be accompanied by a child.
Classics 4 Kids
Classics 4 Kids is a San Diego nonprofit that has been providing kid-friendly professional orchestra performances for children, teachers and families throughout San Diego County for 20 years. The group performs in the historic Balboa Theater in the Gaslamp Quarter. This Sunday, April 27, 2014, see Beethoven 'n' Friends Go Country, a family concert featuring the Classics Philharmonic's renditions of famous composers, infused with the foot stompin' fun of real-life cowboy Wylie Gustafson, the singing, yodeling, guitar playing country star, direct from Montana. Next fall the group continues its Kids Concert series with Peter and the Wolf, on November 23, 2014, a Salute to American Jazz Greats on February 22, 2015, and Isabella & Diego, a Mariachi-influenced version of the classic Hansel & Gretel tale on May 3, 2015.
Where: Balboa Theatre – 868 4th Ave, San Diego, CA 92101
Cost: Child: $12 Adult: $15; Red Ribbon (premier seating and a yummy treat) Child: $15 Adult: $20
San Diego Symphony
The San Diego Symphony has an extensive children's education program as well, featuring a number of Family Festivals and Young People's Concerts each season. The next show, I Love Mother Nature Family Festival is on Mother's Day, Sunday, May 11, 2014, at 2:00 PM. The Symphony's Summer Pops outdoor concert series on the Embarcadero South Lawn is a great evening of family music often followed by a fireworks display over San Diego Bay. Some upcoming performances that may interest the younger set during Comic-Con from July 24-26, 2014, include: Video Games Live, Music of Tim Burton, Star Trek, and Disney's Fantasia on August 10, 2014.
Where: 1245 Seventh Ave., San Diego, CA 92101
Cost: Family Festival $10 for kids and $15-25 for adults, based on seating. Summer Pops starts at $20 for lawn seating and Young People's Concerts at $5 for everyone.
Free Outdoor Summer Concerts in San Diego's Parks
The parks of San Diego are alive with the sound of music with an extensive number of free outdoor summer concerts throughout the county. I have to give a shout out to two family favorite local bands. My children attended many festivals, birthday parties and local library performances by Hullabaloo, a fun, folkly smart kids band who perform somewhere in San Diego County almost daily and frequently for free. Check out their schedule for a really fun time. My whole family also like the Creepy Creeps, possibly in homage to their mom's punk rock roots. The Creeps play mainly adult music venues, but they put on a great show, also playing many family friendly festivals with high energy and costume changes included.
Click here for a list of parks that held free outdoor concerts in 2013.