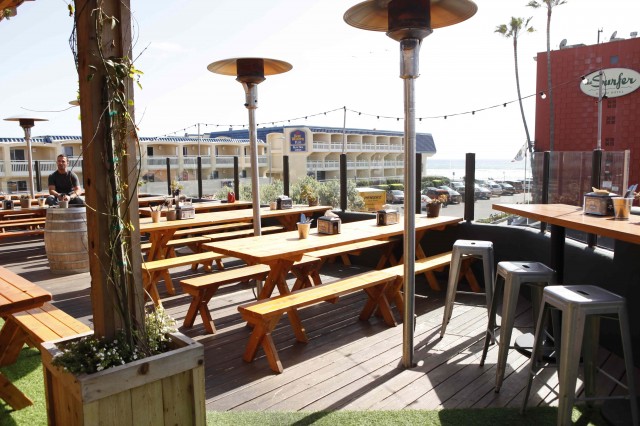 In my humble opinion, the two greatest things about living in San Diego are the beaches and the beer. So, what could be better than combining the two? Here's a list of breweries and brewpubs that offer the best combinations of brews with views. I've organized them from north to south – basically along the coast – from Oceanside all the way down to Coronado Island.
Surf on Up to Breakwater Brewing Company, Oceanside
Situated on the Coast Highway, Breakwater is only a block up from the beach. The brewpub has embraced the casual surfer vibe of the area, and even serves their tasting flights on little wooden surfboards. A perfect spot to relax after a day at the beach, Breakwater has a full menu and an impressive variety of taps that feature their own house brews (about 14) as well as guest beers (about 24). Be sure to also grab a taste of their Rabiscus Mead, which is a fairly unique offering.
Where: 101 N. Coast Highway, Oceanside, CA 92054
> Find out more about Breakwater Brewing Company
Coast on Down to Pizza Port, Carlsbad
Another casual, family friendly brewpub that's only a few blocks or so from the water, Pizza Port has been a top local favorite for many years. Awesome pizzas and salads accompany some of San Diego's most award-winning beers, all available from a large selection of taps (Sharkbite red and Swamis IPA are two crowd faves). Interesting guests beers are another regular feature of Pizza Port, as is the loud, fun, boisterous atmosphere that makes it a perfect after-beach chill for parents and kids alike.
Where: 571 Carlsbad Village, Carlsbad, CA 92008
> Find out more about Pizza Port Carlsbad
Drift Down to Pizza Port and Culture Brewing Co., Solana Beach
The Pizza Port in Solana Beach, like its siblings in Carlsbad and Ocean Beach, is also just a shell's-throw from the water. And like all Pizza Ports, the beach-inspired setting is all about good food, great beer, and relaxing in a casual, friendly spot. Each Pizza Port shares certain beers with all the others, but each location also has its own brewer, so don't miss the excellent offerings that are unique to each location.
Where: 135 N. Highway 101, Solana Beach, CA 92075
> Find out more about Pizza Port Solana Beach
Culture Brewing is just a block or two from Pizza Port and two blocks from the beach. As one of the "new kids," this small tasting room and brewery has faced the challenge of offering their beers in the shadow of Pizza Port, which has been a Solana beer mecca for a long time. The talented folks at Culture, however, seem up to the task (try the black IPA if you can).
Where: 111 S Cedros Avenue, Solana Beach, CA 92075
> Find out more about Culture Brewing Co.
Float on Over to Karl Strauss, La Jolla
Karl Strauss has a number of excellent brewpubs located all over San Diego, but this one is closest to the water and the beach – though it is a few blocks up the hill, in town. One of the newer locations, this beautifully designed spot features large windows, an outdoor seating area, a full menu of great beer-inspired dishes, and a nice selection of the brewery's tasty beers. On tap, usually, are some of Karl's core production beers, some of their specialty beers, and one or two seasonals. (If available, don't miss Off the Rails (red), Tower 20 IIPA, or Wreck Alley Imperial Stout.)
Where: 1044 Wall St, La Jolla, CA 92037
> Find out more about Karl Strauss La Jolla
Wade Down to Pacific Beach Ale House and Amplified Ale Works, Pacific Beach
Here are two great ocean-centric locations, each right off the beach with great views. The family friendly PB Ale House offers a full menu as well as 8 or 9 house beers, all served up in a large space that offers everything from outdoor seating, to indoor tables, to an awesome rooftop area, which is the place to go for the most impressive view.
Where: 721 Grand Ave. San Diego, CA 92109
> Find out more about Pacific Beach Ale House
Just a few blocks south of PB Ale House is Amplified Ale Works, which also boasts a good view of the water, a full menu (it's part of California Kabob House), and nice outdoor seating bathed by fresh ocean breezes.  Though their list of house brews is relatively short, they are all long on flavor (Belgian fans should not miss the Bier de Garde).
Where: 4150 Mission Blvd. #208, San Diego, CA 92109
> Find out more about Amplified Ale Works
Paddle on Over to Coronado Brewing Company, Bay Park
In the spring of 2013, Coronado completed this wonderful new facility just a quarter-mile or so from Mission Bay. A huge brewery fills most of the space, but there's plenty of room for thirsty patrons in the large tasting area. Given its proximity to the bay, this Coronado location provides the perfect capper to a busy day of water sports, beachcombing, or exploring the many wonders of SeaWorld. After all that activity, few things will taste as good as a cold Orange Ave. Wit, a Mermaid's Red, or the Frog's Breath IPA.
Where: 1205 Knoxville St., San Diego, CA 92110
> Find out more about the Coronado Brewing Co. Tasting Room
Dive into Pizza Port, Ocean Beach
Here's another great Pizza Port location, a block or so in from the water, and filled with great beer, delicious pizza, and a warm, friendly, SoCal vibe. On the small side, compared to its Carlsbad siblings, this location still provides a great lineup of house-made beers, as well as Pizza Port core production beers, and guest beers.
Where: 1956 Bacon St., Ocean Beach, CA 92107
> Find out more about Pizza Port Ocean Beach
Sail on Over to Coronado Brewing Company, Coronado Island
There's no better vantage point than Coronado Island for getting a panoramic view of the beautiful San Diego skyline, replete with glistening water, marinas, and flocks of seagulls. And less than a block from the Coronado harbor you'll find Coronado Brewing Company, which offers visitors a large brewpub setting with more than a dozen delicious house beers on tap, all of which pair very well with the casual pub-inspired menu.
Where: 170 Orange Avenue, Coronado, CA 92118
> Find out more about Coronado Brewing Co. Brew Pup
Bruce Glassman's San Diego Brewery Guide, which offers essential information on each brewery, tasting notes, and touring maps, is available at www.georgianbaybooks.com.