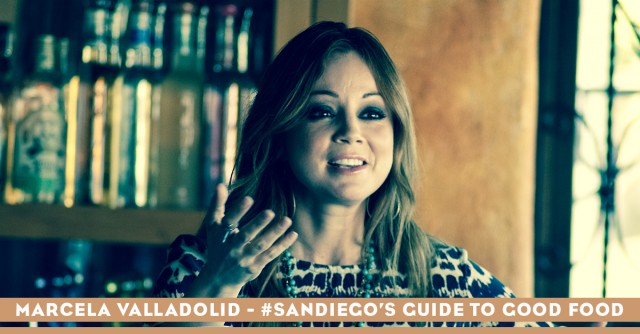 Fans of the Food Network know Marcela Valladolid as the star of Mexican Made Easy and one of the hosts of The Kitchen, but many viewers might not know that Marcela is a San Diegan through and through! And this chef loves the cuisine of San Diego, which is full of Mexican influence. As Marcela notes, "we're so close to Mexico, it's unavoidable!"
Let Marcela Valladolid be your Guide to the Good Stuff with her picks for the most authentic flavors of San Diego:
[youtube http://youtu.be/Mz0-4H2Yru0]
Best Spots for Authentic Mexican Cuisine
There is no shortage of places to find Mexican food in San Diego, but trust Marcela to point you towards the very best.
Marcela Valladolid's Favorite Non-Mexican Dining
Mexican cuisine is certainly delicious, but we all need to change things up from time to time. For some different flavors, Marcela recommends these San Diego dining ventures.
Searsucker: Marcela loves how celebrity chef Brian Malarkey's signature restaurant makes you feel like you are having a fine dining experience in a social environment with fun, funky décor.
Morton's: The great bar, stellar service, and feeling like family when you dine are just a few of the reasons that Marcela enjoys visiting this popular steakhouse.
North Park: This neighborhood is known for its young, hip vibe, but the dining options make North Park really special. Marcela enjoys the small but well-executed menu at the Smoking Goat, and Italian fare from Alexander's is always a favorite when she is in the neighborhood.
Check out more of Marcela Valladolids's favorite things about San Diego, including best places to go with your kids, at SanDiego.org/GoodStuff.