As a working mom, I do want to spend lots of quality time with my kids when we're on a family vacation, but I've found that adding half-day summer camps for the kids to a vacation itinerary when you visit San Diego can be a win-win for the entire family. Kids gets the chance to try out a new watersport, do stimulating science experiments or spend the day at an amusement park, and mom and dad get some time off, taking a break from parental duties to get in a yoga class or a long walk on the beach together. A morning half-day camp can make an afternoon of family time together more enjoyable. Most all of these summer camps have full day and early drop off/late pick up options as well.
Taking it to the Beach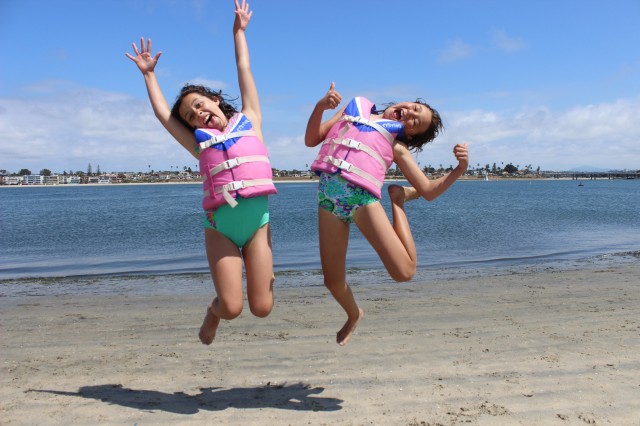 There's a crazy amount of watersports available in San Diego. The Watersports Camp in Mission Bay, a partnership of the YMCA and two local universities, has a great range of programs that enable your child to pick one watersport to master over the week's sessions, or there's a multi-sport camp option that teaches the camper the basics of surfing, sailing, kayaking, waterskiing, stand up paddle boarding (SUP), wake boarding and more – a different sport each day from 8:00 to 11:00 AM. My daughter is adventurous and went for the kayaking but my son preferred the marine science camp. They were both tired, happy, and had made new friends when I picked them up at 11:30 to start the family part of our vacation day.
Where: Mission Bay Aquatic Center – 1001 Santa Clara Point, San Diego, CA 92109
> Find out more about The WaterSports Camp
Park it at a Museum Camp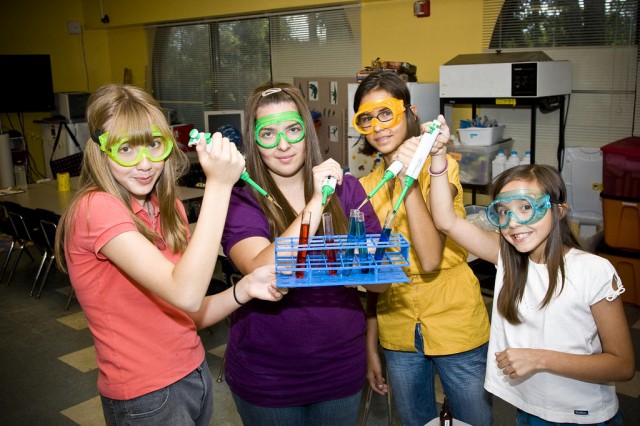 If your kids are getting enough beach time on the vacation but perhaps need intellectual and artistic stimulation, send them to Balboa Park. This iconic gem of a park is my favorite place to spend the day in San Diego. There truly is an interest for everyone in the park. My 9-year-old's all-time favorite camp was at the Reuben H Fleet Science Center. It is one of more than a dozen museum camps in the park offering hands-on camps for children, covering subjects from ballet to art to chess to rocket building. Each participating museum has a pretty amazing program of full- and half-day camps for K-8, and some of the sessions in the park, such as the Museum of Photographic Arts, offer instruction for teens (through 12th grade). Most of these half-day camps run 9:00 AM to 12:00 PM and many have full-day options. Balboa Park museum camps offer a chance for parents to drop off the kids, explore the park and get an in-depth look at a museum exhibit on one's own (or just time to go back to the hotel for a vacation nap).
> Find out more about all the different summer camps in Balboa Park
Lights! Camera! Film Camp!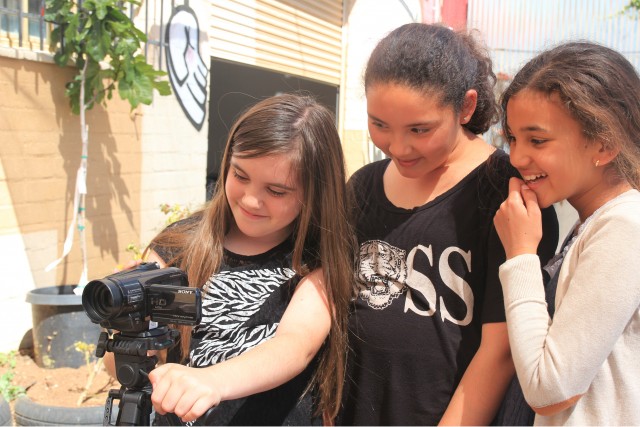 If Junior doesn't want to learn to surf and is not excited by the museum camps, The Digital Gym's Summer Youth Media and Tech Camp might be just up his/her alley. These film-making camps are available for 7-14 year olds, with a Saturday camp for teens called the "Teen Producers Project." The weekly camp options include opportunities for original projects and new creative challenges including learning how to write, storyboard, shoot, edit, and score a project. The camp allows the students to use everything the Digital Gym offers, including cameras, the production studio, and software like iMovie, iStopMotion, and Garageband. Every week-long camp ends with a screening and exhibition for family and friends. Camp runs from 8:30 AM to 3:00 PM, Monday-Friday.
Where: 2921 El Cajon Blvd., San Diego, CA 92104
> Find out more about the Digital Gym's Youth Media & Tech Camps
Flow Ride, Take It Easy…With This Summer Camp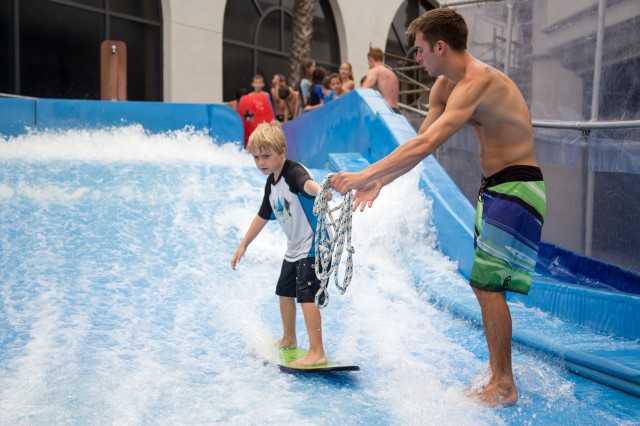 I don't know if you can technically call Belmont Park's Flow Camp a summer camp. Is a day at a beach-side amusement park playing arcade games, riding a historic roller coaster, competing in a sand castle contest, playing laser tag, riding bumper cars, rock climbing, and topped off with learning to surf or body board on a flow rider wave machine considered a camp or Heaven on Earth for the 6-13 year olds who get to attend this weekly camp Monday-Friday from 9:00 to 4:00 AM?
Where: 3146 Mission Blvd., San Diego CA, 92109
> Find out more about Belmont Park's FlowRide Camp
Where the Turf Meets the Surf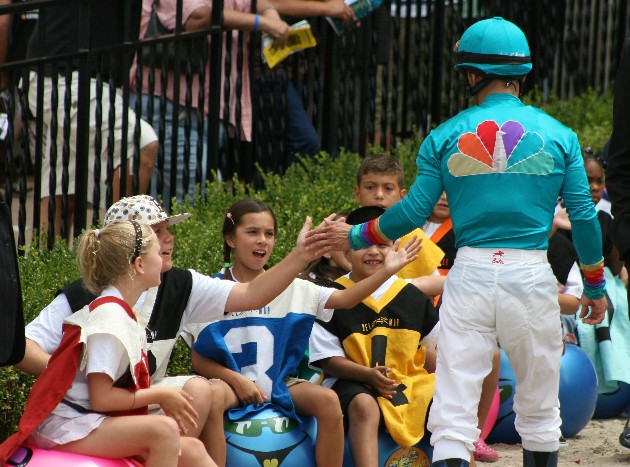 If mom and dad like to play the ponies but feel a bit guilty about gambling while on a family vacation, Camp Del Mar at the Del Mar Racetrack is the answer. No need to pre-register for this drop-in day camp that offers onsite activities such as animal themed crafts, miniature golf, an inflatable jumper, air hockey, various tournaments, and my daughter's favorite event, hippity hop race on the thoroughbred racetrack! All while mom and dad are close by placing bets and sipping Del-Margaritas. At this camp you could win enough to pay for your San Diego vacation. The offerings change daily and the camp is available for ages 5-12. The $24 fee includes lunch, snacks, and a Camp Del Mar t-shirt.
Where: 2260 Jimmy Durante Blvd, Del Mar, CA 92014
> Find out more about Camp Del Mar
San Diego's major attractions like LEGOLAND California, the San Diego Zoo and Safari Park, and SeaWorld all offer day camps as well.