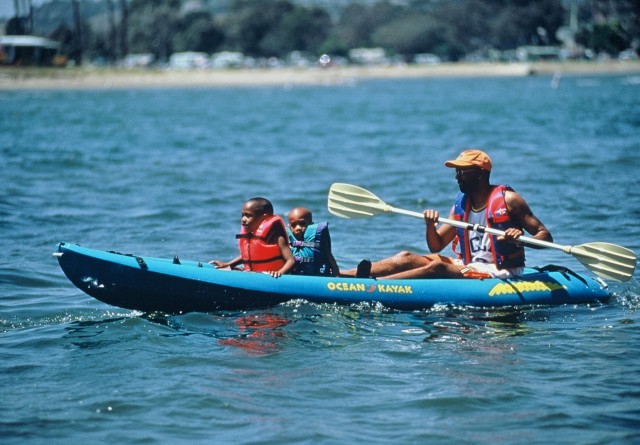 With all that a family needs to pack these days, the more that you can leave home, the better. Yet, there are so many fun ways to explore San Diego, that it's tempting to try and "check" your boat at the airport luggage counter…kidding…kind of. Thankfully, instead of paying that fee, there are plenty of spots around town to rent transportation that can lead to some fun exploring with the family.
Water Fun in Mission Bay
Visit the Aquatic Center in Mission Bay and arm yourself with everything you could possibly want to do in the water! From wakeboarding to windsurfing and so much more in between, make this a destination stop for water sports fun.
Where: 1001 Santa Clara Pl, San Diego, CA 92109 > Find out more about the Mission Bay Aquatic Center
Boating in the Harbor
Visit Harbor Sailboats to pick up your rental or take a guided tour. Enjoy the breathtaking views of the Coronado Bay Bridge and sail past the aircraft carriers as you relax on the water. And keep your eyes peeled for dolphins and seals! Where: 2040 Harbor Island Dr, San Diego, CA 92101 > Find out more about Harbor Sailing
Bikes in Pacific Beach
Serious cyclists should visit San Diego's biking page, but for some casual exploring on beach cruisers, head to PB. Check out Pacific Beach Bikes for for the whole family. Hop aboard your two wheelers and cruise the boardwalk to Mission Beach on the bike paths while you enjoy watching the waves. Where: 1852 Garnet Avenue, Pacific Beach, CA 92109 > Find out more about Pacific Beach Bikes
Kayak Exploring in La Jolla
Don't miss out on the kayak rentals at La Jolla Shores! Paddle your way over to take in the breathtaking cliffs and caves. Keep your eyes peeled as you are likely to see a seal or two along the way! And if you want more sea creature fun, rent a snorkel to bring along and swim with the (harmless) leopard sharks in spring. Where: 2199 Avenida De La Playa, La Jolla, CA 92037 > Find out more about La Jolla Kayak
And Learn to Surf in La Jolla
It would almost be remiss to visit Southern California in general and not attempt to surf! Surf Diva and Menehune Surf Camp are both great options for getting use to the waves.  If you are already a seasoned pro and just didn't want to bring along your board, check out their rentals, too! Surf Diva Where: 2160 Avenida de la Playa, La Jolla, CA 92037 > Find out more about Surf Diva Menehune Surf Camp Where: 2216 Avenida de la Playa, La Jolla, CA 92037 > Find out more about Menehune Surf Camp
Hot Air Balloons in Del Mar
Book a bird's eye view of San Diego while floating around in a hot air balloon! A big thrill for my kids is just seeing them in the sky so imagine getting to ride in one! > Find out more about Another Side Tours
WaveRunners in Carlsbad
For some north county fun, visit the Carlsbad Lagoon! Fly through the water in your WaveRunner, or casually float along in an aqua cycle, kayak or stand up paddleboard. Boat rentals are available, too! Where: 4215 Harrison Street, Carlsbad, California 92008 > Find out more about Carlsbad Lagoon