Just in case you haven't heard, there are two things that define San Diego: the beach and beer. Magic happens when these two come together. Such is the case with Draft, the newest restaurant at historic Belmont Park on Mission Beach. Draft recently opened its doors on the boardwalk overlooking the beautiful Pacific Ocean. So, in the spirit of research, and a much-needed drink, I stopped by with the mission to draft you a picture.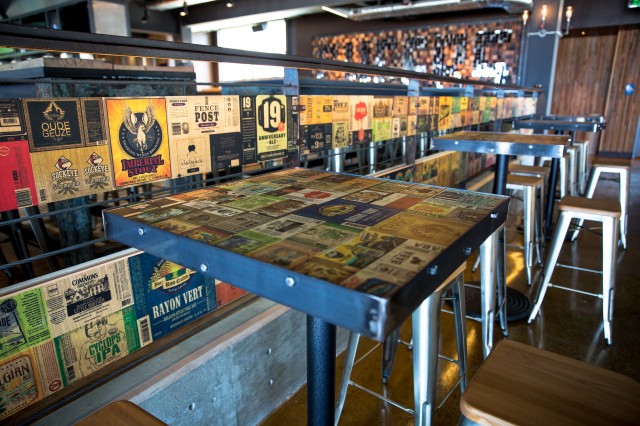 I visited during lunch time and sat inside near the patio to enjoy the beautiful ocean view. The décor can be labeled as exactly that: labels. Beer labels cover the tables and rails, over by the bar you can see the more than 69 beer taps that make this place so special. Next to the bar adjacent to two pool tables, you can't miss the wall-sized 31.5-ft television screen displaying scenic images of San Diego and local brewing companies. Draft shows major sporting events and has become quite the hot spot to watch sports. On the other side of the bar, tucked away in a glass room, you can see all the kegs being pumped to keep the beer flowing.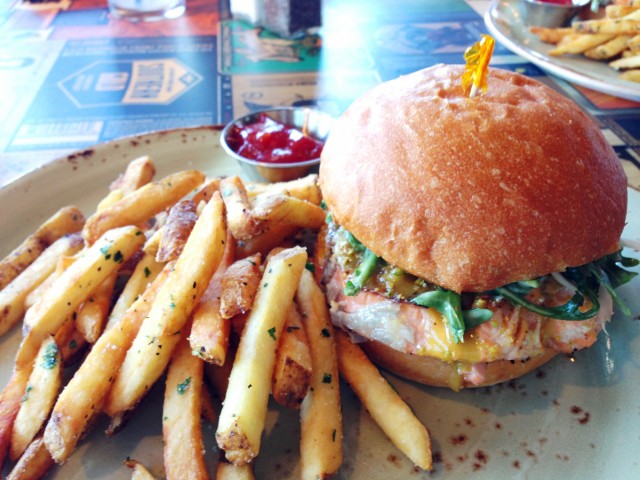 Looking at the menu, it was hard to make a decision. I went for the pistachio crusted salmon sandwich (with meyer lemon aioli, arugula and fennel) and a side of fries, of course. My burger-looking-sandwich is one of the best I've had, so many graceful flavors twirling on my taste buds. I could barely taste the pistachio, which was perfect because I was afraid it would be overwhelming. The fries where perfect too, thick and crispy – a must in my book.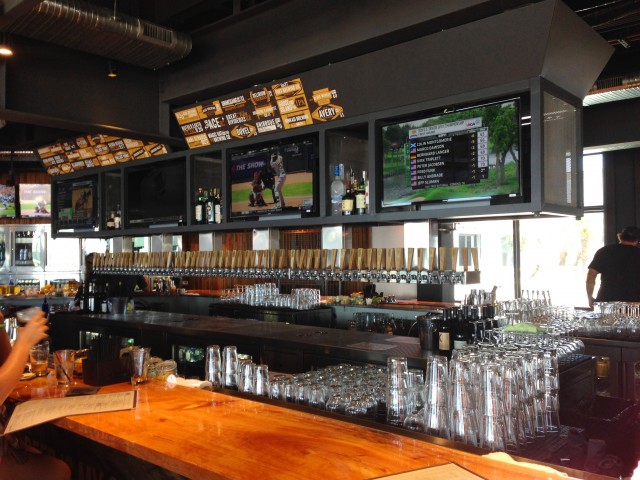 Drinks? Obviously by the name, this is beer paradise, offering a true representation of San Diego's IPAs, Porters, Stouts and beyond. With more than 60 options on tap and 50 bottles that rotate seasonally, it really comes down to picking your poison, or should I say passion? If you are not sure what to order, ask the staff, they will happily guide you to the right choice.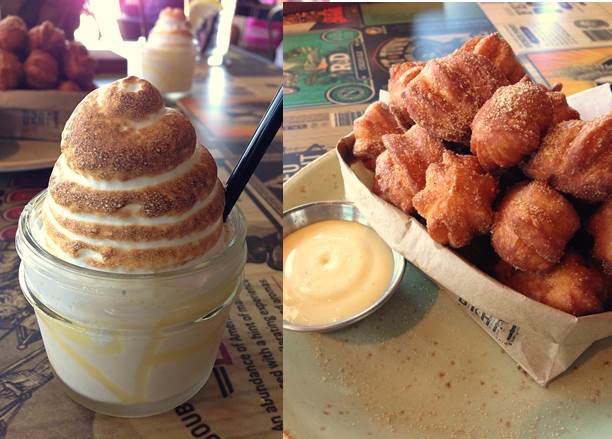 When dessert time came, I couldn't say no. I've heard so much about the lemon meringue milkshake (with toasted meringue and lemon curd) that I had to have it. I also ordered the churro bites (cardamom, lemon and horchata anglaise) since I grew up eating churros and am always curious to try different versions. When the desserts came, the milkshake took the spotlight, even the table next to me asked what it was. The best way I could describe the flavor is: lemony, but not too lemony, sweet, but not too sweet. It was good! I was so full by the time I finished my milkshake that I couldn't eat much of the churros bites. They were very soft, but not too sweet, with more of a subtle taste.
If you love beer, the beach and great food, give Draft a go. It's a delicious addition to the Mission Beach scene and to America's finest and hoppiest city.
Good to know:
They have a kids menu.

Happy Hour is served Monday – Friday from 4 to 6pm.

Brunch is served Saturday – Sunday from 9am to 4pm.

Parking is free at Belmont Park, but might be difficult to find during summer and weekends. If you can't find parking on the three lots adjacent to Belmont Park, you can try the lot across the street from the Giant Dipper Roller Coaster.
 What else to order:
Slacker jack popcorn

Pork belly corn dogs with truffled mustard

Mac n' cheese with English peas, thyme, mushrooms, chives and smoky cheese
 The details:
Draft

is located at 3105 Ocean Front Walk, San Diego, CA 92109 

Open Monday – Friday from 11am to 2am and

Saturday and Sunday from 9am to 2am