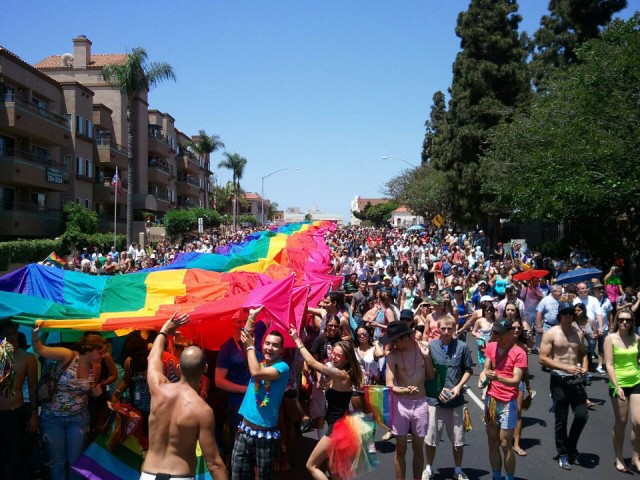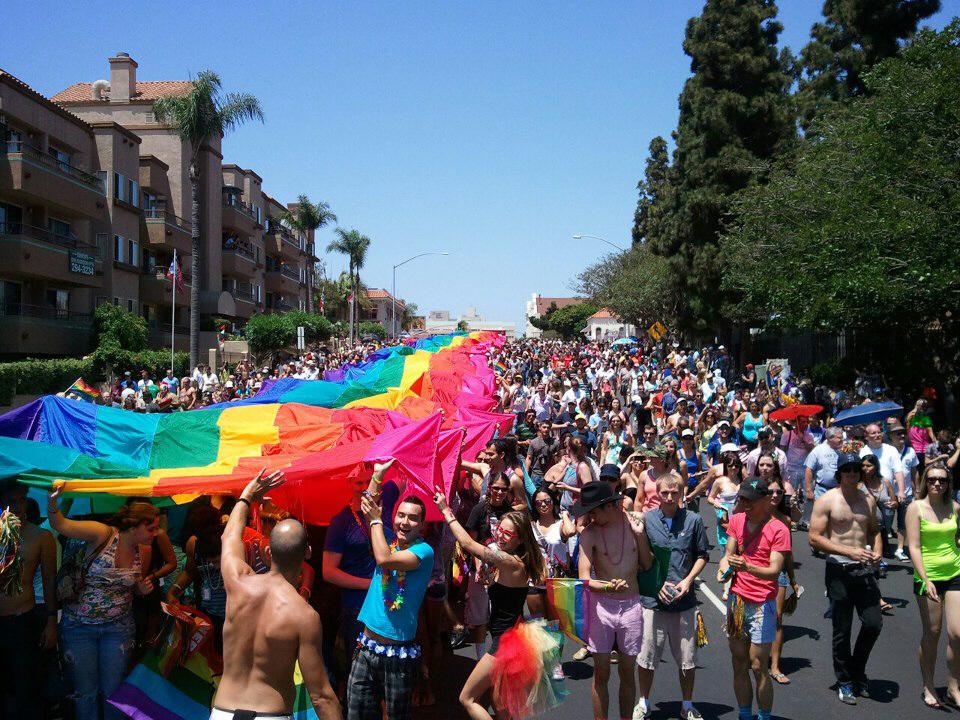 San Diego LGBT Pride celebrates its 40th anniversary this summer with a jam-packed schedule of activities and entertainment geared for all ages. The three-day weekend attracts nearly 300,000 participants that include visitors from all over the world, as the spirit of celebration descends upon the areas of Hillcrest and Balboa Park. Among its many sponsors, Alaska Airlines is offering 10 percent discounts on flights to San Diego between July 16 and 22 from most major cities.
The Spirit of Stonewall Rally
San Diego Pride weekend kicks off with an energizing, outdoor rally that pays homage to the flash point of the modern-day LGBT movement, when patrons of New York City's Stonewall Inn protested against police harassment on June 28, 1969. This year's San Diego Pride rally sets the stage for a host of political speakers and LGBT activists that include transgender actress Laverne Cox of the Netflix original series Orange is the New Black. She will be joined by California Assembly Speaker Toni Atkins, San Diego City Council President Todd Gloria and veteran activist Nicole Murray-Ramirez. The free event also spotlights San Diego Pride's annual award recipients, honored for their contributions to the community.
Where: Pride Flag at University Avenue and Normal Street in Hillcrest
When: July 18, 2014
Time: 6:00 to 7:00 PM
Cost: Free
> Find out more about The Spirit of Stonewall Rally
Pride of Hillcrest Block Party
Food, drinks, dancing and celebrity performances by Taryn Manning and acclaimed DJs are on tap for Pride's third annual block party, an event for those 21 years of age and over. The festivities don't exclude go-go dancers and VIP private cabanas.
Where: University Avenue and Normal Street in Hillcrest
When: July 18, 2014
Time: 5:00 to 11:00 PM
Cost: $25-$1500
> Find out more about the Pride of Hillcrest Block Party
The Parade
The mile-long parade is San Diego's largest civic event, attracting thousands of cheering sideliners and upwards of 150 colorful floats and contingents that will include members of the Armed Forces, politicians, civic organizations and an array of gay-owned and gay-friendly businesses unique to San Diego. The wildly colorful procession heads west on University Avenue and then turns south on Sixth Avenue, ending near the entrance of Pride's two-day festival in Balboa Park. Seize your perch early because the crowds start gathering around 9:30 AM.
If you're staying in centrally located hotels such as the Inn at the Park, Ann Callahan's Hillcrest House Bed & Breakfast, the Sommerset Suites Hotel or Balboa Park Inn, the parade site is in easy walking distance. If driving, free parking lots and shuttle service to the area are available at the Old Naval Hospital (Park Boulevard and President's Way) and San Diego City College (1313 Park Blvd.)
Starting Point: University Ave. and Normal Street, San Diego, CA 92103
When: July 19, 2014
Starting Time: 11:00 AM
Cost: Free
> Find out more about the San Diego Pride Parade
The Festival
San Diego Pride's two-day festival spans across grassy areas shaded by eucalyptus trees in Balboa Park's Marston Point area. The idyllic venue will make way for hundreds of exhibits, including a "Destination Station" by NASA, as well as food vendors, beer gardens and 10 performance stages. Fueling the main stage this year are headline performers such as Canadian R&B singer-songwriter Deborah Cox; house music producer Robbie Rivera; and Australian songwriter tyDi.
Other festival highlights include: "My Big Gay Wedding Expo" presented by leading wedding-industry experts; a youth zone; a children's garden; a "bear country" saloon; a wine grotto and more.
Where: 6th Ave & Laurel St, San Diego, CA 92103
When: July 19-20, 2014
Cost: Both Days – $20. Children 15 and Under – Free
> Find out more about the San Diego Pride Festival
Tips and info regarding San Diego Pride weekend
Bring sunscreen because the parade and festival rarely occur under cloudy skies.
A majority of bars and restaurants along University and Sixth Avenues open early the day of the parade.
The Spirit of Stonewall Rally and mile-long parade are free events.
Depending from where you view the parade, walking to the festival takes between 5 and 30 minutes.
Backpacks are subject to searches when entering the festival; alcohol, firearms and glass containers are not permitted.
Service animals are permitted inside the festival grounds; pets are not.
ATMs are available near the festival entrance.
Parking is extremely limited throughout Hillcrest during parade and festival. It's best to use the free parking lots and shuttles at the Old Naval Hospital and San Diego City College, as mentioned above.