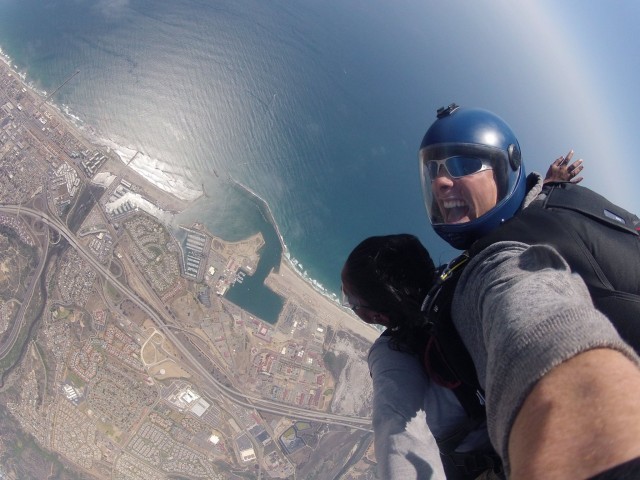 Some of the most scenic views of San Diego can only be seen from the sky…So, what better way to take in these incredible views than by jumping from a perfectly good airplane at one of San Diego's most popular skydiving facilities!
From an altitude of more than 2.5 miles high in the sky, you'll get to see spectacular views of Downtown San Diego, the Pacific Ocean and its beautiful beaches stretching the coastline, the Coronado and Catalina Islands and even Mexico!
Regarded as one of the top locations to skydive in the world, San Diego's perfect year-round climate offers thrill-seekers the opportunity of a lifetime with a refreshing view 365 days a year.
The Experience with Tsunami Skydivers Inc.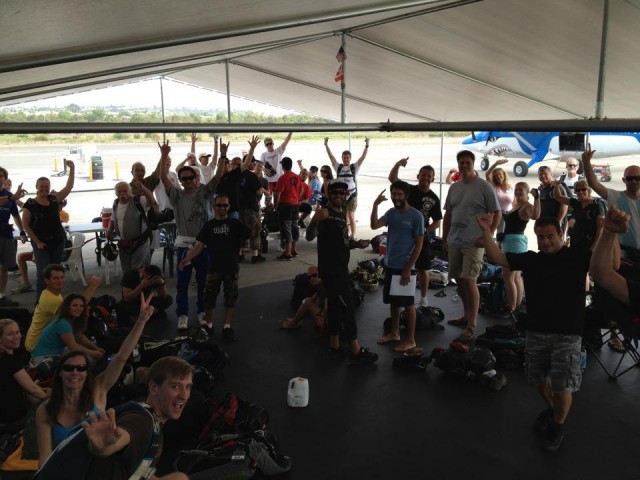 As you begin your life-changing day of adventure, butterflies in your stomach will surely be buzzing! But once you arrive to the airport (commonly referred to as a Drop Zone), those feelings of nervousness quickly fade to feelings of excitement.
Owner Rich Grimm and his awesome staff at Tsunami Skydivers Inc. will greet you with smiling faces, eager to help you fill out your paperwork and schedule your jump. Once the boring stuff is complete, you'll meet your tandem skydiving instructor who will chat with you while they get you all geared up for your jump. The instructions are pretty easy to follow and the instructors here are all very friendly and engaging. Next comes the worst part…the wait!
Wave goodbye to your friends and family (and people who were too scared to come along) as you walk to the awaiting aircraft with your instructor and other jumpers. Once onboard, enjoy the amazing views from your climb to 13,000 feet! Experienced skydivers usually exit first, so you'll get to watch other jumpers exit the plane as you wait for your turn!
Since you'll be tightly secured to your instructor, both of you will inch your way to the open door as you watch other jumpers exit the plane. Next up…You! Take a deep breath and follow your instructor's commands to relax and arch your body.
The Thrill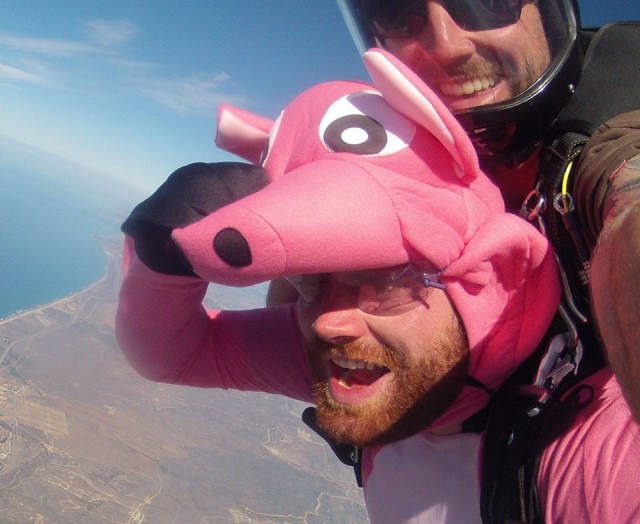 Ready. Set. GO!
To your pleasant surprise, jumping from an aircraft is not as scary as it may seem. There is no "roller coaster" feeling when you skydive. Instead, imagine standing up in a convertible car that is traveling at 120 mph on a cool day and that's exactly what it feels like!
Before you know it, the 60 second freefall is over and there is a huge parachute flying over your head. If you are willing, your instructor will be happy to offer you full control of the 'chute as you guys fly your way back to the airport via a relaxing 3-5 minute parachute flight down to the ground.
Touchdown! Congratulations, you've made it! You are now part of an elite club of people brave enough to take this amazing leap of faith. Time to high-five your instructor and smile for a couple of celebratory photos.
Skydiving Tips
Tandem skydiving appointments can be made online or over the phone, although they do accept walk-ins depending on how busy it is. (I highly recommend making the appointment before you get there to guarantee your spot in case they are really booked that day)
It's best to arrive early to make sure you will be ready in time for your jump. The entire experience will take about 1-2 hours from your scheduled time, depending on how busy it is that day.
Dress for the occasion. The air is cool and refreshing when you skydive, but in the winter months it can feel a bit chilly so I recommend wearing pants and a long shirt if you get cold easily.
Bring a friend! If you are on the edge about making a tandem skydive, convince a friend, family member or even co-worker to share the awesome adventure with you. If you've ever heard someone say they'd like to skydive, now's the perfect time to hold them to it!
Get a video of your jump. For an additional fee, you can have a cameraman jump with you and your tandem instructor and film the whole experience. This is a great idea because with everything happening so fast and your adrenaline pumping, it'll be hard to remember some parts of your jump. Also, an outside cameraman will give you a unique perspective of skydiving since you will see the cameraman skydiving right in front of you! Surely, a video you will want to watch over and over for years to come.
But most importantly – Relax, Smile and Have Fun!
Warning: Skydiving is highly addictive.
Once you discover how much fun skydiving is, you can sign up to jump by yourself! All it takes is a couple of hours of training for your first solo jump and you'll be ready to go for skydive #2! And #3. And #4. And #5! In fact, I loved it so much I've gone over 200 times!
Blue Skies!
Tsunami Skydivers Inc. Details
[youtube http://youtu.be/61IRvFDJSzE]
Location: 480 Airport Road, Oceanside, California 92058
Phone: 760.390.5867
> Find out more about Tsunami Skydivers
> Save $20 on a Tandem Skydive!
Photos courtesy of Tsunami Skydivers of Oceanside