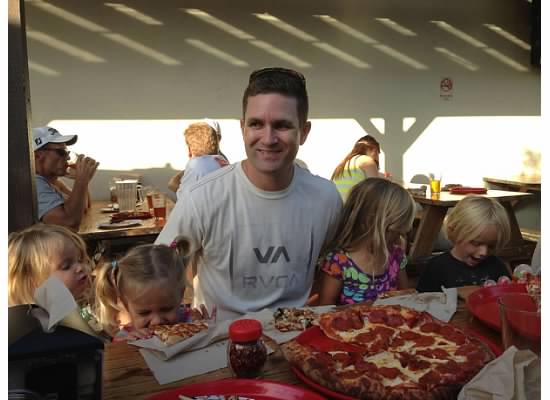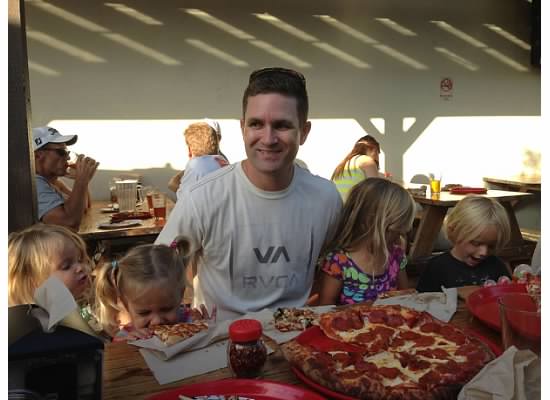 For some reason (ahem), people are often surprised that my husband and I regularly eat out with our five kids, ages 10, 8, 5,  3 and 3. Yes, we know a thing or two about a restaurant that can cater to children and, well, ones that just can't kid around (get it?). In general, San Diego is very family friendly, so it wasn't easy to narrow down my top 5 kid friendly restaurants, but the promise for ice cream got me going (kidding… kind of). Here are five kids friendly restaurants that both the little ones and parents will enjoy!
Pizza Port
Starting in North County, the top pick for locals is Pizza Port, located in Carlsbad (options are also in Solana Beach, Ocean Beach, and Bressi Ranch). Truly delicious pizza, the kids love it, too, as they can play video games or enjoy the grub. Go early as it can be tricky to nab a table, but nothing screams a beach town visit like some seaside pepperoni pie.
Where: 571 Carlsbad Village Carlsbad, CA 92008
> Find out more about Pizza Port
Pipes Cafe
Truth be told, my family may as well start collecting our mail at this Cardiff breakfast/lunch joint. With plenty of outdoor seating, not only can you (very ) affordably feed a large family (trust me), you can also enjoy sea breezes and ocean views.  In fact, three of my kids can share the "big breakfast" and Dana, who can regularly be found behind the coffee counter, is always good for a great big hug.
Where: 121 Liverpool Dr, Cardiff By Sea, CA 92007-1823
> Find out more about Pipes Cafe
Tony's Jacal
Hands down one of the most authentic, delicious Mexican food restaurants in town, this is a family favorite for its affordability, too. When the weather is nice, request outdoor dining or inside in the back room if you think your kids might need to be a li'l louder than usual. Though the booths inside the main dining are just as accommodating as are the coloring books and crayons that they offer to occupy the kids. Located in Solana Beach this is a San Diego must!
Where: 621 Valley Ave, Solana Beach, CA 92075
> Find out more about Tony's Jacal
[Tweet "Don't leave the kids at home! Take them to one of these 5 kid friendly restaurants in #SanDiego."]
El Camino
Located near the airport, be sure to take a few minutes before entering and get a very up close view of the planes coming in for a landing! Though not your usual "kids" establishment, my children consider this unique twist on the usual Mexican food a favorite! Go early as the later crowd tends to be more "club", but if you can arrive by 5,  my kids love the free Mexican wrestler that comes with the children's menu plates and the Chiclets chewing gum that accompany the bill. Also,  music plays on the dance floor prepping for the later evening crowd and my fam has been known to bust a move.  Though darker on the inside, you can request outdoor seating for an even better view of the overhead planes. And, whatever you do, don't miss out on the churros for dessert!
Where: 2400 India St, San Diego, CA 92101
> Find out more about El Camino
The Old Spaghetti Factory
Though it's a chain that can be found in many cities, I had to include this pick as the downtown San Diego location was always a favorite of mine growing up. Not to mention, keeping kids happy on a vacation isn't always easy, so a favorite stand by of past is sure to reel them back in. Catering to kids and families, it's a sure-fire bet for fresh ingredients and old school pasta delights, including gluten-free options as well.
Where: 275 5th Ave, San Diego, CA 92101
> Find out more about The Old Spaghetti Factory
> Find more Kid Friendly Restaurants in San Diego
Do you have a favorite kid friendly restaurant in San Diego? Tell us in the comments below!