Conveniently located in the center of it all, Mission Valley is just minutes away from some of San Diego's major attractions and even closer to some classic, old school-style restaurants that still retain the cool look and feel of yesteryear with delectable retro dining.
Following are my top 5 tasty and intriguing culinary nods to the retro dining spots in Mission Valley:
1. Albie's Beef Inn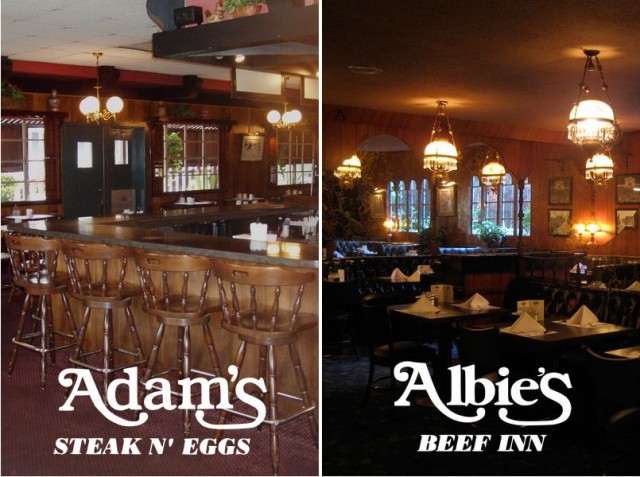 Albie's Beef Inn at Travelodge Mission Valley has been serving up prime steaks, seafood and cocktails since 1962. Guests love the retro-lounge look and feel, complete with tufted black leather booths, wood paneling, a piano bar and all-too-suggestive paintings of women adorning the walls. Albie's is where I imagine the cast of Mad Men hang out for happy hour, and three-martini lunches. 🙂
Where: 1201 Hotel Circle South, San Diego, California 92108
> Find out more about Albie's Beef Inn
2. Adam's Steak & Eggs
Next door to Albie's, Adam's Steak & Eggs is where folks have noshed on hearty steak 'n eggs breakfasts since 1962. It has a welcoming, old-school diner vibe with chairs that look suspiciously like the ones my mom had around our dining room table in the 1970s.
Where: 1201 Hotel Circle South, San Diego, California 92108
> Find out more about Adam's Steak & Eggs
3. Waffle Spot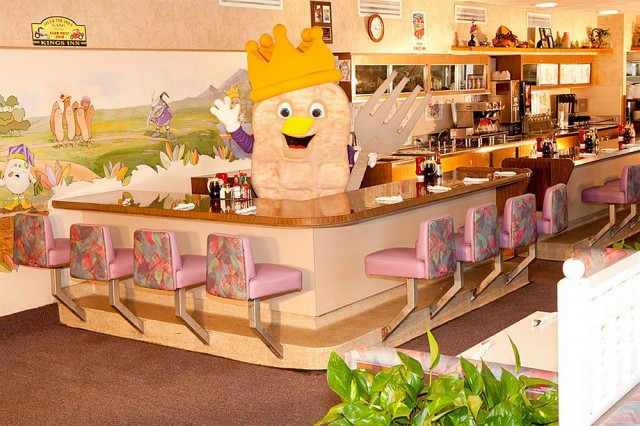 The family friendly, whimsical Waffle Spot at the Kings Inn has been a local favorite for 20 years. The "Home of San Diego's Best Waffles" has its very own mascot, Sir Wafflelot who welcomes kids on Saturdays and Sundays, 10:00 AM to 12 noon. Children (and adults!) get a kick out of coloring the Kids Menus. This is the spot to get your nostalgia on while enjoying delicious waffles and other classic breakfast fare.
Where: 1333 Hotel Circle South, San Diego, CA 92108
> Find out more about the Waffle Spot
4. Hunter Steakhouse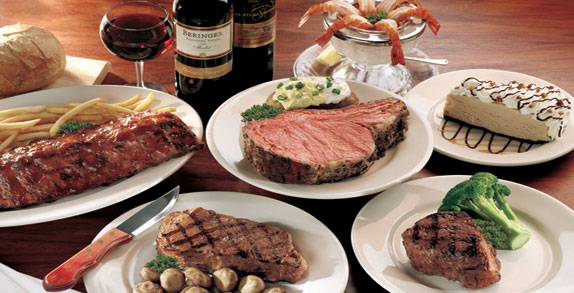 Hunter Steakhouse, a 40+ year tradition in the valley, serves the "Best Prime Rib in Town" – with whiskey peppercorn sauce! The exterior resembles a rustic mountain cabin with a cozy interior to match: rich wood furnishings, dim lighting and a stone fireplace; a nice romantic dinner joint to take that someone special.
Where: 2445 Hotel Circle Place, San Diego, CA 92108
> Find out more about Hunter Steakhouse
5. Trellises Garden Grille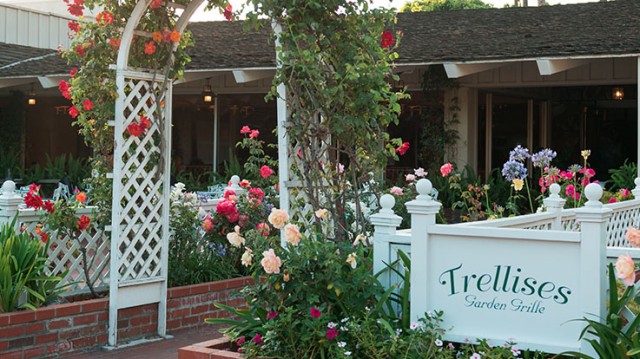 Trellises Garden Grille at the Town and Country Resort Hotel & Convention Center is an eclectic mix of floral and retro lounge design, with a lovely garden patio filled with flowers. It's timeless and old-fashioned, serving a menu of "California Fresh" cuisine, including seafood and steaks. Jane Austen would sup here for sure! 😉
Where: 500 Hotel Circle North, San Diego, CA 92108
> Find out more about Trellises Garden Grille
For a unique retro dining experiences from yesteryear, Mission Valley has some pretty memorable spots to check out!