From the newest public water park on the San Diego harbor to favorites at LEGOLAND and Aquatica, visiting San Diego splash zones offers ample opportunity for a soaking good time beyond the beach.
Here are some top choices for  San Diego non-salt-water adventures.
San Diego County Waterfront Park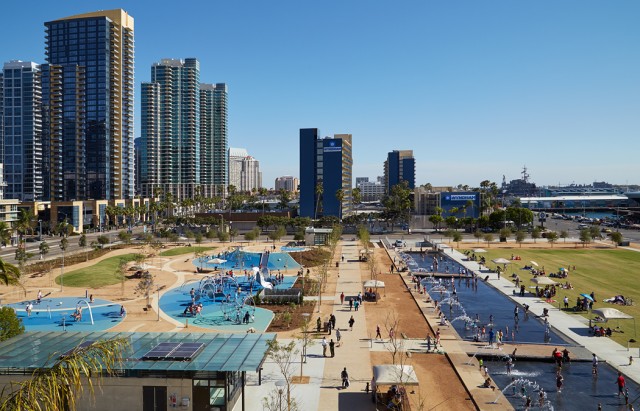 The County of San Diego gave a great gift to locals and visitors alike with a free harborside water park. The park includes large civic greens, children's play area, intimate garden rooms and expansive interactive fountains that kids and adults are allowed to run around and play in! Yes, you can tell the kids, it's okay to jump in the fountain!
Where: 1600 Pacific Coast Highway, San Diego, CA 92101
> Find out more about the County of San Diego Waterfront Park
Aquatica San Diego, SeaWorld's Water Park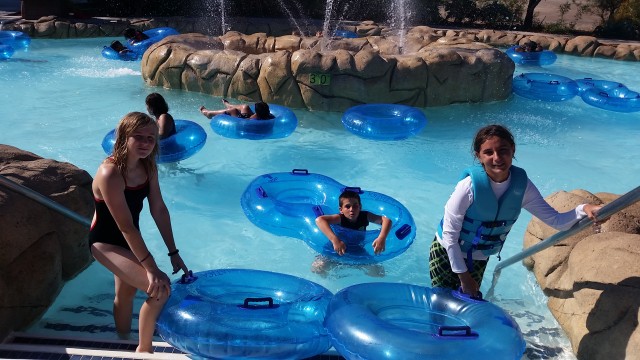 This amazing conglomeration of twisty turning slides and long, lazy river rafting rides offers acres of water fun set amid gorgeous live tropical plants, flamingos and turtles. I was pretty wowed by the extensive offerings for every age group, from knee-deep pools with tiny slides for toddlers, to Tassie's Twister, a waterslide in several parts that I dared only look at. At Aquatica, friends and families can race each other down six-lane slides on Taumata Racers or travel solo in complete darkness through a tube slide on the Kiwi Curl. The park knows how to make a visit enjoyable for guests with plenty of free lounge chairs, cabanas for rent, lockers throughout the park and a new "cashless wristband" connected to your credit card that lets you charge chicken tenders and margaritas without having to access your wallet.
Where: 2052 Entertainment Circle, Chula Vista, CA 91911
Open: Memorial Day through Labor Day
> Find out more about Aquatica SeaWorld Waterpark San Diego
LEGOLAND: Now Two Water Parks in One!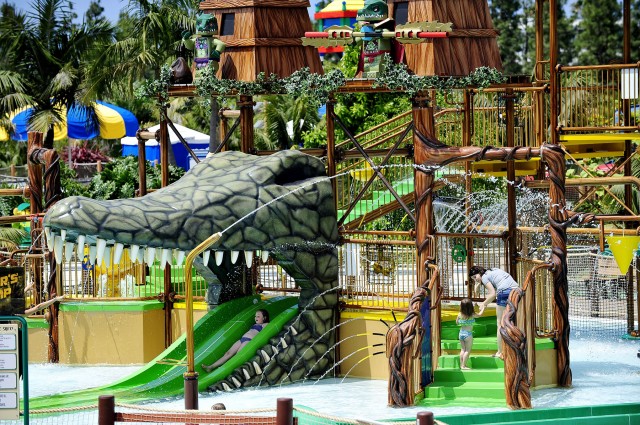 My family flipped when LEGOLAND opened its original water park in 2010, turning what was already a favorite theme park into a place with rides and a water park! What could be more fun than building your own LEGO raft and floating down the lazy river after spending a warm day riding roller coasters and propelling self-powered rides at LEGOLAND? There is something for all of us at the LEGOLAND water park, including my little toddler nephews (3 and 5) and my daring 12 year old. We all love the Orange Rush, a giant tube-boat that slips and slides down a wide waterslide way up high while mom shrieks at the top of her lungs (yes, I'm a wimp, but I love a water slide).
This spring, LEGOLAND debuted a Chima-themed water park, a connecting water world based on the popular toy line and Cartoon Network's "Legends of Chima," featuring more slides for all ages, a large wave pool and over 50 interactive water play opportunities for visitors.
Where: One Legoland Drive, Carlsbad, CA 92008
> Find out more about LEGOLAND California Resort
The Wave House in Mission Beach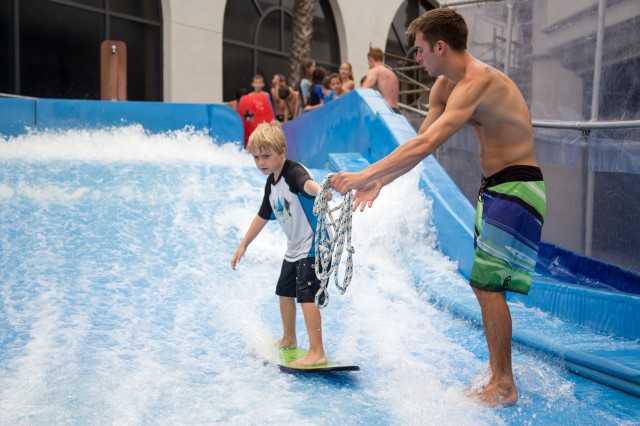 While I admit that I lack the nerve and coordination to try the two flow wave machines at The Wave House in Belmont Park, I have sat in the centrally located outside, beachy dining area and ordered sushi and watched those braver than I battle the fake sea. I love the setup here: real Pacific Ocean waves rolling in on one side (and the people watching of Mission Beach Boardwalk); on the other side is the amazing skill of the Flow Riders, experts tackling the Flow Barrel's consistent and unique waves while they practice surf board tricks. Nearby is the Flow Rider, a beginner friendly wave simulator where you can watch students eat it (a wave, that is) while you dine nearby.
Where: 3146 Mission Blvd, San Diego, CA 92109
> Find out more about The Wave House
Other Water Park Options in San Diego County
San Diego Zoo's Safari Park has a small area for toddlers called the Savannah Cool Zone near Lion Camp. Small children are allowed to climb on three animal sculpture fountains that spout water.
The Wave Waterpark in Vista is a large water park in San Diego's North County  with extensive camps, lessons and slides and more.