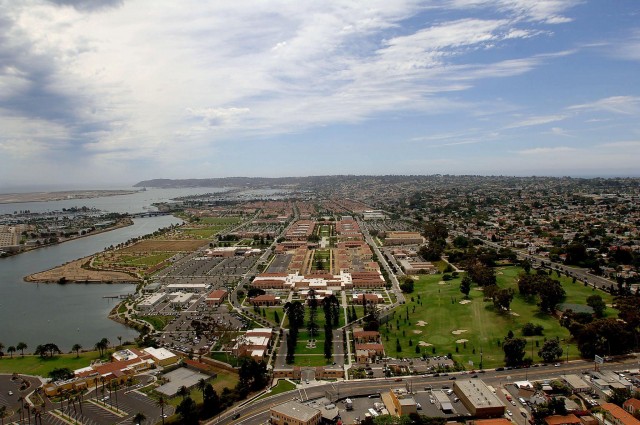 San Diego's Liberty Station, on the site of Point Loma's former Naval Training Center, is a thriving, continually reviving, slice of San Diego history – and one of the best ways to explore the neighborhood it is by attending Friday Night Liberty, beginning at 5:00 PM on the first Friday of each month.
It's an opportunity to visit galleries and performance venues for free and meet artists at work in studios that have replaced barracks and classrooms where the U.S. Navy once practiced the art of turning boys into men.
What Is Liberty Station?
Liberty Station's roots go back to 1923, when San Diego's Naval Training Center was dedicated. Over the years, the base produced nearly 2 million sailors – making San Diego the home base for the Navy's Pacific Fleet.
When the Navy closed the base in 1997, a master developer went to work transforming the 361-acre site into a massive mixed-use neighborhood. While the site is listed on the National Register of Historic Places, it remains a work in progress.
More than 50 of NTC's original Spanish Colonial Revival buildings have been restored and transformed into performance spaces, artists' studios, galleries, fitness salons, shops, grocery stores and restaurants. Today, Stone Brewing World Bistro & Gardens serves locally crafted brews and gourmet eats in the space that once was the NTC mess hall.
Liberty Station also includes a residential district, office space, schools, churches, two hotels and nearly 50 acres of park/open space along a boat channel that leads to San Diego Bay. The community's parks have become a popular venue for special events and ethnic festivals. Seasonal kayak and paddleboard rentals are offered.
Put Friday Night Liberty at Liberty Station on your calendar.
Free Audio Tour of Liberty Station
Another great way to experience the neighborhood is with a free audio tour. Stop by the visitor center (the former Command Center) to pick up a map. Then call 619.342.8021 on your cell phone, enter a number from the map and hit the # key.
There's plenty of free parking throughout the area.