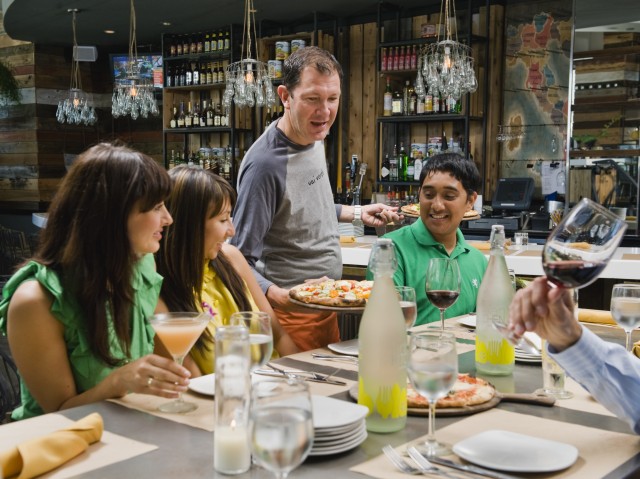 It is that time of the year again, the time for foodies to gather, feast and spread some San Diego Restaurant Week cheer. That's right, San Diego Restaurant Week (SDRW) returns September 21-26. During SDRW more than 200 participating restaurants offer a prix-fixe, three-course dinner menu at just $25, $35 and $45 per person and a two-course lunch menu for $10, $15 and $20 per person. This is your opportunity to try that place you've always heard about, treat your boss for lunch or plan that dinner you have pending with your friends.
But before you grab your appetite and head out that door, here are five steps that will help you enjoy San Diego Restaurant Week to the fullest.
Do some research – Visit SanDiegoRestaurantWeek.com where you can find which restaurants are participating, their price range and even peruse their special prix-fix menu. Remember that restaurants create a special menu for Restaurant Week, which means you might not be able to sample a dish from their regular menu, but could try something they don't regularly serve.
Try a new restaurant – We all have our favorite restaurant, but the idea behind Restaurant Week is to give food lovers the opportunity to explore new restaurants. Don't be afraid to venture out and check out that place you read about or try a new ethnic cuisine.
Make a reservation – Restaurants tend to be busier than usual during SDRW. Depending on the restaurant, you can either call or make a reservation online.
Invite everyone – Go with your friends, family, co-workers or that special someone. The more people in your party, the more dishes you get to try. Have everyone in your group order different items, and remember…sharing is caring!
Get social – Remember to check-in on Facebook, tweet about it, upload a picture on Instagram or review the restaurant. If you loved it, let the world know. Don't forget to use the hashtag #SDRW.
If you've got these steps down but are still not sure which restaurants to try, here are some quick suggestions:
San Diego Restaurant Week Lunch Suggestions
$10
Don Chido – Downtown San Diego
Café Coyote – Old Town
Anthony's Fish Grotto – San Diego Bay
$15
Puesto at the Headquarters – Seaport Village
Blind Burro – Downtown San Diego
Searsucker  – Downtown San Diego and Del Mar
$20
Prep Kitchen – Del Mar, La Jolla and Little Italy
Bertrand at Mister A's – Banker's Hill
Veladora at Rancho Valencia – Rancho Santa Fe
San Diego Restaurant Week Dinner Suggestions
$25
Indigo Grill – Little Italy
Gaslamp Strip Club – Downtown San Diego
True Food Kitchen – Mission Valley
$35
Tidal – Mission Bay
Jsix – Downtown San Diego
Croce's Park West – Banker's Hill
$45
Hornblower Cruise & Events – San Diego Bay
Market Restaurant + Bar – Del Mar
The Marine Room – La Jolla