The holidays are all about indulging yourself and experiencing great times with the ones you love. As a San Diego native (yes we do exist!), I can tell you that I am spoiled when it comes to good weather and a cold craft beer. If you have decided that spending this season vacationing in the warm San Diego sun is your forte you have made a wise choice my friends! "Chilly" nights here dip into the 50s so you can still head out on the town without wearing five layers of clothing!
With the ever-expanding nightlife and bar scene in San Diego you will never get bored or not find something that suits your style. We are, after all, America's finest city. Good tunes, good cocktails and good times are around every corner from Encinitas to South Bay.
My top choices for nightlife and things to do include attractions for every type of visitor, from the low-key whiskey bar in the middle of town to the seasonal beachside ice skating rink at the famous Hotel Del Coronado.
Holiday Wonderland in Petco Park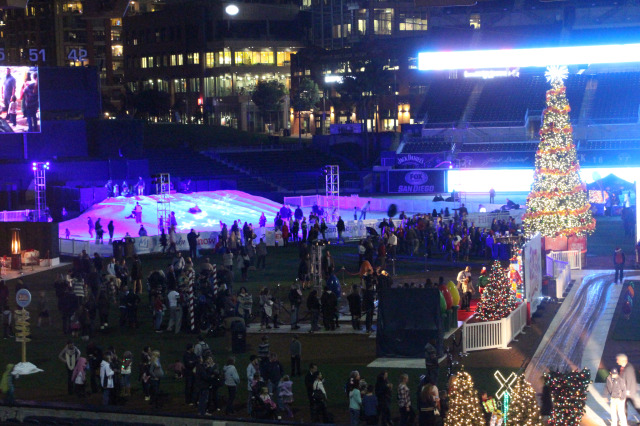 If you want to fully experience holiday cheer, be sure to visit Holiday Wonderland at Petco Park in the East Village neighborhood of downtown San Diego. Petco Park Events has truly done an outstanding job of transforming the home of the San Diego Padres into a holiday spectacle to behold! Fun for the whole family includes a snow hill for sledding, live reindeer, face painting, train rides, holiday treats for sale, a VIP lounge to relax, live entertainment, adult cocktails for sale and several themed areas each with their own holiday vibe. Try the Roast Beast sandwich, the Grinch approves.
Where: 100 Park Boulevard, San Diego, CA 92101
When: Through December 24, 2014 (Special Days – December 18, 22-24)
Time: 5:00 to 10:00 PM
Cost:
Admission – $10-$15
Photo with Santa – $25
Train Ride – $5
> Find out more about Holiday Wonderland at Petco Park
Skating by the Sea at the Hotel del Coronado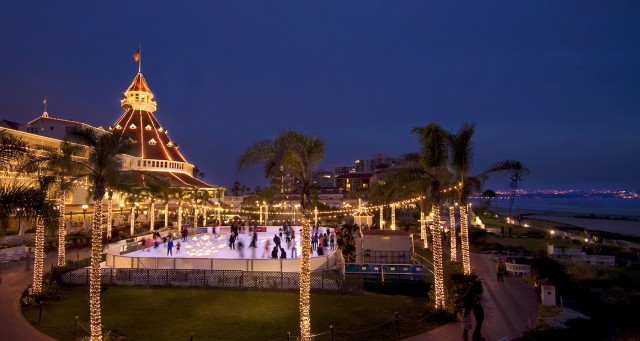 If you're looking for something more romantic or beach vibe with a holiday twist, head to Hotel Del Coronado for a nice stroll along the beach at sunset, hold hands while trying out the ice skating rink set up between the sand and the hotel, then mosey over to the hotel bar for a glass of champagne and watch the sunset. The hotel is lit top to bottom in holiday lights, which makes for some amazing photos your friends back home will be sure to admire. You can also head to Coronado Brewing Company for a pint or two and see across the bay towards the twinkling lights of downtown from the island.
Where: Hotel del Coronado – 1500 Orange Avenue, Coronado, CA 92118
When: Through January 4, 2015
Cost: $25
> Find out more about Skating by the Sea
Side Bar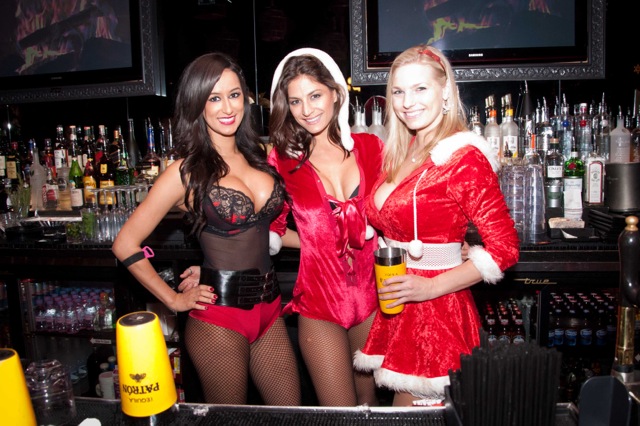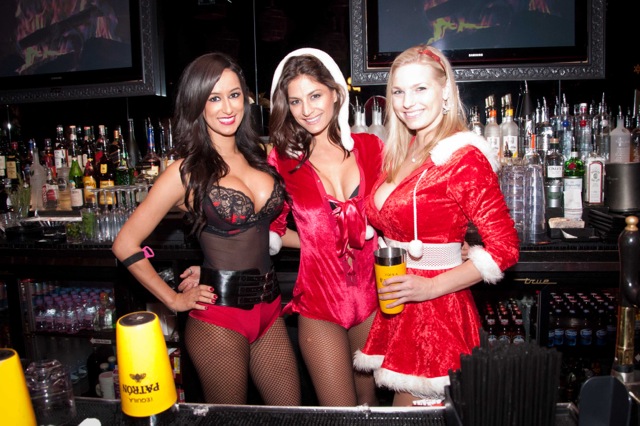 If you are ready to shed the gloves and parka and jingle bell rock your socks off, be sure to check out Side Bar. Wednesday nights, also known as "Industry Night", is known to get wild. You'll probably end up seeing someone dancing on the bar at least once by nights end and the stunning go-go dancers are decked out in outfits that match the theme of the any given night. I also hear that they're giving away gifts including Michael Kors watches, MAC makeup gift cards and more weekly to make things more festive this holiday season! Talk about a party with perks!
Where: 526 Market Street, San Diego, CA 92101
> Find out more about Side Bar
Seven Grand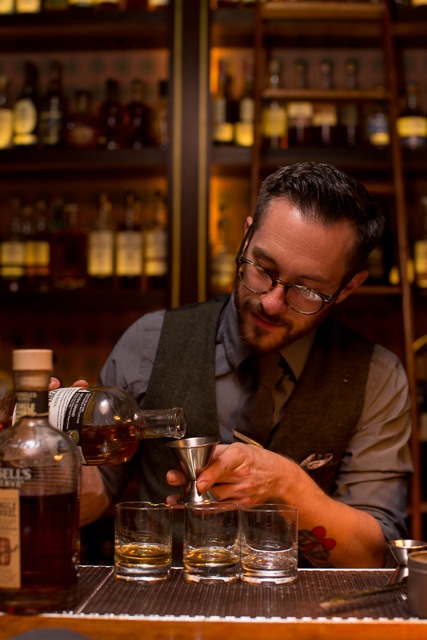 Want to chill out at a bar and sip a nice glass of whiskey instead? Head over to Seven Grand located in North Park (one of America's best hipster neighborhoods as voted by Forbes magazine). Located just six minutes from downtown SD in the center of the city, Seven Grand is a dark and inviting neighborhood bar staffed by some of the most charming people around. Whiskeys line the large wall in the main room and the bartenders can pick one that suits your taste or make you one of their delicious cocktails. Try either a whiskey sour, aviation or, my personal favorite, a simple glass of Buffalo Trace Bourbon served neat. Warms me up just thinking about it! Sitting in a dimly lit bar with folks playing pool in one room and live jazz in the back bar sets a nice mood for a little holiday cheer. Take friends and make friends there. Wear an ugly Christmas sweater for a good conversation starter and say "cheers" to Jay the British bar manager.
Where: 3054 University Avenue, San Diego, CA 92104
> Find out more about Seven Grand