North Park and South Park are two of San Diego's hottest up-and-coming neighborhoods. Both locals and visitors flock to 30th Street, the neighborhoods' main thoroughfare, for the newest and best restaurants, shops, bars and breweries. But when you're done eating and shopping, set aside some time to explore the arts, because these neighborhoods are bustling with creative energy.
Discover the Arts and Culture of North Park and South Park
[youtube http://youtu.be/8eqt8pe3xw8]
Galleries Galore
North Park and South Park are home to some of San Diego's most creative and unusual art galleries. Whether you want to take home an original piece of art or just spend your time browsing the unique works, there are many galleries worth a visit.
Left Hand Black in South Park doubles as a tattoo parlor, but the local art on display is a great reason to stop in, even if you're not looking to get inked.
Protea Gallery  in North Park not only exhibits art by local and international artists, it also sells the flowers from which the gallery takes its name.
The streets or North Park and South Park are full of public and graffiti art, so take a stroll in the great outdoor gallery that is San Diego! Don't miss the mural by Shepard Fairey at the intersection of 30th St. & Ivy or the multiple murals by local artists on the laundromat at the 30th St. & Redwood.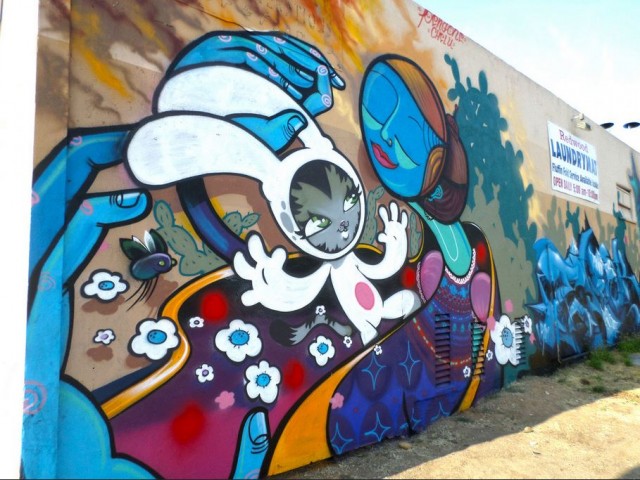 Artsy Events
In addition to the galleries, music and theater venues open year-round, North Park and South Park offer seasonal events brimming with arts and culture.
The quarterly South Park Walkabout is when the neighborhood's shops, restaurants and galleries offer extended hours, food and drinks, and the event often includes live musical or dance performances scattered throughout the streets.
Ray at Night is all about celebrating the arts. On the second Saturday of every month, North Park's galleries get wild and crazy with demos, music, performance art, and much more.
The annual North Park Festival of the Arts is the biggest of the neighborhood's celebrations, with thousands of visitors gathering to buy locally made goods, hear live music, and drink craft beer every May.