Southeastern San Diego may not be on many travelers' radar yet, but this hidden gem is one of San Diego's most culturally diverse regions. Located about 5 miles from downtown, the neighborhoods of Southeastern San Diego are easily accessible by the San Diego Trolley and offer lots of ways to see, hear and taste the many facets of life in America's 8th largest city.
Discover the Arts and Culture of Southeastern San Diego
[youtube http://youtu.be/dETm4Zs6Y9g]
Cultural Fairs and Fests
With a variety of African and Asian residents, Southeastern San Diego features numerous festivals throughout the year where visitors can immerse themselves in authentic cultural experiences.
The annual FilAmFest is one of the region's most popular cultural festivals, and features live entertainment and cuisine from the Philippines.
Held at Market Creek Plaza, the Somali American Cultural Fest is a colorful celebration filled with signing, dancing, poetry and more.
Every April, the Wat Lao Buddharam temple hosts Boun Pimai, a Lao New Year celebration featuring a processional with traditional music.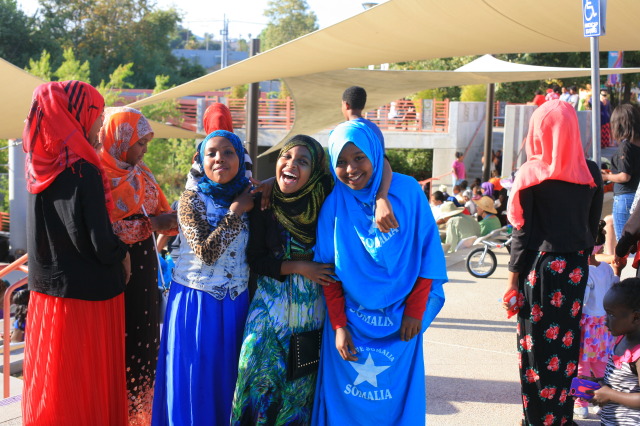 Colorful Public Art
The Jacobs Center for Neighborhood Innovation has helped the Southeastern community turn their neighborhoods into outdoor galleries thanks to lots of public art on view at and near Market Creek Plaza.
The amphitheater at Market Creek Plaza features special artistic touches, including bronze sculptures of children at play and the Sempra Childrens' Art Wall, a bright mosaic of hand-painted tiles decorated by local children.
The many smiling faces gazing down at visitors to Market Creek Plaza are part of the Community Faces Project, a series of murals celebrating local leaders.
Just down the road from the plaza is Writerz Blok, a park devoted to graffiti art. In addition to offering local artists and youth a place to experiment with contemporary art practices, Writerz Blok is a remarkable sight to take in.