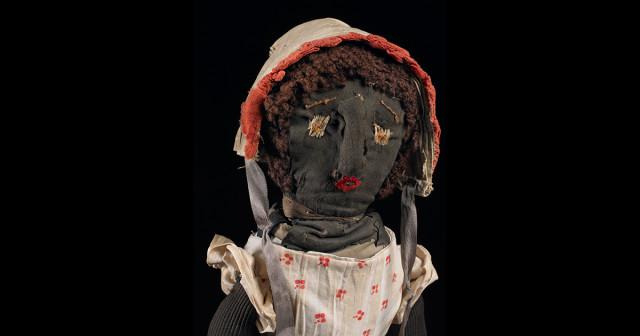 The new "Black Dolls" exhibit at the Mingei International Museum in <a title="San Diego"s Balboa Park" href="http://www.sandiego.org/members/visitor-information-centers/balboa-park.aspx" target="_blank">Balboa Park manages to be both a touching example of handmade craft and a complicated look at history.
On view for the first time, 125 handmade dolls made between 1850 and 1940 provide a window into the African-American experience from slavery through the Jim Crow era.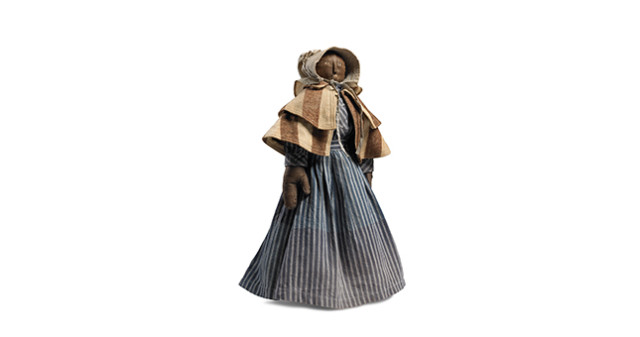 It"s not clear who made these expressive dolls. The provenance of most is unknown, but it is believed they were made by African-Americans for their own children or for white children in their charge.
Today, it"s much easier for families of color to find dolls that look like them. At the time when these figures were made, most manufactured dolls were either white or offensive caricatures of African-Americans. This collection represents an effort by talented and resourceful seamstresses, perhaps after a long day of work, to create toys and mementos that proudly reflect African-Americans.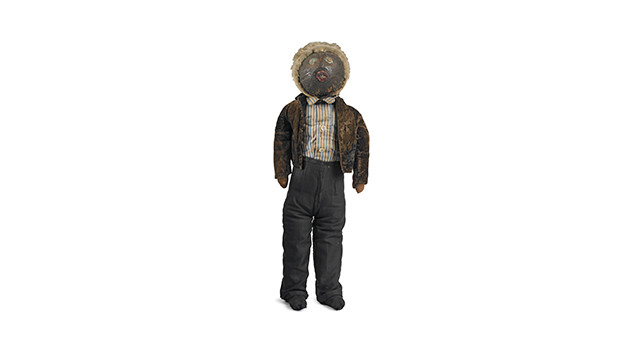 The dolls are made with leftover materials and whatever remnants were readily available. Some dolls have heads made of coconuts, others of wood. Bodies are made of leather or socks and stuffed with scraps or pieces of cork. Their hair is made from scraps of yarn or animal fur.
The dolls" clothing offers some clues as to when each doll was made. Some dresses are made from sackcloth, others from scraps of elaborate curtains or sleeves of fancy dresses. They are trimmed with bits of lace and ribbon.
The dolls depict girls, boys, men and women. With stitched expressions, paper or button eyes, and wooden noses, it"s startling how much emotion is conveyed by the dolls, some of whom look like determined matriarchs, noble gentlemen or mischievous boys.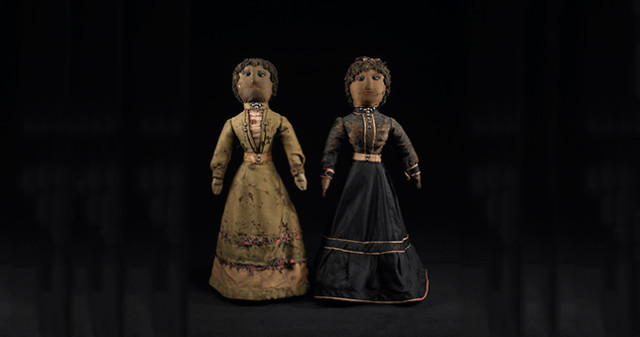 Two dolls seem to be sisters and are very finely made. They wear silk dresses with umbrella skirts, high necks and cuffs, in the fashion of the 1890s. They have tufted mohair wigs and eyes made of beads with embroidered eyebrows and lashes. In fact, both the dolls are slightly cross-eyed. Collector Deborah Neff believes if the crossed eyes were intended by the maker, "it suggests the dolls may have been portraits of real women – or perhaps made for a cross-eyed child or by a cross-eyed woman," explained Neff in an email. She believes many of the dolls were meant to represent real people.
"Black Dolls" also includes a selection of rare 19th and 20th century photographs of dolls, posed alone or clutched by their young African-American or white owners. Surprisingly, and disturbingly, the white children are holding black dolls while the African-American children are posed with white dolls. The images provide a historical context for these handmade toys.
The exhibit incites wonder at the resourcefulness and care that went into making these dolls. It"s also a powerful reminder of a painful past.
The Mingei has related programming that helps provide more context for the exhibit, including a documentary, a performance art piece, and a medical expert who explains the forensics behind dating the dolls.
Black Dolls Exhibit Information
Where: Mingei International Museum – 1439 El Prado, San Diego, CA 92101
When: Through July 5, 2015
Cost: Included with Admission
> Find out more about the Black Dolls Exhibit