I'm not a camper, my parents were not campers, but I want my kids to experience more than I did, so when I was invited by a friend for a Mother-Daughters "glamping" trip (Glamorous Camping), I thought it was the perfect way to ease into the rustic outdoor life.
Cabin Glamping – Home for the Weekend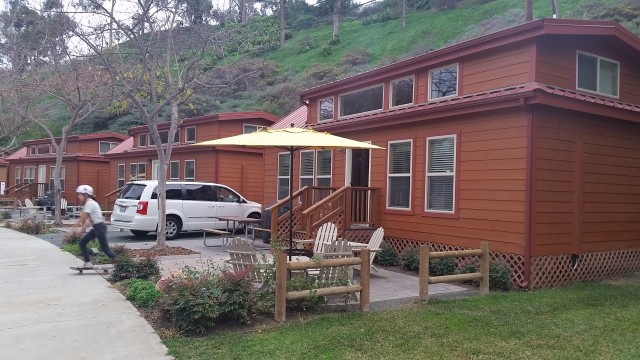 It turns out glamping at KOA San Diego Metro is far from rustic. Our two-bedroom-plus-sleeping-loft deluxe cabin housed us six glamping girls beautifully. Everything was provided to make us comfortable in the bedroom, bathroom, kitchen and outdoors.
No need to roll up your sleeping bag: bedding, pillows and towels are provided inside this luxury escape.
Enjoying The Comforortable Great Outdoors
As for outdoors, yes! It was great making s'mores at our own personal fire pit using the cooking utensils, firewood and starter provided by the campground.
Outdoors in January in San Diego, no problem! This campground heats its pool to 80 degrees and the external temp was in the mid-70s for our visit, so we roughed it poolside with towels provided.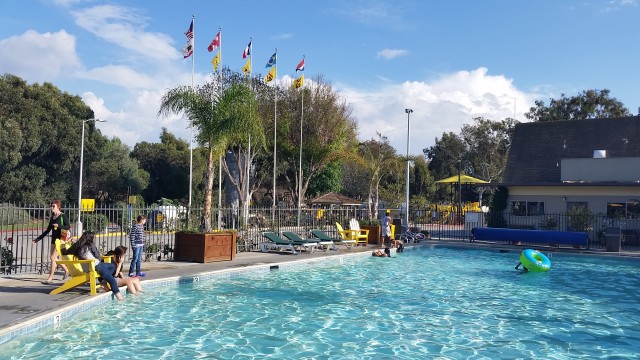 Outdoor Exercise?
You bet! Even our dog had a dog park and canine obstacle course onsite to romp around. For human guests, there's a rock climbing wall and playground with play structure. The most exciting outdoor activity for our girls was an inflated jump hump that puzzled us all as we scouted the camp the evening we arrived. Since it is deflated at night; we wondered, "what could it be?"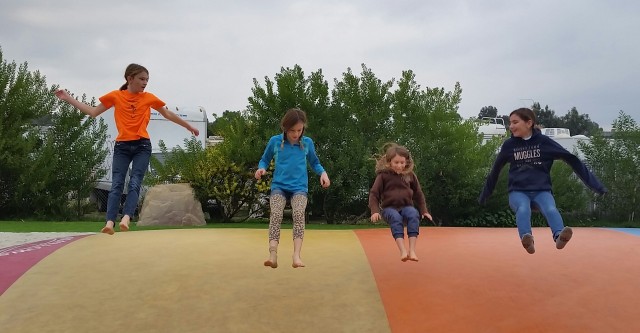 By morning the girls discovered the joys of an alfresco bounce house.
The camp also provides bike, surrey bike and other wacky pedal equipment for rental, so our kids enjoyed trying out a variety of contraptions.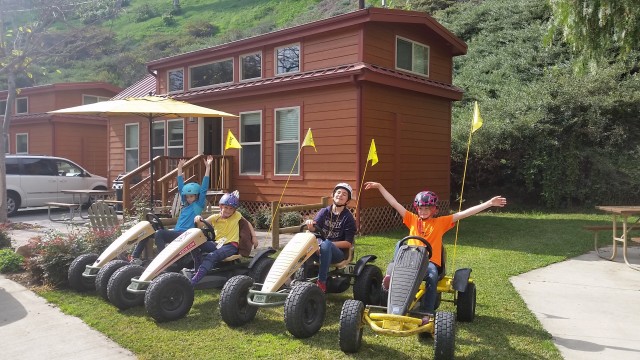 A tip from a friend who stores her RV at this park and regularly escapes here for a hassle-free weekend: Have your kids bring their skates, skateboards and scooters, as this is a kid-friendly, low-traffic paved campground and at dusk there were groups of newly-made friends scooting through the campsite working up an appetite for BBQ and s'mores.
Outdoor Dining?
You betcha! We dined at our own picnic table on the front "patio" area, using the propane BBQ outside the cabin to grill our own food the first night. The second night we were treated to The Sandcastle Café, KOAs new locally sourced onsite café with outdoor seating area. This little kitchen can do it all, serving delicious, reasonably priced options grown from an onsite garden and neighboring organic farm housed on land owned by the campground. The kale salad was delightful and healthy, the sweet potato fries and pulled pork sandwiches disappeared too quickly, and the hamburger pizza was a hit with the kids. Note: The café's freshly brewed lattes made our morning constitution along the river all the more civilized.
After an evening stroll, we left the great outdoors to play board games inside the cabin and enjoyed a good night's sleep on fresh sheets (that I did not have to take home and launder)!
About the San Diego KOA Campground
Located only minutes from downtown, this KOA campsite was founded by a local family and continues to be run by three generations of the Bell family. When Ted and Carol Bell purchased beautiful land next to the San Diego River in 1968 and decided to make it a campground, they could not have anticipated the phenomenal urban growth that would eventually extend to their rustic site and result with a property smack dab in the center of it all. For visitors, day trips to the San Diego Zoo, SeaWorld or the nearby Aquatica SeaWorld's Water Park take only 20 minutes because the freeway is so close.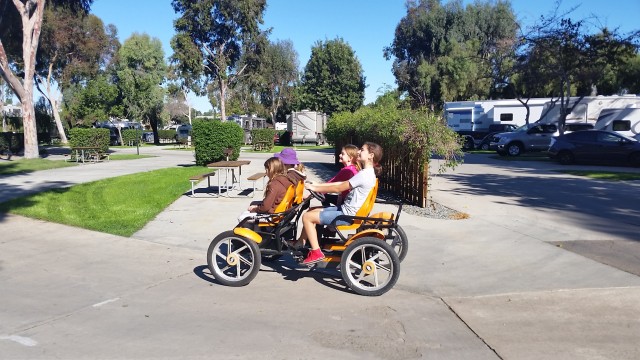 The trees planted on the site in the 1960s make for mature foliage and there are many regulars who park their RVs in the lots and stay for an extended time. In addition to the deluxe cabins with all mod cons, standard cabins and tents that sleep up to six are available to rent, so the campground really does provide for all types of camping experiences. While it turns out my daughter was not introduced to "camping" on this trip, it was a delightful getaway from city within the city.