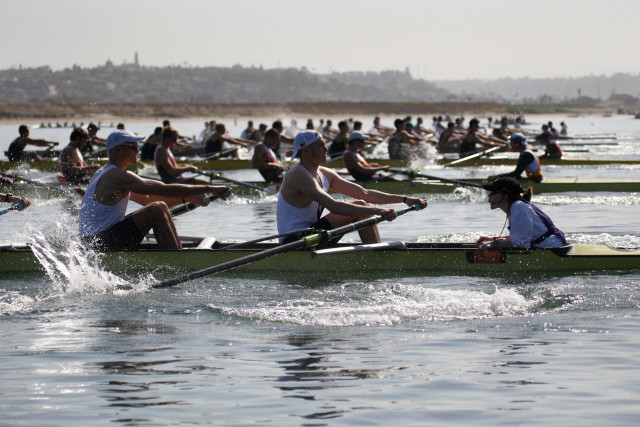 Regarded as the first major regatta of the year, the San Diego Crew Classic brings together thousands of athletes from more than 100 universities, clubs and high school programs from across the United States to participate in this premier rowing event in San Diego's Mission Bay.
What to Expect at the Crew Classic
The Races
There will be plenty of racing to see whether you're an early bird or a late riser. Racing starts at 7:30 AM and ends each day at 6:30 PM.
Amenities
You can get up close to the action by watching the races on the Jumbotron located near the Sierra Nevada Beer Garden. There will also be a food court, merchandise tens and a trade show.
Sierra Nevada Beer Garden
Located right on the shore, the beer garden is one of the best spots to watch the races. Bartenders will be pouring Sierra Nevada's brews from 2:00 to 8:00 PM on Friday, 10:00 AM to 8:00 PM on Saturday, and 10:00 AM to 6:00 PM on Sunday. You must be 21 to enter the beer garden.
Classic Brunch by the Bay
Located in the Champions Pavilion, Brunch by the Bay will feature a delicious brunch by Peartree's catering and the chance for brunchers to see the boats cross the finish line, participate in raffles, and auctions to raise funds for the continued support of the regatta! Brunch by the Bay will take place on Sunday, March 29th and tickets are $195 each.
> Purchase Brunch by the Bay Tickets
Getting to the San Diego Crew Classic
Free parking and a free shuttle are available at Ski Beach Park, Vacation Rd, San Diego, CA 92109. The shuttle will start running around 5:30 AM and finish about 45 minutes after the last race.
San Diego Crew Classic Information
Where: Corona Oriente Road, San Diego, CA 92109
When: March 28-29, 2015
Cost: $12-$15
> Find out more about the San Diego Crew Classic