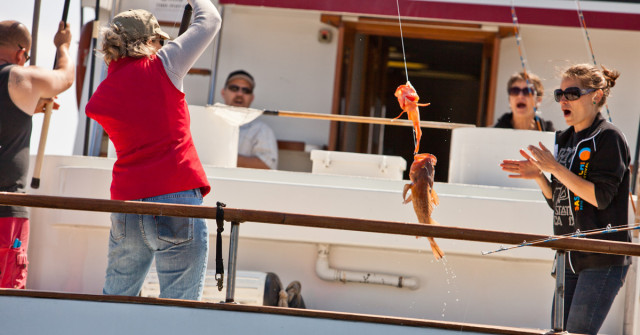 San Diego's five main sport fishing landings are home to over 70 sport boats and while not all of them operate during the winter months, many run year-round offering exciting day trips or long range trips.
2014 delivered some of the best sport fishing ever and all indicators are showing 2015 offers fisherman another incredible opportunity to hook up. San Diego's winter season is in full swing, with great weather so far, and boats reporting good catches.
Sport Fishing Day Trips
Day trips are available Monday through Friday, generally 8:00AM to 3:00 PM, with two a day trips offered on the weekends – generally 6:30 AM to 12:30 PM and 1:00 PM to 6:30 PM. Day boats fish along San Diego's coast and kelp beds catching Rock Fish, Sculpin, Bonito, Kelp Bass and Yellowtail.
Multi-Day Sport Fishing Trips
Long range trips are running anywhere from an easy 2 day trip to 23 days for the hard core enthusiast. The shorter trips generally fish along the Baja Coast or Coronado Islands and with this seasons usually warm water continue great luck with Yellowtail, Yellowfin, and Bluefin.
Trips of 4 to 6 days typically fish along the Baja Coast and visit Guadalupe Island, San Martin, Geronimo, Cedros and San Benitos islands. Boats in this category are reporting excellent weather, calm seas, and great fishing.
Trips of 8 to 12 days offer the most variety in fishing action as fishermen explore the southwestern Baja coastline from San Pablo to Magdalena Bay, often with a run out to Alijos Rocks.  Hundreds of miles out at sea, and in sharp contrast to the surrounding blue sky and cobalt blue waters, lay the dark brown Alejos Rocks majestically projecting out of the surrounding deep ocean waters.
These pinnacles offer a sanctuary for life in an otherwise vast open desert. Migrating schools of yellowfin, bluefin, yellowtail, dorado and wahoo circle these rocks dining on the schools of bait, just waiting to be caught. Other productive locations visited during long range trips may include the Revillagigedo Islands, the Hurricane Bank, Clarion Island and the Clipperton Island to name a few.
Trips of 14 to 23 days offer the ultimate in big game fishing opportunities for the large pelagic's visiting exotic locations such as the Hurricane Bank, Puerto Vallarta, Cleofus Bank, or even the remote Clipperton atoll. These long range boats not only offer luxurious accommodations and fine dining but because they utilize state of the art fish finding technologies they can locate yellowfin in the 200 to 300 pound range and when everything comes together (including weather, tides, the moon, quality gear, and no banana's on board) there is a chance you too can become one of the few, the elite fishermen to join the 400 pound yellowfin monster club.