It's been a busy offseason for the San Diego Padres and everyone is getting excited about the additions of Matt Kemp, Justin Upton, Wil Myers, Derek Norris, Craig Kimbrel and the humongous new screen in Petco Park!
If you are lucky enough to be here in San Diego this weekend, here's what's going on during the 2015 Padres home opener series and also what's new both inside and outside Petco Park.
Padres Opening Series Against the Giants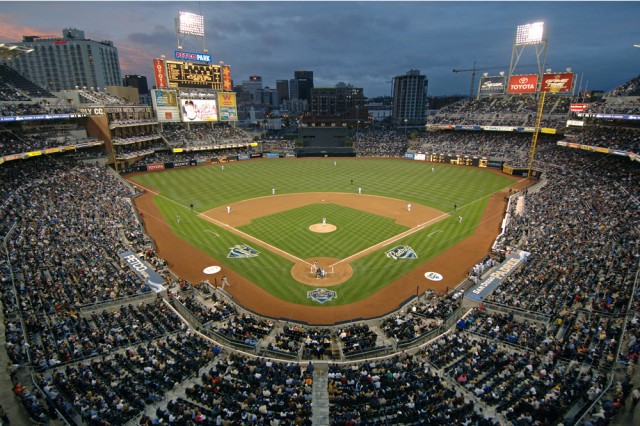 To kick off the 2015 home season, the San Diego Padres will take on the current World Series Champs, the San Francisco Giants. While the home opener on Thursday has been sold out for some time, there are still tickets available for the remaining three games.
For those lucky enough to score tickets for this weekend's series, the Padres have some great promotions each for each game:
Thursday, 9 April – Padres Fedora and 2015 Schedule Cling
Friday, 10 April – Party in the Park
Saturday, 11 April – Postgame Laser Show
Sunday, 12 April – KidsFest and Military Opening Day
> Find out more about Padres Home Opener vs Giants
5th Annual East Village Opening Day Block Party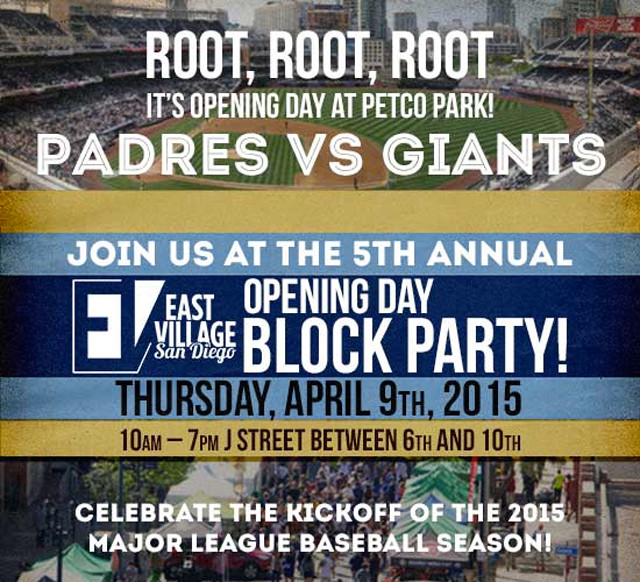 For the fifth year in a row, the East Village Association celebrates the opening of the MLB baseball season as the San Diego Padres open the gates of Petco Park to host the San Francisco Giants.
Show your team pride and "root, root, root for the home team" as the East Village kicks-off the party. Local FM radio station The Mighty 1090 will be broadcasting live from the block party.
Enjoy live entertainment from local bands and DJ's
Thirst-quenching local craft beer garden between 8th and 9th Avenue featuring Mission Brewery, Stone Brewing Co., and MonkeyPaw
Specialty baseball-themed cocktails from 619 Vodka, San Diego's ultra premium vodka.
Great food selections from delicious local restaurants and fantastic food trucks between 6th and 7th Avenue
Country music themed block between 7th and 8th Ave.
Plenty of interactive games and entertainment!
Where: J Street Between 6th and 10th Avenues, San Diego, CA 92101
When: April 9, 2015
Time: 10:00 AM to 7:00 PM
Cost: Free
> Find out more about 5th Annual East Village Opening Day Block Party
What's New in Petco Park
New High Def Video Board
https://twitter.com/jianna_kiinani7/status/574279168109629442/
The new screen out in left field is impossible to miss. At 61-feet tall and 123-feet wide, baseball fans will be able to see the game up close no matter which seat you are in.
Deep Eddy Vodka Hideaway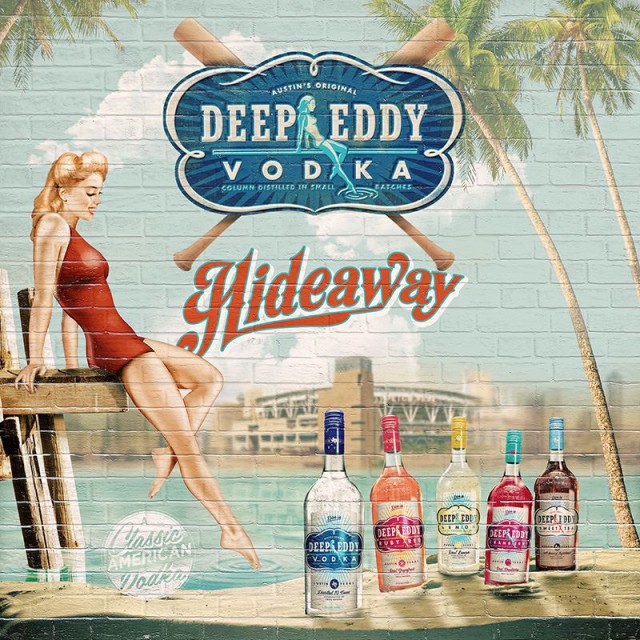 Are you more into handcraft cocktails and not craft beer? Then the new Deep Eddy Vodka Hideaway in the left-field corner terrace is the place to you! The signature cocktails will be made from Deep Eddy Ruby Red and Deep Eddy Lemon vodkas, both crafted with real California Grapefruits and lemons. If you don't want to miss much of the game walking to the Hideaway, the cocktails will also be available at all the bars throughout the park.
What's New Right Outside Petco Park
Before you head into Petco Park, check out these new additions to the East Village Area:
Stella Public House
Where: 1429 Island Ave., San Diego, CA 92101
What to Expect: Farm to Table Pizza and Craft Beer
Bottega Americana
Where: 1195 Island Ave., San Diego, CA 92101
What to Expect: Everything Italian from a salumeria to wood-fired pizza to fresh seafood.
Half Door Brewing
Where: 903 Island Ave. San Diego, CA 92101
What to Expect: A traditional Irish countryside pub with a lineup of in-house craft beer.
Comun Kitchen & Tavern
Where: 935 J Street, San Diego, CA 92101
What to Expect: Cocktails, Craft Beer, Great Food, and Good Tunes.
Fairweather
Where: 793 J St. San Diego, CA 92101
What to Expect: A rooftop oasis featuring drinks from sunny places.