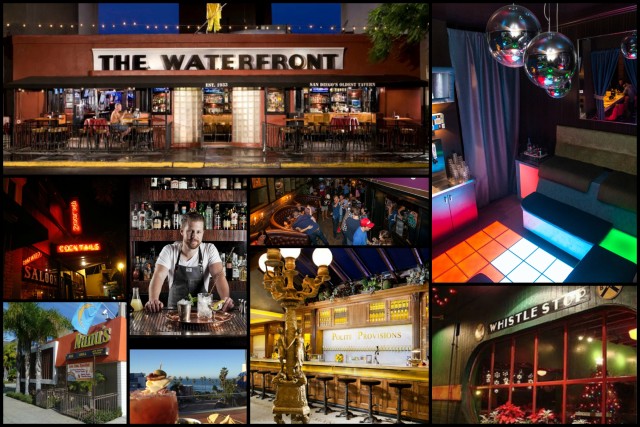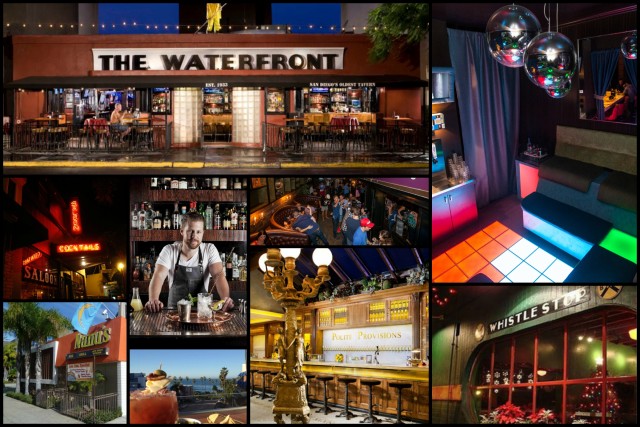 San Diego may be known for its near perfect weather year round, but what many do not know is that the nightlife in this 75 degree city stretches from the Mexico border to the North County and there is something to do almost every night of the week.
But San Diego's nightlife isn't just about clubs! If large-scale clubs aren't your thing, there are plenty of dive bars and lounges sprinkled throughout the county.
Here are the some of best dive bars you want to visit while in San Diego.
Dive Bars in Encinitas
Starting in the North County, you can find not one but two bars side by side. The Saloon and Shelter in Encinitas that are popular among residents of the North. Both located on South Coast Highway 101, each offers a variety of events including live music and DJ's playing both top 40, dance music and classics. The Saloon also has a jukebox for your listening pleasure. Shelter launched a casual dining menu in late 2014 so if you're hungry after one too many shots, hop on over there.
Classy Dive Bars in La Jolla
Moving towards the south we find ourselves heading farther west towards the coast and into the area of La Jolla. This neighborhood is known for its high-end cars, stars and bars. In other words, it's fancy! You can take a nice stroll down Prospect St. and have some cocktails at La Valencia Hotel before heading to Prospect Bar & Grill. On Sundays you'll get a great view from the rooftop and during the summer they have guest DJ's so you can sip a martini and dance to house/dance music as you watch that gorgeous sunset in those fancy pants.
Dive Bars by the Beach
Just south are the more casual beach communities of Pacific Beach, Mission Beach and Ocean Beach. Each neighborhood has its own very unique character so whether you're interested in watching buskers in OB, surfers and college students party in PB or families ride the rollercoaster in MB, you'll be able to find a sweet watering hole somewhere. In PB, there are plenty of clubs for the college age demographic, but a favorite spot for those straying from Rhianna remixes is the Silver Fox Lounge on Garnet Ave. A classic dive bar with pool tables, darts and all.
A Bit More Urban Dive Bars
The center of the county soon becomes dense with many eclectic and vibrant neighborhoods including Hillcrest, Bankers Hill, Golden Hill, Normal Heights, North Park and South Park among many others. Being a native of Golden Hill and North Park myself, I have an affinity for these and surrounding neighborhoods. One of the older dive bars located in North Park is Livewire on El Cajon Blvd. This is where you'll often find bartenders on their nights off, listening to great music in the near dark. They even have guest DJ's come in that tend bar, or are regulars there. In South Park, Whistle Stop Bar is a cash only staple of the neighborhood that has been around since the late 70s. You can hang at the bar or on certain nights you can listen to anything from 80s vs 90s, to New Wave or live music and dance. Warning, it gets warm in there.
For those searching for some craft cocktails made by gentlemen in bowties and beards or ladies that know whiskey like the back of their hand, head over to Polite Provisions on Adams Ave. in Normal Heights. You may feel like you're in the bar of the Titanic, but that is one of the reasons this spot is so awesome. The details of the décor compliment the details put into each cocktail. Both are exquisite. This is a great place to try drinks you've never heard of. You can walk across the street afterwards to dance at AC Lounge, a lounge/club that won't overwhelm your senses. They even have a small VIP room with the only LED dance floor in San Diego. If you preferred camping over disco in the 70s, head over to Sycamore Den, more great craft cocktails and you'll feel like you're in a cabin with the fireplace, 70s rock playing and orange & brown tones of the décor. Very campy indeed!
Dive into these Bars in Hillcrest and Banker's Hill
Heading closer to downtown we enter Hillcrest and Banker's Hill. Hillcrest is known worldwide for being a neighborhood that supports the LGBT community and there is always a party around. There are several places to grab drinks here but some favorites are The Alibi, Urban Mo's and Uptown Tavern. All are within walking distance on University Avenue. Banker's Hill is in a curious space in between Hillcrest and downtown San Diego and there are some gems to be found here. Nunu's is a bar straight out of the 70s as well (think Three's Company), Cherry Bomb is another bartender/service industry favorite dive with some of the stiffest pours around and The Balboa Bar & Grill has some great local bands.
Finally – Dive Bars in Downtown San Diego
After naming so many bars…you're probably already buzzed just thinking about them. But Wait! There's More! We have arrived to Downtown San Diego, the heart of the city and where crowds flock every single weekend (and some weeknights) to drink and dance. I understand, you're not into the Vegas style clubs and that's ok. You want a smaller, quainter place to order one of 3,875 craft beers on tap or maybe just an Old Fashioned. I get it and I like it! First stop is El Dorado, located on the edge of downtown. Ryan Kuntz is usually behind the bar and will be sure to offer you some great suggestions for cocktails.  There is a great selection of oldies and rock and roll on the jukebox and if you feel like killin' some game they have a sweet Buck Hunter video game console there. Another hidden gem, literally, is Noble Experiment, found behind a fake wall inside Neighborhood on 8th and G St. They house award-winning bartenders, Trevor Easterman (GM) and Adele Stratton and have been named one of the best craft cocktail bars in America by several publications including Esquire and Playboy Magazine. It's a very small place so be sure to make a reservation or plan on waiting.
Speaking of small bars, how about visiting the smallest bar in San Diego? Pop's Liquor Cabinet is named appropriately as it only has 4 seats in the 157sq foot space. JJ Licari, a owning partner of the preciously petite place, helped opened this spot on F St. in between large clubs so if you blink you may miss it! I recommend popping in for a drink before you wander around the Gaslamp Quarter. There will be more bottles of booze than people fit in there so the ratio is ideal. If you happen to enjoy cash only spots where the only things served are well drinks and beer then you will love Star Bar located on E St. between 4th and 5th Avenues. You are not allowed to say you live in San Diego until you have a Star Bar story. If jet lag has you wide awake at 6:00 AM you're in luck…because that's when they open! If you're there that late (or early?) then you will definitely have a story to take home.
San Diego's Oldest Tavern
The last bar I will stumble upon is none other than Waterfront Bar on Kettner Blvd. in Little Italy. Proudly known as San Diego's oldest tavern, Waterfront also opens up at 6:00 AM and has a menu for those late night or early morning hunger pains. This is truly a classic place to visit in San Diego as it has outdoor seating to people watch, solid food and it gets packed on weekends and weeknights often.  I have a video of my buddies and I there one morning and after one too many mimosas and beers we turned the jukebox on and decided we should all sing at the top of our lungs. I have it on video if anyone is interested in seeing the worst version of Bohemian Rhapsody ever filmed.
Cheers!