With nearly 90 courses to choose from, golf in San Diego is a veritable feast for your game – and your senses.
From jaw-dropping elevation changes and stunning sweeping vistas to breath-taking ocean views and brilliant botanical beauty, San Diego courses have all.
The following is an all-too-brief list of some of the most camera-phone worthy holes in San Diego.
1. 3 (South Course) at Torrey Pines (La Jolla)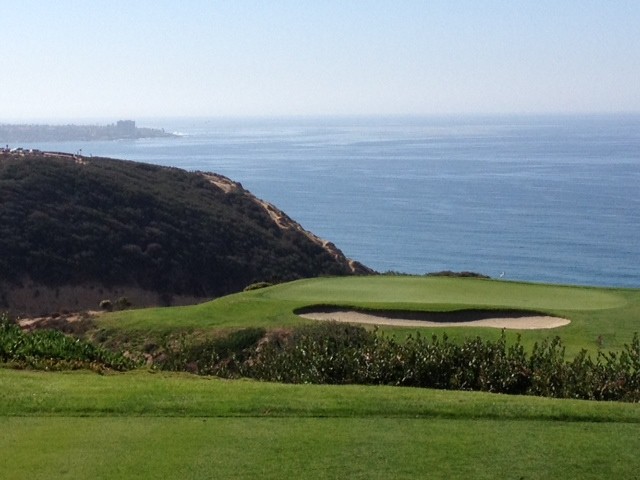 This iconic par 3 on the South Course, site of the 2008 and 2021 U.S. Opens, is San Diego's most famous golf hole. Golfers worldwide make the pilgrimage just to hit this elevated tee shot and watch their ball soar into the blue horizon of the Pacific Ocean in the backdrop. There's also the captivating view of La Jolla in the distance. Played mostly from 160 or 149 yards, this isn't the toughest hole at Torrey by any stretch, but it's certainly the most memorable – and photogenic. Its sister par 3 is No. 6 on the North, which features a nearly 200-foot drop to the green and plays directly into an ocean breeze. A birdie on either hole is a bonus. A whale sighting is a double bonus.
> Find out more about Torrey Pines Golf Course
2. 6 at Journey at Pechanga (Temecula)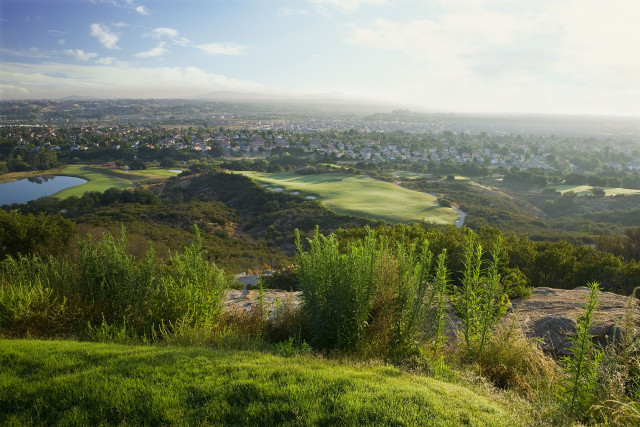 After playing irons shots at Torrey, it's time to pull out driver to play this awesomely elevated par 4 at Journey at Pechanga. Trust us when we say you will remember the first time you get a glimpse of this tee shot. You're basically hitting the ball off the side of the mountain and watching it soar like a dimpled seagull to the dogleg-left fairway below. The backdrop is a vast overview of Temecula that makes it seem like you can see all the way to wine country. And cheers to you if you hit a big one here. You'll feel like Paul Bunyan.
> Find out more about Journey at Pechanga
3. 14 at Aviara Golf Club (Carlsbad)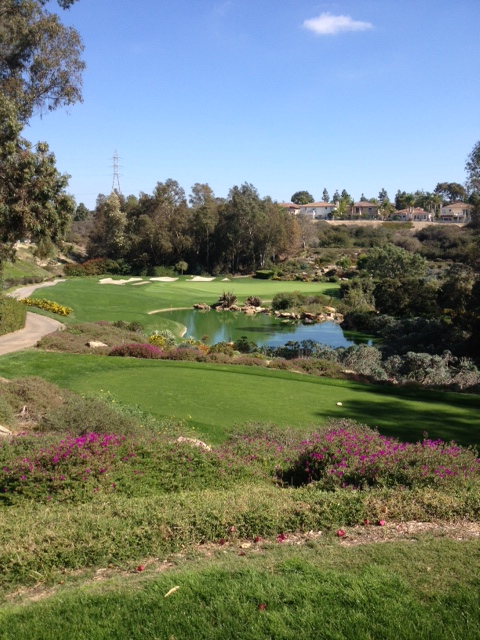 Aviara, which is literally an 18-hole botanical garden, has several worthy candidates, but we have an affinity for No. 14, which is in the most remote part of the course. Like holes No. 3 and 11, 14 is an impeccably landscaped and elevated par 3 played over water. The green here is huge and gives you a second scenic treat when you reach it. To the left is a beautiful waterfall complex that's home to an array of water birds splashing in the pond and soaring in the skies. A Golf Channel announcer said of No. 14 once, "If this hole doesn't make you want to play golf, I don't know what would." Our sentiments exactly.
> Find out more about Park Hyatt Aviara Golf Club
4. 3 Coronado Municipal Course (Coronado)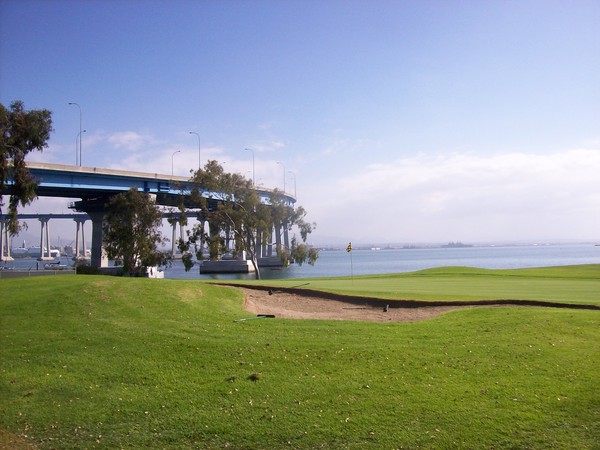 The setting of the Coronado course – surrounded by San Diego harbor – makes it unique, but the glimpse you get of the Coronado Bay Bridge, a San Diego landmark, on holes 2 and 3 in particular is something special. We're going with hole No. 3, a par 4, for the list because it gives you the most unobstructed view. As you progress through your round, you'll also catch glimpses of passing Navy ships, downtown San Diego and the Hotel Del Coronado. Being perfectly flat, it's an ideal course to walk and take in the evolving scenery around you.
> Find out more about the Coronado Municipal Golf Course
5. 7 at Encinitas Ranch (Encinitas)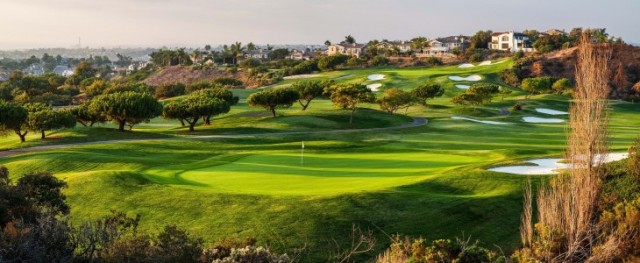 The view at the par-4 7th at Encinitas Ranch isn't so much about what's in front of you as what's behind. Looking back from the tee box, you can see a sweeping view of the two previous holes and a familiar blue hue in the background (the ocean). The scene is a pleasant surprise the first time you play the course and something you forward to when you return. And a bit like No. 14 at Aviara, this hole offers two distinct visual experiences. Your downhill approach is to a green accented by two star pines and a vast view of the valley beyond. When walking off the green, don't forget your clubs – or to take a picture.
> Find out more about Encinitas Ranch