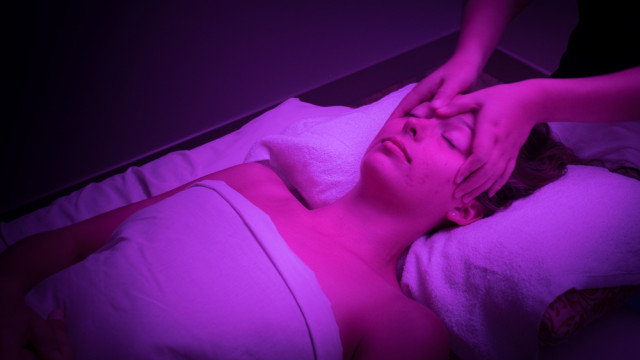 A spa experience is no longer considered just an indulgent day of pampering, as taking the time to de-stress and calm the body and mind has myriad health and wellness benefits. While not everyone can afford the high prices at many luxurious destination spas and hotels, San Diego has some reasonably priced gems tucked throughout town, where a little relaxation and rejuvenation doesn't have to break the bank.
Happy Buddha
Off Convoy Street in Kearney Mesa, Happy Buddha specializes in Chinese reflexology. Eight comfy maroon recliners welcome guests to sit back and relax. After soaking your feet in hot water infused with Chinese herbs and enjoying a head, neck and back massage for 20 minutes, each foot receives 20 heavenly minutes of reflexology, believed stimulate elimination, improve circulation and support the immune system. All for $29.99. Afterward, drift next door to the famous Dumpling Inn for authentic northern Chinese fare.
Where: 4619 Convoy St., Suite E, San Diego, CA 92111
> Find out more about Happy Buddha
Massage Thai Way
At Massage Thai Way in Linda Vista and Mission Valley, an authentic 60-minute Thai massage only costs $45. White curtains separate long firm mattresses where expert Thai therapists perform deep massage and stretching techniques to elongate the body, improve posture, open up energy blockage and improve circulation.
Where:
Linda Vista – 2354 Ulric St Ste A, San Diego, CA 92111
Mission Valley – 6690 Mission Gorge Rd, Suite P, San Diego CA, 92120
> Find out more about Massage Thai Way
Karma Spa
Karma Spa has two locations, one in Hillcrest, the other in Carlsbad.  These pretty spas, which incorporate colorful lighting and soothing water features, offer an excellent menu of deluxe treatments such as hot stone and couples massage, French facials, infrared sauna therapy and ionic detoxing footbaths. Brow waxing runs only $10 and their Foot and Body Fusion Massage is a mere $36. The friendly therapists are well-trained and the prices are more than fair, making it possible for many people to reap the benefits of a spa day.
Where:
Hillcrest – 3969 1st Ave, San Diego, CA 92103
Carlsbad – 2614 El Camino Real, Carlsbad, CA. 92008
> Find out more about Karma Spa
The Hidden Spa
In Ocean Beach, The Hidden Spa is another affordable sanctuary with some of the best deals on skin care in the city. Their European Facial, performed by skillful estheticians, involves a deep cleanse, exfoliation, gentle extractions, massage, aromatherapy, and mask, which costs only $60. Their mini-facial, a 30-minute skin refresher and hydration treatment is $40.
Where: 4969 Santa Monica Ave, San Diego CA 92107
> Find out more about the Hidden Spa
Massage Envy
While Massage Envy are membership spas, they can be found all over the country, so it's worth joining if you can commit to a monthly massage. These no-frills franchises are clean, home to good therapists and make it possible to get a solid one-hour massage for $59 and under.
> Find out more about Massage Envy
Please note: Spa prices are as of May 2015.