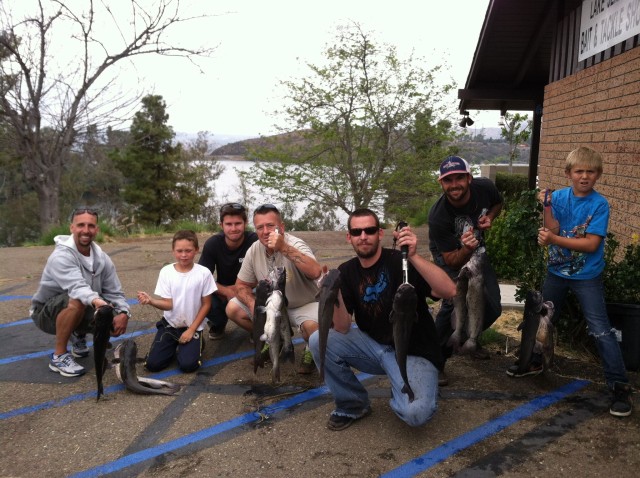 One of my earlier experiences fishing for catfish at night actually was at the Colorado River. We tied up to some tule branches along the shore and fished from a pontoon boat. We used goldfish on heavy gear and I caught a flathead catfish that was longer than my leg and weighed over 35 pounds.
Some San Diego Lakes have similar-sized catfish, making it a very interesting place to fish at night for catfish. Largemouth bass also are known to bite at night, so there's that option, too. Instead of using a chunk of stinkbait or mackerel dipped in stinkbait, which is done for catfish, anglers throw large plastic worms and baits to try to fool bass. There's nothing like the explosion of a fish jumping in the darkness during a night fishing adventure.
Unfortunately, the San Diego lakes that have turned out blue catfish over 100 pounds don't offer night fishing, except for special tournaments. But there are plenty of other options in the county to catch catfish at night.
Lake Jennings
Jennings is another good lake for night fishing. It's open every Friday and Saturday night in the summer to night fishing. The lake is stocked periodically in the summer with channel catfish. And there are lots of holdovers, particularly some giant blue catfish that might make things interesting if your line starts peeling off your reel. You just might catch a giant blue catfish as long as your leg.
Lake Jennings' Night Fishing is open Friday 4:00 PM to midnight and Saturday, 6:00 AM to midnight. There are boat rentals and you do need a California fishing license here.
Where: 10108 Bass Road, Lakeside, CA 92040
Phone: 619.390.1623
When: Friday & Saturday – May 22 – September 7, 2015
Time: Friday – 6:00 PM to Midnight. Saturday: 6:00 AM to Midnight
> Find out more about Lake Jennings
Santee Lakes
For a fishing-friendly atmosphere, quality fishing and easy access, I have to go with Santee Lakes in Santee as the top spot to fish for catfish at night. There are seven lakes, and Lakes 6 and 7 are open year-round to night fishing provided you camp there. And it's a great place to camp. It's on the edge of suburban Santee, but it's secluded enough that anglers and campers get a great experience there. Santee's other lakes, 1 through 4, have special nights during the summer when they're open to insomniacs. Fishing is permitted from 5:00 PM to 11:30 PM on Lakes 1, 2, 3 and 4. Anglers must have a lantern. It's shoreline fishing only here, and you don't need a state fishing license at Santee, only a lake permit.
Where: 9310 Fanita Pkwy, Santee, CA 92071
Phone: 619.596.3141
When: June 4 & 18, July 16 & 30, August 13 & 27
Time: 5:00 to 11:30 PM
> Find out more about Santee Lakes
Dixon Lakes
Dixon Lake in Escondido is my next best bet for night fishing. No fishing license is required here, either, just a lake permit. The lake's night fishing program starts late July following a stocking of 1,000 pounds of channel catfish. Night fishing will be offered every Thursday and Friday night. Boat rentals start at 5:00 PM and must be back to the dock by 10:45 PM. Shoreline fishing is available until 11:45 PM. Call the ranger station for more details at (760) 839-4680.
Where: 1700 La Honda Dr, Escondido, CA 92027
Phone: 760.839.4680
When: Thursday & Friday Late July through Late August
Time: Boats: 5:00 to 10:45 PM. Shoreline until 11:45 PM
> Find out more about Lake Dixon
Lake Poway
Lake Poway is another catfish option in the summer months. The lake's night fishing program starts June 19 and will be permitted every Friday-Saturday night through August 15. There are boat rentals and plenty of good shoreline to fish. The lake's popular Adventure Series Family Campouts includes overnight camping for a family and the family's choice of a rental boat for night fishing or a guided hike with a ranger around the Lake's Loop Trail. No fishing license required here, but fishing permits necessary.
Where: 14644 Lake Poway Road, Poway, CA 92064
Phone: 858.668.4772
When: Friday & Saturday – June 19 – August 15, 2015
Time: Boats – 6:00 AM to 11:00 PM. Shore Fishing: 6:00 AM to 11:30 PM
> Find out more Lake Poway
Lake Henshaw
Farther north at the base of Palomar Mountain, Lake Henshaw offers night fishing every Friday and Saturday night until 10:00 PM. It's a bit of a drive, but chances are you'll have an area of shoreline to yourself here and all the catfish you can fry.
Where: Lake Henshaw Resort – 26439 Highway 76, Santa Ysabel, CA 92070
Phone: 760.782.3501
When: Friday-Saturday starting June 5, 2015
> Find out more about Lake Henshaw
Night Fishing Gear Recommendations
In terms of gear, you don't have to get fancy for catfish. Best bet for catfish is to use a medium-action 6- to 7-foot rod with a spinning reel loaded with 8- to 10-pound test line and a sliding sinker to keep the catfish from detecting the weight when it picks up the bait. Best baits include cut mackerel or sardines or anchovies, and the more stink bait you rub on the bait the better. Catfish can detect smelly baits and will gobble them up in a hurry. But be sure to let them run with the bait before setting the hook. Give them time to ingest the bait and then hook them.
One of the great things about catching catfish is eating them later. They taste great in a beer batter.