While San Diego reigns as America's craft beer capital, there's another delicious culinary trend brewing: upmarket craft donuts. Nowadays in San Diego County, diners can find just about any style of donut imaginable, including flavors previously not imagined. Here's a scouting report of a few options, from tried-and-true original family bakeries to trendsetting storefronts with Michelin star pastry chefs.
Coastal Classic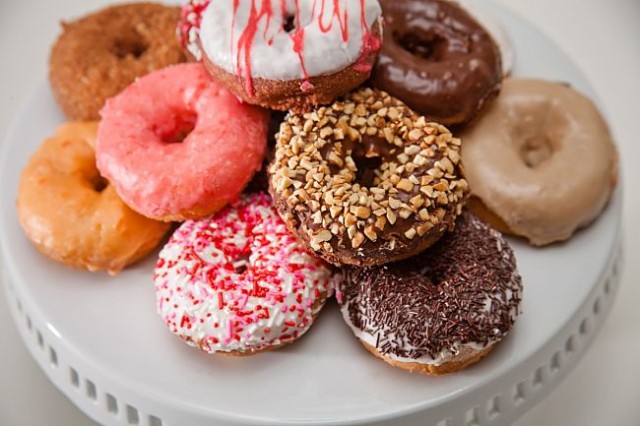 VG stands for Very Good and these outstanding donuts have been made by the Mettee family since 1969. With all the crazy combinations offered in today's donut shops, I love the simplicity of a plain raised, glazed, and this is the place for that pure, traditional style. That doesn't mean shoppers can't find cake donuts with cherry icing and chocolate sprinkles or devil's food, buttermilk, jelly-filled and even seasonal red velvet and pumpkin spice selections at VG donuts.
Where: 106 Aberdeen Drive, Cardiff, CA 92007
> Find out more about VG Donut & Bakery
Old School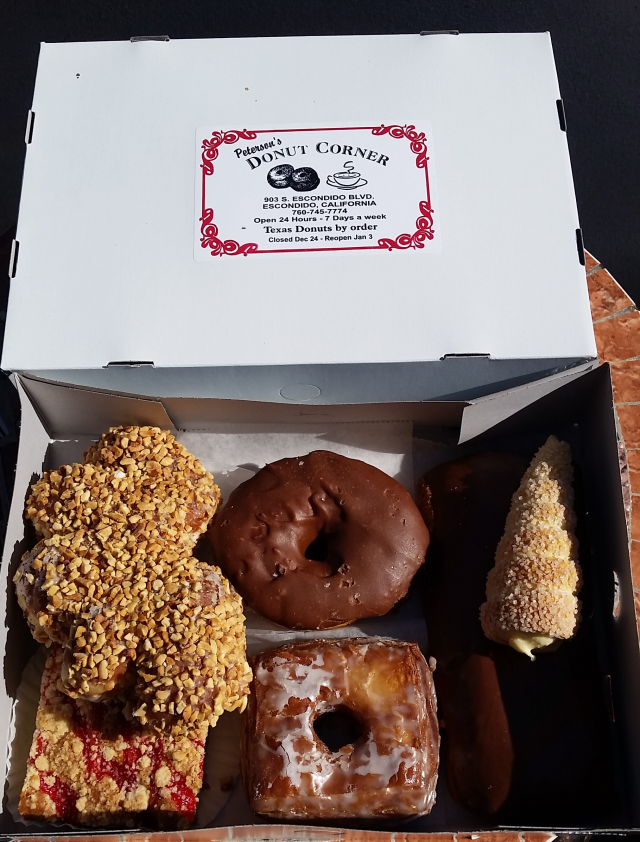 I grew up in San Diego's North County and the place to be for late night or early morning post-club munchies was and is Peterson's Donut Corner in Escondido. Still run by the Peterson family, this 24-hour small box shop serves all manner of fried and baked delights. The donuts are oversized, a great price and made by bakers who know their craft after 30+ years in the business. Peterson's offers a huge range of flavors and styles, including the traditional bear claw and old fashioned, but also French crullers, crumb cake, croissants and cream cheese pockets. It was at Peterson's that I had my first cro-nut, and I'm spoiled for their version ever since.
Where: 903 Escondido Blvd, Escondido, CA 92027
> Find out more about Peterson's Donut Corner
Donut Bar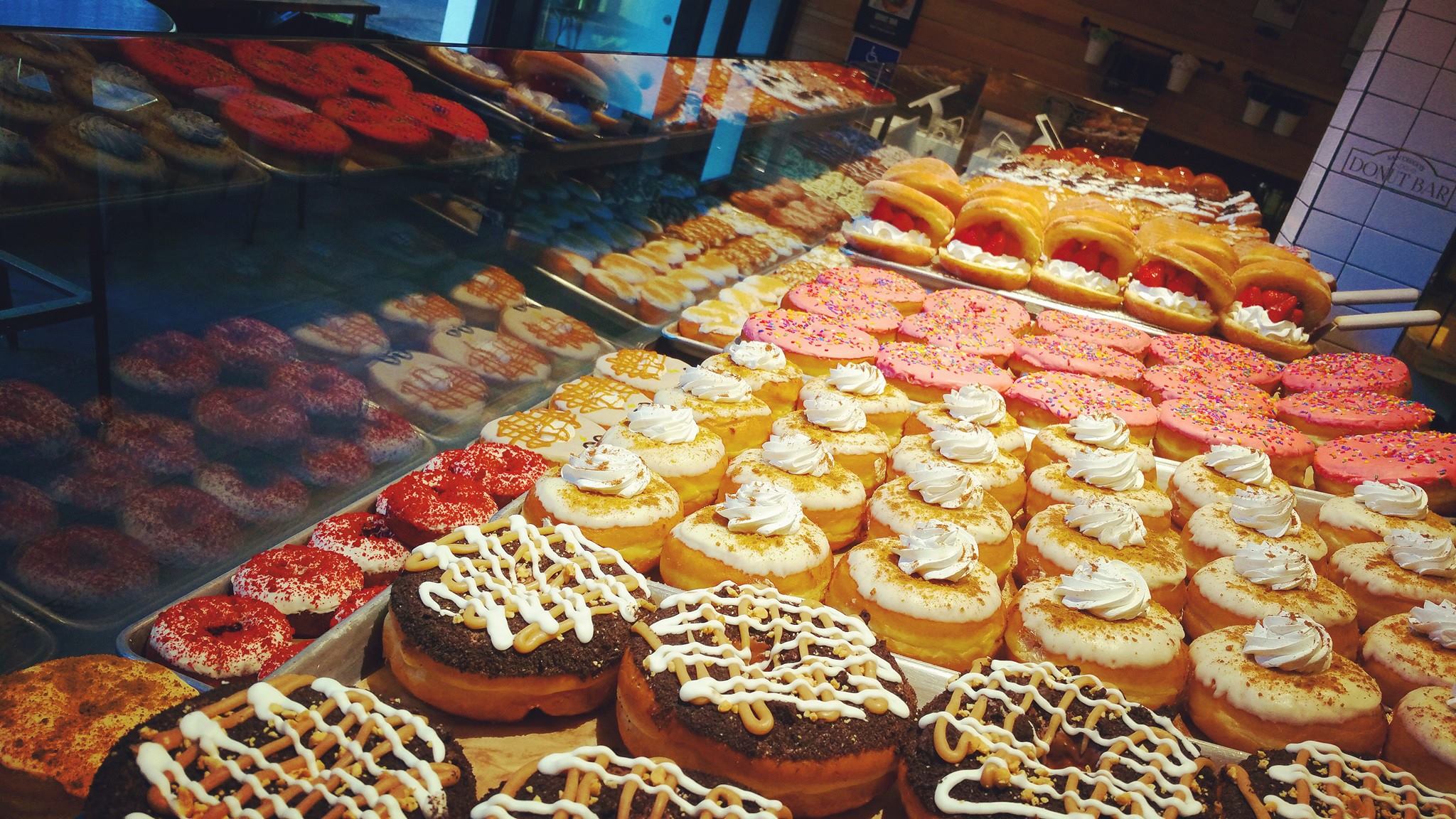 The line out the door and the "Sold Out" sign painted daily on the storefront window attest to the popularity of this craft donut mecca in downtown San Diego. Specializing in large, cake style donuts, this trend-tackling donut group whips up a unique selection day to day and posts the menu daily on their website. Two favorites are the big poppa-tart donut and D.B's Nutella. This cheeky group creates specialty treats such as French Ferrero Rocher eclairs or maple bacon cinnamon rolls with thick slabs of center-cut premium on the inside. Donut Bar also embraces holidays major and minor, such as May 4th with a Star War's R2D2 donut and a "Mom" version for Mother's day.
Where: 631 B Street, San Diego, CA 92101
>Find out more about Donut Bar
A Streetcar Named Desire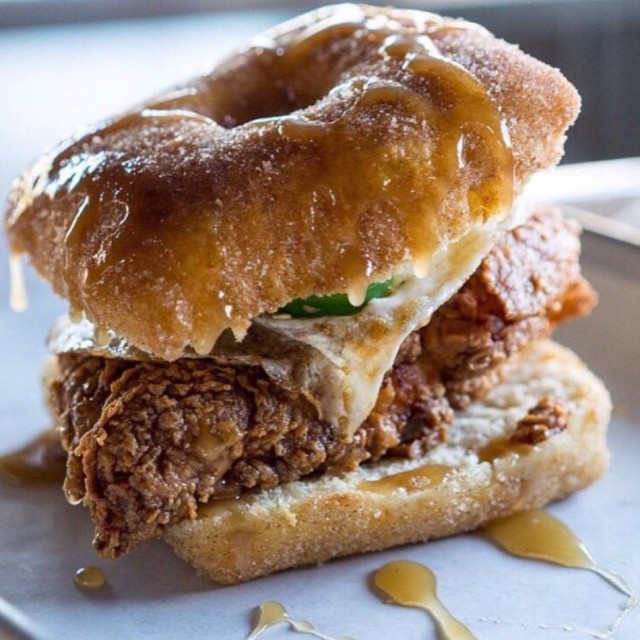 Is it ok to admit in a donut blog that I actually like the fried chicken at Streetcar Merchants even more than their wonderful donuts? Yes, you heard right. There's a place in San Diego's North Park neighborhood called StreetCar Merchants of Fried Chicken, Doughnuts & Coffee. You can get both types of fried delicacies all day, but generally mornings are for fried dough and afternoons and evenings taste fried chicken made to order and made to perfection. My kids flipped over the square donuts with flavors such as Nutella, PB&J and wild berries, but they were even more impressed by the crispy-fresh fried drumstick, unlike anything the Colonel had ever processed. Or, go for the best of both worlds, fried chicken on a donut bun!  This concoction is called The Southerner and they also do a Nashville hot version and a Korean twice fried version called Seoul Bender.
Where: 4002 30th Street, San Diego, CA 92104
> Find out more about StreetCar Merchants of Fried Chicken, Doughnuts & Coffee
Nomad Donuts

Just up the street from StreetCar Merchants in North Park, Chef Kristianna Zabala, who previously served as the Executive Pastry Chef at San Diego's famed Mister A's, Petco Park and the Michelin starred The Village Pub, works her magic at a little place called Nomad Donuts. Chef Zabala came to Nomad Donuts because she was seeking creative freedom and the donuts at Nomad win the creative prize. In addition to many flavors of vegan donuts daily, customers can try a blueberry cheesecake or blackcurrant chili donut. I had Coronado Brewing Co "Mermaid Red" custard with chocolate, black current and salted chipotle caramel on top. Nomad Donuts frequently partners at local breweries for pairings.
Where: 4504 30th Street, San Diego, CA 92116
> Find out more about Nomad Donuts
One Great Maple Donut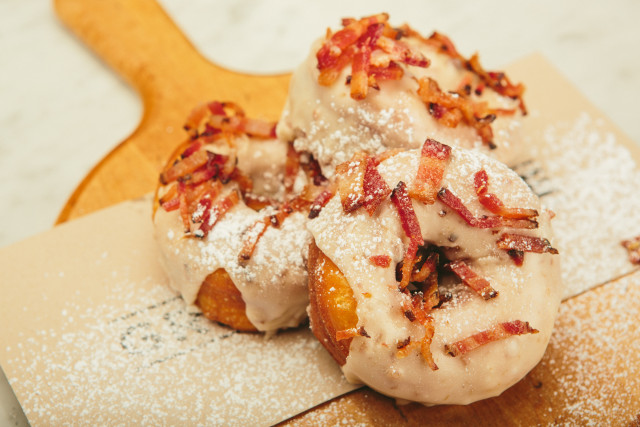 Calling itself a "European Dinette," Great Maple,  in the Hillcrest neighborhood, offers craft cocktails, local beers, seasonal, responsible produce, seafood and meat that arrives in large portions of comfort food, including incredible pies that change daily. My family experienced donut nirvana here one evening after my daughter ordered the maple bacon donuts for dessert. Maple bacon is not my favorite, but when the stack of three fluffy yeast donuts topped with a maple bacon glaze and fresh chopped bacon arrived at the table, I just had to try and was so glad I did. Tasting a donut made fresh and hot to order, not sitting in a case, was truly the way to go.
Where: 1451 Washington Street, San Diego, CA 92103
> Find out more about Great Maple